SENATE DEMS PUSH THROUGH LEGISLATIVE REDISTRICTING MAP: The Senate on Wednesday evening voted 32-15 to recommend the adoption of a congressional redistricting map that was developed by a  legislative commission and is supported by Democratic lawmakers, but will likely be vetoed by Gov. Larry Hogan. They declined to advance an opposing redistricting map that was developed by an independent citizen's commission whose members were appointed by Hogan. Bryan Renbaum/Maryland Reporter.
HOGAN-ALIGNED GROUP TO SUE TO OVERTURN MAP: Fair Maps Maryland, an organization with ties to Republican Gov. Larry Hogan, announced Wednesday that it will seek to overturn the congressional redistricting plan approved by the Democratic supermajority in the General Assembly. The announcement came just moments after the state Senate followed the House of Delegates in voting to accept a map drawn by a legislative panel made up of four Democratic leaders, two Republican leaders and a non-voting former top staffer. Bruce DePuyt/Maryland Matters.
OPINION: HYPOCRISY REIGNS IN SENATE PANEL AS WELL: As he did for the House committee, Howard Gorrell, a longtime advocate for fair congressional districts, compares the statements of Democratic senators with their votes in committee, writing in Maryland Reporter that "Most Senators might forget their own 2018 campaign promises on redistricting on the 2018 MDLWV Voter's Guide. Some showed strong support for an independent commission to draw district lines back then, and on Wednesday, they supported a map drawn by their partisan leaders."
MINORITY-LED NONPROFITS SEEK PANDEMIC AID FROM STATE: Minority-led nonprofits struggled disproportionately during the pandemic, fueled by hard-to-reach government funding and catastrophic losses on every income source, according to Maryland Nonprofit survey data. To counter this distress, over 215 nonprofits and individuals are calling for state administrators to allocate $1 billion of Maryland's reported budget surplus to aid struggling nonprofits. Rachel Logan/The Capital News Service in Maryland Reporter.
CHILD CARE PROVIDERS STRUGGLE TO SUSTAIN: Maryland child care advocates told the comptroller's workgroup examining pandemic stimulus funds that although the additional money has been critical in stabilizing their industry, they are still operating "razor-thin margins," struggling to find qualified workers and want to receive aid faster. Comptroller Peter Franchot (D) called the state's child care shortage and ongoing struggle to stay open the "worst example of government failure." Elizabeth Shwe/Maryland Matters.
COVID HOSPITALIZATIONS ON THE RISE: Services provided by the Maryland Department of Health, such as its public accounting of some key COVID-19 metrics, remain halted in the days following a cyberattack that forced the state agency to temporarily take its website offline. On Wednesday, hospitalization reporting resumed, revealing a spike in bed occupancy of 18% in just five days. The number hospitalized — 925 — is the most since early May, according to state data. Hallie Miller/The Baltimore Sun.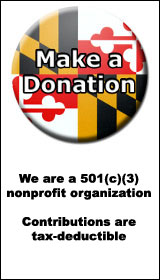 SUPPORT NONPROFIT JOURNALISM: Contributions to Maryland Reporter, the state's original nonprofit news site covering state government and politics, by Dec. 31 are doubled by national foundations and local donors. Please contribute today. 
CARROLL SCHOOLS SEE POST-THANKSGIVING COVID HIKE: A week after staff and students returned from Thanksgiving break, positive COVID-19 cases in Carroll County Public Schools grew by nearly 100. The school system's dashboard that updates every Wednesday reported 337 positive cases this week, including 27 staff members, compared to 239 cases the week before. It is the seventh consecutive week that positive cases have increased in the school system. Kristen Griffith/The Carroll County Times.
HOWARD SCHOOLS SEEK BEST ROUTE ON MASKING: As the Maryland State Board of Education continues to modify masking protocols to meet shifting conditions during the ongoing coronavirus pandemic, Howard County Public School System board members and area residents are also trying to determine the best approach moving forward. Alana Haynes/The Howard County Times.
Maryland could soon end its school mask mandate, following a decision Tuesday by state officials to let local school systems set their own policies as long as vaccination rates are high or community transmission levels are down. Donna St. George/The Washington Post.
RAPID COVID TEST FOUND TO BE EFFECTIVE: Those rapid COVID-19 tests actually do work pretty well, even if people don't have symptoms, according to a large new study conducted in Baltimore. Polymerase chain reaction, or PCR, tests are the gold standard for detecting COVID-19, certain to find the disease caused by the coronavirus. But rapid antigen tests, which people can now buy in a box for about $24 and conduct themselves, are becoming more common for their convenience as supplies begin to increase. Meredith Cohn/The Baltimore Sun.
EX-LEGISLATOR HOPES TO REVIVE FREE-SPEECH CHALLENGE TO HOGAN ORDER: Counsel for a software engineer and former Maryland legislator urged a skeptical federal appeals court Tuesday to revive his client's free-speech challenge to Gov. Larry Hogan's executive order requiring those bidding on state contracts to pledge they are not boycotting Israel and will not while under contract. Steve Lash/The Daily Record.
PROBE: JUDGE NEWELL ACTED ALONE: New details have emerged in the investigation into the late Caroline County Circuit Judge Jonathan Newell's alleged exploitation of a minor to produce child pornography. The U.S. Attorney's Office for the District of Maryland stated that additional investigation into Newell has found no other individuals involved in the alleged child sexual exploitation and Newell did not distribute any of the images found on his electronic devices. Newell died from an apparent self-inflicted gunshot wound in September when FBI agents went to his house to arrest him on a federal criminal complaint of child sexual exploitation. Natalie Jones/The Easton Star Democrat.
TWO RESTAURANTS GET OK FOR SPORTS BETTING: Two more facilities won a key approval Wednesday to offer in-person gambling on sports in Maryland. The Riverboat on the Potomac, located off the Virginia shore of the river, and Long Shot's in Frederick got signoff from the Maryland Sports Wagering Application Review Commission. Both are existing restaurants that offer gambling including lottery and off-track betting. Pamela Wood/The Baltimore Sun.
MO CO UNIONS AGREE TO WEEKLY COVID TESTS: Montgomery County officials have reached agreements with three major labor unions to begin weekly coronavirus testing, but the question of whether a full vaccine mandate will be implemented remains in flux. Steve Bohnel/Bethesda Beat.
FREDERICK SCHOOLS SUPER ON ADMINISTRATIVE LEAVE: Frederick County Public Schools Superintendent Terry Alban is on administrative leave, Board of Education member Jay Mason announced Wednesday. Word of the superintendent's leave comes one week after a U.S. Department of Justice investigation report revealed pervasive misuse of seclusion and restraint practices against students with disabilities. Jillian Atelsek/The Frederick News-Post.