MILLER TO PUSH FOR MORE COPS: State Senate President Mike Miller said he will push this General Assembly session for several law enforcement initiatives in Baltimore, including approving a private police force at Johns Hopkins University, Luke Broad reports in the Sun. Miller also said he wants to help Mayor Catherine Pugh hire 500 officers for the Baltimore Police Department and create a second police training academy at Coppin State University.
FROSH SEEKS TO SUSTAIN ACA: The Maryland attorney general's office is seeking to preserve its suit sustaining the Affordable Care Act while challenging the legality of Matthew Whitaker's appointment as acting U.S. attorney general. U.S. District Judge Ellen Hollander scheduled a hearing in the case for Wednesday morning in Baltimore, Jeff Barker of the Sun reports.
RX POT GROWER FINED: The first licensed medical marijuana grower in Maryland has agreed to pay $125,000 and destroy cannabis products in its inventory after a state regulatory agency found the company had used unauthorized pesticides, Rachel Chason of the Post is reporting.
STUDY FINDS DEREGULATION DIDN'T SAVE PAYERS: Maryland's deregulated energy market, in which third-party electricity and gas suppliers compete with the big utilities, isn't delivering on promises from 1999 to lower utility rates. In fact, it's led the roughly 1 in 5 Maryland households that have switched to third-party suppliers to overpay by a combined $255 million from 2014 to 2017, while allowing companies to take advantage of low-income customers with marketing tactics, Ethan McLeod of Baltimore Fishbowl writes about the new Abell Foundation report.
MO CO SEEKS VETO POWER ON NEW TOLL ROADS: No bill proposal discussed during a Monday night marathon public hearing by Montgomery County representatives to the state legislature drew a greater response than MC 8-19, which would prohibit state agencies from constructing toll roads in Montgomery without the Council Council's OK, Charlie Wright of Bethesda Beat reports. Gov. Larry Hogan announced a proposal in August 2017 for a $9 billion project that would include adding toll lanes to the Beltway and Interstate 270.
RANKED CHOICE FOR MO CO: A small but growing election-reform movement is pushing to give Montgomery County lawmakers the power to create a new voting system in the state's most populous jurisdiction. "Ranked-choice voting," also known as instant-runoff voting, would give voters more power, advocates say, by allowing them to rank their candidates in order of preference. "Ranked-choice voting is simple and intuitive," Sen. Cheryl Kagan (D-Mongtomery), one of the bill sponsors, said at a public hearing Monday night, reports Arelis Hernandez in the Post.
RAIL/TRAIL PIPELINE OPPOSED: Two state legislators who led the fight to ban fracking in Maryland say they oppose a plan to allow construction of a pipeline under the Western Maryland Rail/Trail, reports Bryan Sears in the Daily Record. The agreement with Columbia Gas Transmission would allow for the construction of the pipeline 100 feet underground using a 50-foot wide easement. The contract, which would require the company to pay the state $5,000, is scheduled for a vote before the Board of Public Works Wednesday.
OPINION: BETTING ON THE FINE PRINT: The editorial board for the Sun opines that since gambling was first legalized in Maryland, there has been a lot of fine print to the laws that Marylanders really needed to pay attention to. As the gambling scene changes, the board opines, Marylanders need to continue to be vigilant.
BUSCH TAPS COMMITTEES: House Speaker Michael E. Busch (D-Anne Arundel) on Tuesday announced committee assignments for his 140 colleagues for the upcoming General Assembly session. The six standing committees in the House are getting anywhere from six new rank-and-file members (on the Economic Matters Committee) to 13 (on the Judiciary Committee), writes Josh Kurtz of Maryland Matters. A complete list follows the short story.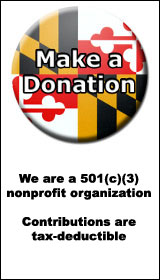 ***ALMOST TO THE GOAL: We're now over 95% toward the maximum matching grant of $25,000 from four national foundations. Any tax-deductible donation to MarylandReporter.com up to $1,000 will be doubled by the foundations if we get it by Dec. 31. $50 becomes $100, $250 is worth $500, $1,000 doubles to $2,000. Please support local nonprofit news. ***
COUNCILWOMAN CHIDES HOGAN OVER SCHUH PICK: Hagerstown City Councilwoman Emily Keller on Tuesday chided Gov. Larry Hogan (R) over his tapping of former Anne Arundel County Executive Steve Schuh (R) to lead Maryland's Opioid Operation Command Center, calling on the governor to reconsider Schuh's appointment, writes Ryan Miner of A Miner Detail blog. In a letter addressed to Hogan, written on Hagerstown City Council letterhead, Keller, a first-term city councilwoman, noted that Schuh "has a very longstanding reputation of mudslinging and partisan antics."
WHAT's BREWING FOR ROSS's RUNNING MATE? Denizens Brewing Co. owner Julie Verratti, who ran with Alec Ross on a Democratic gubernatorial ticket in 2018, talks to A Miner Detail podcast host Ryan Miner on her experience as a candidate. Verratti breaks down the 2018 gubernatorial election and shares news of her next adventure. Hint: It's not politics.
DEL. YOUNG TO HEAD COUNTY DELEGATION: Del. Pat Young will lead Baltimore County's contingent of state delegates in Annapolis this year, Pamela Wood of the Sun reports. Young, a Democrat from Catonsville, was elected chairman of the county delegation during a closed-door meeting Monday night. As chairman, Young will lead weekly meetings of the 23-member delegation during the 90-day General Assembly session.
ARUNDEL JAIL ENDS IMMIGRATION SCREENING: Chase Cook of the Annapolis Capital reports that when Steuart Pittman pledged to "kiss" 287(g) "goodbye," the county head of detention facilities took that as an order, ending the program less than 24 hours after the new Anne Arundel County executive gave his inauguration speech. Detention Facilities Superintendent Terry Kokolis ended the immigration program on Dec. 4 at Pittman's "direction," according to an email from Keith Quaine, a detention facilities lieutenant.
ON KEITH HALLER: Jennifer Barrios of the Post writes an obituary of Keith Haller, the Potomac Inc. pollster who politicians recall as "being on the cutting edge of survey research, blending sophisticated computer analysis of voter behavior and glossy direct-mailing with the perfection of shoe-leather techniques such as door-to-door campaigning." He was 70 and was also a co-founder of Maryland Matters.