HOGAN TAPS SCHULZ TO REPLACE GILL: Gov. Larry Hogan said Monday he is appointing state Labor Secretary Kelly Schulz, who had been a member of the House of Delegates, to lead Maryland's Commerce Department, moving her within the cabinet to replace Michael Gill, who is resigning to return to his former job in the private sector, Luke Broadwater of the Sun writes.
FROSH IN MYRIAD FRONTS AGAINST FEDS: Maryland Attorney General Brian E. Frosh's office challenged the federal government on 30 fronts in the past year, including by filing more than a dozen new lawsuits challenging Trump administration policies, reports Danielle Gaines in Maryland Matters. The office initiated or joined at least 14 court cases in the past year, including lawsuits aimed at protecting the Affordable Care Act, halting family separation policies at the U.S border, stopping the distribution of plans for 3-D printed guns, opposing a citizenship question on the 2020 Census, and challenging the federal government's actions on a number of environmental policies.
FEDS EASE STREAM PROTECTIONS: The Trump administration announced plans Dec. 11 to severely restrict the types of streams, wetlands and other waterways that would be protected by federal regulation from development or disturbance. Though welcomed by farmers and developers, the announcement drew intense criticism from environmentalists, Tim Wheeler of the Bay Journal reports in MarylandReporter.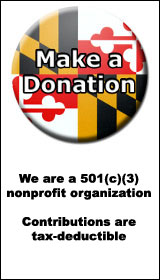 ***ALMOST TO THE GOAL: We're now over 90% toward the maximum matching grant of $25,000 from four national foundations. Any tax-deductible donation to MarylandReporter.com up to $1,000 will be doubled by four national foundations if we get it by Dec. 31. $50 becomes $100, $250 is worth $500, $1,000 doubles to $2,000. Please support local nonprofit news. ***
OYSTER POLICY DEBATE: Bill Scerbo, president of the Anne Arundel Watermen's Association, wants to see oyster sanctuaries like those in Arundel County waters reopened to commercial fishing since, they say, oysters in some low-salinity sanctuaries, like Herring Bay, aren't reproducing naturally. Rachael Pacella of the Annapolis Capital writes that that wish is likely to be part of a grand environmental policy debate when the General Assembly returns to Annapolis next month. Lawmakers will consider changes to the state's oyster harvesting plan in light of a major new study of the oyster population in Maryland.
FREDERICK LIQUOR LAWS: Grocery stores and movie theaters selling alcohol, individuals holding more than one liquor license, and the elimination of signature requirements were among the ideas the liquor board suggested to Frederick County's General Assembly delegation, Cameran Dodd reports for the Frederick News-Post.
McKAY TO REINTRODUCE OPIOID APP BILL: Del. Mike McKay says he'll continue to seek passage of a bill supporting development of a mobile app for mothers with newborns impacted by the opioid crisis. The development of the mobile app is one of four bills McKay plans to push in the upcoming session of the Maryland General Assembly. Although the mobile app bill did not pass last year, McKay said he remains optimistic, Greg Larry reports for the Cumberland Times-News.
LAND SWAPS NOT UNUSUAL: Although few details are available about Gov. Larry Hogan's proposal to trade park land in Western Maryland for federal property in Prince George's County to make way for a new Washington Redskins stadium, the concept of a land exchange is not a new one, Sarah Meehan of the Sun is reporting. If Hogan's deal comes to fruition, Maryland would take over 300 acres of the federally owned Oxon Cove Park for a new stadium. In exchange, the state would relinquish parkland in Western Maryland to the federal government to expand Civil War battlefields.
OPINION: MARYLAND NEEDS TO PROTECT ACA: The editorial board for the Sun opines that many expect that a Texas judge's ruling Friday that the Affordable Care Act is unconstitutional will be overturned on appeal. The reason for that is that it's flat-out nuts. But nutty things happen where the Affordable Care Act and the courts are concerned, so Maryland leaders would be well advised to prepare for the unexpected, illogical and downright foolish, says the Sun.
OPINION: ONE GOVERNMENT JOB AT A TIME: A state senator or delegate shouldn't be allowed to hold a position in local government while serving in the Maryland General Assembly, opines David Plymyer in a column for Maryland Matters. One job at a time with the state or any of its political subdivisions is enough.
OPINION: POLITICS & SCHOOL CONSTRUCTION: The editorial board of the Annapolis Capital takes a look at school construction plans and spending in Anne Arundel under former County Executive Steve Schuh and ponders the changes that will come with the plans as political winds keep shifting in the county and the state.
SCHIFF TO SPEAK AT MD DEM EVENT: U.S. Rep. Adam Schiff, the incoming chairman of the House intelligence committee, will deliver the keynote address at the Maryland Democratic Party's annual legislative luncheon on Jan. 8. Schiff, of California, has indicated the committee would seek to examine ties between Russia and the businesses of President Donald Trump and his family, Luke Broadwater of the Sun reports.
HOGAN INAUGURAL GALA: Gov. Larry Hogan is holding a $150-a-ticket inaugural gala at MGM National Harbor casino in Prince George's County the evening after he is sworn in for a second term in office. Starting at 8 p.m. on Jan. 16, the gala will follow a day of free inaugural events in Annapolis, writes Luke Broadwater for the Sun.
BA CO APPEALS PENSION RULING: The Baltimore County government is asking the U.S. Supreme Court to reverse a lower court ruling in a long-running lawsuit over pensions — a ruling that would require the county to pay out millions of dollars to retired county workers unless it's overturned, reports Pamela Wood in the Sun.
HO CO TO GET FIRST FEMALE CAREER FIRE CHIEF: Howard County is poised to make history Tuesday when new County Executive Calvin Ball (D) names the county's first woman fire chief. At a scheduled news conference Tuesday morning, Ball will announce that he is nominating Howard County Fire and Rescue Services Assistant Fire Chief Christine M. Uhlhorn as the department's new chief, Josh Kurtz writes in Maryland Matters.