GA LEADERS OK HARASSMENT TRACKING: Leaders of the General Assembly voted unanimously Tuesday to update the guidelines for reporting and tracking sexual harassment complaints against state lawmakers — though the identity of the accused wrongdoer will remain confidential, reports Erin Cox for the Sun.
HOGAN URGES CONTINUATION OF CHILD HEALTH CARE: Gov. Larry Hogan urged congressional leaders Tuesday to reinstate by the end of the year a federal program that provides health insurance for children, reports Erin Cox for the Sun. "We should all be able to agree that needy kids should never become a political football," Hogan wrote in a letter to leaders of both parties in the Senate and House of Representatives.
A WEEK MORE TO ENROLL: Marylanders seeking health insurance under the federal Affordable Care Act will get an extra seven days to sign up, state officials plan to announce Wednesday. The new enrollment deadline is Dec. 22 rather than Friday. The deadline was extended by a week to accommodate procrastinators and avoid a last-minute enrollment crush at the end of this week.
NAACP, HOGAN ADDRESS PG SCHOOL PROBLEMS: The Prince George's County NAACP told Gov. Larry Hogan on Tuesday that it wants to initiate an audit of the county school curriculum and overturn a state law that gave County Executive Rushern L. Baker III  the power to select the schools superintendent. Bob Ross, president of the county NAACP, said the organization is also considering filing a civil rights lawsuit against the school district, which is the second-largest in the state, Ovetta Wiggins reports for the Post.
WA CO PRESSES HOGAN ON PIPELINE: Julie Greene of the Hagerstown Herald-Mail reports that a letter that the Washington County Board of Commissioners unanimously agreed Tuesday to send to Gov. Larry Hogan about a proposed natural-gas pipeline under the Potomac River cites constituents' concerns regarding construction risks. The letter asks Hogan to encourage the Maryland Department of the Environment and state agencies to carefully consider TransCanada's certification request and postpone any approval until the state has all of the needed information to fully understand the project's impact.
HARFORD SHERIFF PUSHES 'GOD & GUNS' BILL: Harford County Sheriff Jeffrey Gahler is pushing for legislation with Sen. Wayne Norman and Del. Kathy Szeliga that would clear the way for the 300 houses of worship in the county to allow a member to carry a gun. They call it the Parishioner Protection Act of 2018, Kathleen Cairns of WBFF-TV reports.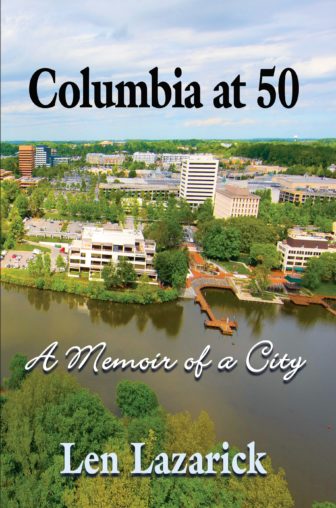 TALKING ABOUT COLUMBIA AT 50: MarylandReporter.com Editor Len Lazarick will be talking about his new book, Columbia at 50: A Memoir of a City, at the Howard County Central Library on Little Patuxent Parkway in Columbia this Wednesday evening, Dec. 13, at 7 p.m. He'll be selling and signing copies  as well. The book is $15 and is available from MarylandReporter.com in time for Christmas.   The book is also sold on Amazon, Barnes & Noble, BookLocker.com and other online retailers.
HOGAN OKs CORDERMAN FOR DELEGATE: Gov. Larry Hogan appointed Hagerstown City Councilman Paul D. Corderman to the Maryland General Assembly on Tuesday. Tamela Baker of the Hagerstown Herald-Mail writes that Corderman was recommended last week by the Washington County Republican Central Committee to replace Judge Brett Wilson in the House of Delegates. Hogan appointed Wilson to the Circuit Court for Washington County last month.
***4 THINGS YOU WON'T FIND ON MARYLAND FOOD LABELS: Food packaging performs several functions: It protects the food inside, creates convenience and portion control, and perhaps, most importantly, provides nutritional information and ingredient listings of the food inside. But there's more to the food than the label. Read about four things you should know about your food that you probably won't find on the package. SPONSORED CONTENT***
PUBLIC FUND ENOUGH FOR ONE: There is enough money in the state public campaign fund for one candidate and one election in the 2018 gubernatorial election, Glynis Kazanjian reports for MarylandReporter. Sen. Rich Madaleno, D-Montgomery, who is running for governor recently claimed it. "You can fully fund one candidate for either the general election or the primary, but not both," said Maryland Candidacy and Campaign Finance Director Jared DeMarinis of the pending 2018 elections.
GRASSROOTS ACTION ON BALTIMORE CRIME: Confronting the most violent criminals in Baltimore is vital, but the homicides and shootings are only the most extreme expression of a much broader wave of crime gripping the city. To address this broader challenge, Baltimore City and the state of Maryland should begin working together to empower grassroots, citizen-led solutions to crime and violence, tapping into the creativity of our citizenry to implement solutions at the family, block and neighborhood level., writes Nate Loewentheil in this commentary for MarylandReporter.com.
JEALOUS ENDORSED: Maryland gubernatorial candidate Ben Jealous has picked up two more endorsements from progressive organizations, Ovetta Wiggins of the Post reports. Progressive Maryland, a grass-roots group with more than 100,000 members and supporters across the state, and Communications Workers of America, a labor union representing 4,500 workers in Maryland and the District, voted to support the former NAACP president's bid for the Democratic gubernatorial nomination.
SESSIONS SAYS FBI LIKELY TO AID MURDER PROBE: U.S. Attorney General Jeff Sessions said Tuesday that the FBI "probably" would be able to act on Baltimore's request for that agency to take over the investigation of the death of a city police detective last month, but it remained unclear when a decision would be made. Baltimore Police Commissioner Kevin Davis asked the FBI on Dec. 1 to take the lead on the probe into Det. Sean Suiter's death. The FBI has said it is cooperating in the case but has not publicly responded to the city's request.
MO CO SUES DRUG MAKERS, DISTRIBUTORS: Montgomery County will become the latest jurisdiction to file a lawsuit against manufacturers and distributors of highly addictive painkillers for those companies' roles in the national opioid epidemic, Rachel Siegel of the Post reports. On Tuesday, County Executive Ike Leggett (D) announced that Montgomery will go to court in the coming weeks over false marketing and other unlawful sales techniques allegedly used by manufacturers and distributors of opioids. The lawsuit will also seek to recoup taxpayer money the county has spent responding to the opioid crisis.
MONTGOMERY CANDIDATES: MarylandReporter.com's comprehensive list of candidates was updated this week, but only one new candidate is listed, though numerous candidate photos were added.
HO CO RX POT DISPENSARIES: Howard County will soon be home to two medical marijuana dispensaries, as the state's first licensed dispensary locations begin to open their doors, Kate Magill of the Howard County Times reports. Remedy Columbia and Greenhouse Wellness in Ellicott City are set to open in the coming weeks to bring residents some of Maryland's first legal medical marijuana.