By Rachel Bluth
Capital News Service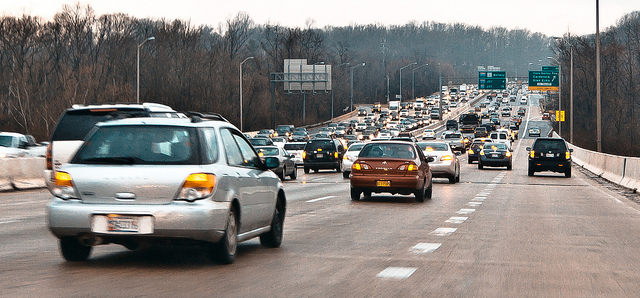 Complaining that decisions about Maryland's congested transportation system are made with no accountability or public input, Maryland Democratic lawmakers on Tuesday announced legislation that would create an Oversight and Planning Board for the Maryland Transit Authority.
The bill, sponsored by Delegate Brooke Lierman, D-Baltimore, would create a board composed of both government officials and private citizens.
"MTA is an extremely complicated multi-modal transit system, and yet does not engage in any long-term planning, does not produce regular performance or reliability reports, and does not accept public or local government feedback in any organized way," Lierman said.
The board would evaluate the Maryland Transit Authority's budget and policies as well as voice the concerns of residents who have problems with the agency.
Hogan calls it a "power grab"
UPDATED 2/17, 8:30 a.m. by MarylandReporter.com: Tuesday night on his Facebook page, Gov. Larry Hogan posted: "Unfortunately, today's reckless power grab over transportation funding shows that certain members of the legislature are still more interested in playing politics and advancing their own agenda than working together for the good of the entire state."
Earlier Tuesday, Matt Clark, communications director for Hogan, had called the announcement a "thinly veiled power grab" by the Democratically controlled legislature to weaken local authority.
"If the leadership in the General Assembly were sincerely interested in oversight of Maryland's transportation network, they would have intervened to stop the previous administration from stealing $1 billion from the Transportation Trust Fund at a time when the state's roads and bridges were crumbling," Clark wrote in a statement. "Instead, the legislature took no action."
In a 2014 referendum, Maryland voters approved a "lock box" on the Transportation Trust Fund, meaning funds could only be used for other purposes in an emergency.
Of the 14 voting members on the transportation planning panel, five would be appointed by the governor. Some seats are reserved for representatives from Baltimore City, and Baltimore, Anne Arundel, Howard, and Harford counties, which the transportation agency serves most.
Scoring system for projects proposed
Legislators said Marylanders need more insight into how and why some projects are funded over others. One bill announced Tuesday would create a scoring system for transportation projects to determine which get funding.
Sen. James DeGrange, who is sponsoring the legislation with Delegate Pam Beidle, both Democrats from Anne Arundel, said getting people to employment is paramount to economic development.
"We need to have the right projects, the right process and the right decision-making…to get people around in an efficient way," DeGrange said.
Projects would be ranked and prioritized based on a set of goals, like relieving congestion and getting people to work. The system is modeled on a similar process passed in Virginia last year.
Despite being backed by three Democratic legislators from Anne Arundel County, including House Speaker Michael Busch, Republican County Executive Steve Schuh opposes the measures.
"This legislation will bog down our transportation projects with unneeded inefficiency and bureaucracy," Schuh said in a statement. "Legislative micromanagement and reducing the voice of local governments will hurt, not help, counties in our state. I ask the legislators from across Anne Arundel County and my fellow county executives to oppose this bill."
The package also included a bill requiring the Maryland Transit Administration to fund a replacement project for the Harry W. Nice Memorial Potomac River Bridge, which is nearing the end of its 75-year lifespan.
Lastly, a bill sponsored by Delegate Cory McCray, D-Baltimore, would raise the commuter tax credit from $50 per month to $100 per month, and lower the minimum number of passengers from eight to six people for carpooling.