DELEGATES PASS BILL TO EXPAND ACCESS TO ABORTION: Legislation to expand access to abortions in Maryland and mandate that most health insurance plans cover the procedure cost-free for patients easily passed the House of Delegates on Friday, a step toward broadening access in Maryland even as the U.S. Supreme Court mulls allowing severe restrictions on abortion in other states. Bryn Stole/The Baltimore Sun.
The House voted 93-42 for the constitutional amendment. If approved by the Senate, voters would have the final say in November. Staff/The Associated Press.
GHOST GUN BAN MOVES FORWARD: The Maryland General Assembly advanced bills on Friday that would ban the sale and ownership of unserialized firearms, or "ghost guns." The Senate preliminarily approved a ghost gun bill during a floor session on Friday morning, while the House of Delegates gave final approval to a bill with different provisions. In the Senate, two Republican senators asked questions about the policy, but there was no debate. Hannah Gaskill/Maryland Matters.
PAUSE ON GAS TAX: Republican Gov. Larry Hogan and the Democratic leadership of the General Assembly have an agreement to pause collection of Maryland's gas tax to help consumers cope with prices that have surged above a statewide average of $4.27 a gallon. How and when that might translate into relief at the pump is still being worked out. What questions do you have and what are the answers? Scott Dance and Bryn Stole/The Baltimore Sun.
MAKING DAYLIGHT SAVING TIME PERMANENT: A bill is moving through the General Assembly that would make daylight saving time permanent in Maryland. But it is contingent on Delaware, Pennsylvania, Virginia, West Virginia and the District of Columbia doing the same, and federal government amending its time code. Khiree Stewart/WBAL-TV.
And Republicans and Democrats in Congress can agree on sleep, or more precisely, the inconvenience of losing or gaining an hour of it each year thanks to going on and off daylight saving time. Ariana Figuroa/Maryland Matters.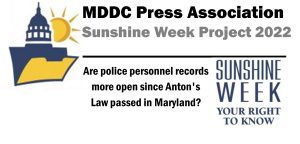 SUNSHINE WEEK: UNEVEN APPLICATION OF POLICE ACCOUNTABILITY ACT: Anton's Law, formally known as the Maryland Police Accountability Act of 2021, went into effect on Oct. 1, 2021. The measure makes internal police discipline and complaint records available to the public, erasing an exemption that had placed them off limits under the Maryland Public Information Act. Until Anton's Law was enacted, members of the public could not find out if police officers in Maryland had been disciplined for misconduct or were the subject of numerous complaints reviewed by internal police investigators. But five months since taking effect, Anton's Law has not yet lived up to its promise. Miranda Spivack for MDDC Press Association/Maryland Reporter.
UNEVEN USE OF POLICE ACCOUNTABILITY BOARDS: For years, Baltimore city has attempted to create a functional police accountability board. Meanwhile, Maryland's counties are gaining Police Accountability Boards under sweeping reforms passed by the General Assembly last year. That's created a dilemma for Baltimore, which will get one, as well: How to merge the new panel with the old, without losing its powers? Jessica Anderson and Lea Skene/The Baltimore Sun.
DEL. REZNIK RECALLS LIFE IN, SINCE UKRAINE: Since Russia invaded Ukraine 3 1/2 weeks ago, several members of the Maryland General Assembly have taken to wearing lapel pins of the Ukrainian flag. Del. Kirill Reznik wears his a little closer to his heart. Reznik, a Montgomery County Democrat, was born in Kyiv in 1974, and immigrated to the U.S. with his family when he was 4 years old. This is his story. Josh Kurtz/Maryland Matters.
OPINION: B'MORE's BLACK COMMUNITY FALLS FURTHER BEHIND: We're tearing Baltimore city apart with a crabs-in-a-bucket mentality.  Other ethnic groups are becoming successful as African Americans are falling further behind. Maybe the answer to their success of those other groups is simple, Their own people don't kill their own or steal from them. Chris Anderson/Maryland Reporter.
LAWMAKERS HOPE TO ADDRESS AIRPORT NOISE: In response to growing complaints from people who live near — and not so near — Thurgood Marshall BWI Airport, top local officials urged the General Assembly to address the noise and potential health impacts associated with low-flying aircraft. Bruce DePuyt/Maryland Matters.
PUSH TO END SECLUSION ROOMS IN PUBLIC SCHOOLS: Following a federal investigation that revealed an alarming number of seclusion and restraint incidents in one Maryland school district, parents and disability advocates are renewing their push to ban the use of seclusion in Maryland schools. Del. Eric Ebersole (D-Baltimore County) is sponsoring a bill that would ban the practice in public schools. Elizabeth Shwe/Maryland Matters.
MDE EMPLOYEE RESIGNS AFTER POLLUTION ENFORCEMENT REPORT: Last week, a stinging report was released documenting how water pollution enforcement "took a nosedive" under Gov. Larry Hogan. Now the Maryland Department of the Environment has confirmed reports that the career official in charge of water pollution compliance for the state has left. Fern Shen/Baltimore Brew.
FEDERAL TEAMS HELPS CLEAR AUTOPSY BACKLOG: A federal team helped clear a backlog of between 200 and 300 cases that had piled up in the overwhelmed Maryland medical examiner's office, state and federal officials confirmed Friday. Meredith Cohn/The Baltimore Sun.
AWKWARD: BROWN VS. O'MALLEY FOR ATTORNEY GENERAL: Primary elections are awkward enough for candidates who, more often than not, share mostly similar politics, a political party and a history of working together. But when you're running against the spouse of someone you shared a gubernatorial ticket with? U.S. Rep. Anthony Brown is running for attorney general against Katie Curran O'Malley, a retired Baltimore District Court judge and his former political running mate's wife. As of now, they are the only two Democrats running for the office. Lee O. Sanderlin/The Baltimore Sun.
PEREZ ENDORSED BY SEIU LOCALS: Democratic gubernatorial candidate Tom Perez announced the endorsement of the Service Employees International Union Locals 1199 and 32BJ, the nation's largest health care worker and property services unions, on Monday. The unions collectively represent more than 30,000 education support personnel and property services workers in Maryland. Danielle Gaines/Maryland Matters.
PROSECUTORS DISMISS MOSBY's CLAIMS AS MERITLESS: Federal prosecutors shot back Friday afternoon against arguments raised by Baltimore State's Attorney Marilyn Mosby last month, dismissing her claims of prejudiced prosecution as factually baseless and legally meritless. Alex Mann and Lee O. Sanderlin/The Baltimore Sun.
ANTI-TRUMP REPUBLICANS WORK TOWARD 'SHADOW' PRIMARY: Maryland Gov. Larry Hogan is planning trips to Iowa and New Hampshire. Rep. Adam Kinzinger, R-Ill., is considering a rough timeline for a potential presidential announcement. And allies of Rep. Liz Cheney, R-Wyo., are openly talking up her White House prospects. More than two years before the next presidential election, a shadow primary is already beginning to take shape among at least three fierce Republican critics of former President Donald Trump to determine who is best positioned to occupy the anti-Trump lane in 2024. Steve Peoples/The Associated Press.