COVID NUMBERS RISE, HOSPITAL BEDS FILL: The number of COVID-19 cases in the state is rapidly rising with a positivity rate that well exceeds 5%. Hospitalizations also are on the rise in Maryland. And in some parts of the state, many are near or at capacity limits. Yes, the new omicron variant appears to be milder than other variants and accounts for less than 1% of the COVID-19 cases in the state. Bryan Renbaum/Maryland Reporter.
COVID PROCUREMENT AUDIT FINDS LACK OF REVIEW, MONITORING: A review of emergency procurements for supplies in Maryland during the COVID-19 pandemic found "a lack of compliance" in general with state regulations and "ineffective monitoring" of payments, according to a report released Thursday by the Maryland Office of Legislative Audits. Brian Witte/The Associated Press.
The auditors found $190 million in pandemic-related emergency purchases by state agencies that lacked appropriate record-keeping and documentation. State agencies made 848 emergency procurements related to the COVID-19 pandemic totaling approximately $1.7 billion across 19 state agencies between March 2020 and May 2021, according to Legislative Auditor Gregory Hook. Hannah Gaskill and Bruce DePuyt/Maryland Matters.
W. MD. LAWMAKERS SEEK $100M FUND FOR ECONOMIC GROWTH: Western Maryland lawmakers said Thursday they will seek $100 million in funding during the upcoming legislative session to incentivize economic growth in that part of the state. The idea of creating a fund of $100 million to attract businesses and spur new home construction was developed by the 11-member Task Force on the Economic Future of Western Maryland, which included two of the state lawmakers. Greg Larry/The Cumberland Times-News.
BIKE, PEDESTRIAN ISSUES IMPERIL NICE BRIDGE LOAN: A federal loan that Maryland is counting on to finance the new Nice/Middleton Bridge is in jeopardy because U.S. Department of Transportation officials have concerns about bicycle and pedestrian safety on the new span. That $200 million loan is expected to cover approximately one-third of the cost of the new bridge, which is about 60% complete. Bruce DePuyt/Maryland Matters.
PEOPLE'S COUNSEL SAYS PSC OK OF RATE INCREASE UNLAWFUL: The Public Service Commission acted unlawfully when it approved a rate increase earlier this year, the Office of People's Counsel told the Baltimore City Circuit Court in a filing today. The PSC's order approving Washington Gas' proposed rate increase allows the utility to recover more than $8 million annually in costs that should not have been approved, OPC said. Staff/The Daily Record.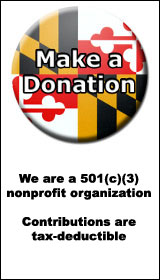 FINAL TWO WEEKS: Maryland Reporter, the original nonprofit website for news about state government and politics, is in the final two weeks of its annual NewsMatch fundraising drive and we've reached 80% of our goal. Every contribution by Dec. 31 is matched by national foundations. Please make a tax-deductible contribution today.
SACKLER FAMILY COULD FACE DAY IN COURT: A federal judge rejected OxyContin maker Purdue Pharma's bankruptcy settlement of thousands of lawsuits over the opioid epidemic Thursday because of a provision that would protect members of the Sackler family from facing litigation of their own. The ruling was immediately praised by Maryland Attorney General Brian Frosh. Geoff Mulvihill/The Associated Press.
SEGAL: 3rd PARTIES SHOULD NOT ACT AS 'SPOILERS:' Maryland's socialist Bread and Roses Party is disbanding, and its founder, Jerome Segal, is launching a run for governor as a Democrat. Segal said it's important that third parties not act as "spoilers" and, in the case of Bread and Roses, inadvertently help Republicans by siphoning away voters who otherwise would support Democrats. Pamela Wood/The Baltimore Sun.
PROFESSIONALS NOT EXEMPT FROM SUBPEONAS, COURT RULES: Though exempt from the Maryland Consumer Protection Act, lawyers and other licensed professionals must still obey subpoenas from the state attorney general's office when it is investigating their alleged violations of the MCPA, Maryland's second-highest court ruled Wednesday. Steve Lash/The Daily Record.
FREDERICK SHERIFF PREPS FOR NATIONWIDE NONCREDIBLE SCHOOL THREAT: As a social media trend threatens school violence across the nation, the Frederick County Sheriff's Office said it has investigated noncredible threats locally and is preparing an increased police presence for Friday. News outlets across the country shared reports Thursday of a "trend" circulating on the social media application TikTok that encourages violence at schools on Dec. 17. Mary Grace Keller/The Frederick News Post.
LAUREL TRACK REOPENS AFTER HORSE DEATHS: Racing at Laurel Park will resume Thursday after two weekends of cancellations in response to a series of eight fatal breakdowns. The Maryland Racing Commission met Tuesday and took no action to prevent the reopening after receiving assurances from track officials, outside experts, trainers and jockeys that the dirt surface is in better shape than it was before the shutdown, which began after three horses suffered fatal fractures over Thanksgiving weekend. Childs Walker/The Baltimore Sun.
CAMBRIDGE COMMISSION ACTS TO REMOVE MAYOR: Cambridge Commissioners are continuing to work toward removing Mayor Andrew Bradshaw from office after he was charged with 50 counts of distributing revenge porn back in November. On Monday, commissioners voted unanimously to direct the City Attorney to issue a formal complaint to remove Bradshaw from office. Sarah Ash/ABC-47.
ANNAPOLIS REDISTRICTING GROUP SEEKS PUBLIC INPUT: The Annapolis group responsible for performing the once-every-decade process of redrawing the city's ward boundaries is seeking public input. Brooks DuBose/The Capital Gazette.
U.S. SECRETARIES IN B'MORE TO PUSH WEATHERIZATION, BBB PLAN: The U.S. secretaries of energy and housing and urban development, Jennifer Granholm and Marcia Fudge, were in Baltimore Wednesday to talk about weatherized housing. They toured a Baltimore Civic Works weatherization job training facility and a weatherized housing unit. U.S. Rep. Kweisi Mfume and Baltimore Mayor Brandon Scott joined the secretaries at the housing unit. Sarah Kim/WYPR-FM.
ONETIME B'MORE CITY COUNCIL CANDIDATE INDICTED ON PPP LOAN FRAUD: A onetime candidate for Baltimore City Council has been indicted for falsely obtaining $1.6 million in Paycheck Protection Program and other Covid-19 relief loans, which she used for plastic surgery, home renovations and other personal expenses. An 18-count federal indictment unsealed today charged Nichelle Henson, 35, of setting up a blizzard of corporations to fraudulently obtain PPP and Economic Injury Disaster loans. Mark Reutter/Baltimore Brew.