LAWMAKERS TO GET ANTI-SEX HARASSMENT TRAINING: The Maryland General Assembly is bringing in the former chief of staff for first lady Michelle Obama to conduct sexual harassment prevention training for 188 lawmakers and their staffs. The move comes after the Maryland Women's Caucus released a report last year that detailed accounts of sexual harassment in Annapolis, Luke Broadwater of the Sun reports.
HOGAN DEFENDS LAND BUY FOR STADIUM: The Hogan administration on Monday defended its pursuit of a large parcel of federal land near the Woodrow Wilson Bridge in Oxon Hill, touting the site as an ideal location for a new pro football stadium. A spokeswoman for Gov. Larry Hogan (R) said he has met with Washington Redskins owner Daniel Snyder at least twice to discuss Oxon Cove, a 300-acre parcel just inside the Capital Beltway near MGM National Harbor, and currently the site of a park and farming museum, writes Bruce DePuyt for Maryland Matters.
STATEWIDE 9-1-1 OVERHAUL: Just about the only thing that should remain the same is the numbers: 9-1-1. Danielle Gaines of Maryland Matters reports that that is the conclusion of the Commission to Advance Next-Generation 911 Across Maryland. The commission recently issued a report to the General Assembly that includes a top-to-bottom revamping of the state's 9-1-1 call centers to reflect the realities of modern Maryland.
WATERWAYS HEALTH: On a man-made reef built to help Chesapeake Bay oysters recover in the Patapsco River, nature is taking over. Researchers have found signs of new life among the mollusks, reports the Sun's Scott Dance. In a semi-annual checkup of the reef next to Fort Carroll and the Francis Scott Key Bridge, the Chesapeake Bay Foundation found two spat. It may not sound like much, but it's an important step, said Allison Colden, Maryland fisheries scientist for the foundation
KIRWAN FUNDING BENEFITS: A $4.4 billion increase in Maryland education funding over a decade is good news for Montgomery County, elected officials say. But they agree that the extent of the benefits won't be determined until the Commission on Innovation and Excellence in Education determines the formula by which that money will be divided among the state's 24 public school systems, Dan Schere of Bethesda Beat reports.
HEALTH CARE ISSUES: When the Maryland General Assembly meets next month it will consider a wide range of health care issues, but not all of them will grab headlines. Tim Curtis of the Daily Record writes about a couple of wonkier issues that hospitals and doctors are watching closely.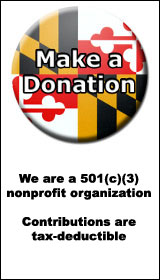 ***SUPPORT NONPROFIT NEWS: Any tax-deductible donation to MarylandReporter.com up to $1,000 will be doubled by four national foundations if we get it by Dec. 31. $50 becomes $100, $250 is worth $500, $1,000 doubles to $2,000. We're now over 80% toward the maximum grant of $25,000.***
HORSESHOE CASINO TAKE CONTINUES SLIDE: Once hailed as an economic "game changer" and "anchor institution" for Baltimore, Horseshoe Casino continues its slo-mo tumble into lackluster profits, pushed by fierce competition from other casinos, reports Mark Reutter for Baltimore Brew. Total slots and table game revenues at the Russell Street casino fell to $19,472,964 in November, the Maryland Lottery and Gaming Control Agency reported yesterday. That's the worst monthly showing since the casino opened 51 months ago, Lottery spokeswoman Carole Gentry confirmed.
TRUMP VISIT CALLED OFF: A planned visit by President Donald Trump to Baltimore on Wednesday has been called off, and a discussion of the administration's urban revitalization policies will take place at the White House instead. Judd Deere, a White House spokesman, said Monday that the change was for scheduling reasons and that the event would still include people from Baltimore, Ian Duncan of the Sun reports.
COURT ALLOWS CHILD IMMIGRANT TO STAY: Maryland's top court has ordered a young Guatemalan immigrant to be permitted to remain with his father in Baltimore while applying for special U.S. residency status and likely citizenship, the Daily Record's Steve Lash reports. The Court of Appeals on Friday cited "unrefuted" evidence that the youngster's mother had neglected him in their homeland and would continue to if he were returned.
ELRICH PROPOSES $40M IN CUTS: In his first week on the job, Montgomery County Executive Marc Elrich has proposed making budget cuts totaling more than $40 million for the current fiscal year to maintain a general fund reserve level that is satisfactory to bond rating agencies, Dan Schere writes in Bethesda Beat.
CAPITAL CORRECTION ON ELECTRONIC FILING: After loud complaints from the comptroller's office saying its own electronic tax return filing system was free, the Capital Gazette now says "we suggest that the comptroller require that software companies provide free electronic filing."
MEDIA SKIPPED GOP CONVENTION: Red Maryland's Brian Griffiths complains that the media skipped the Maryland Republican Party's convention last weekend, while lavishing coverage on the Democrats' confab the week before. [The current GOP state chair Dirk Haire was unopposed for re-election, while the Democrats voted out their current chair.]