HOGAN TOUTS $3.4B IN SCHOOL BUILD PLANS: Gov. Larry Hogan announced a plan Tuesday to fund $3.5 billion in school construction projects across the state, thanks in part to a new constitutional amendment that forces the addition of casino revenue to school funding. Hogan plans to submit legislation during the 2019 General Assembly session that would add $1.9 billion in new school construction projects over five years, Luke Broadwater of the Sun is reporting.
FED LAND SWAP FOR 'SKINS STADIUM: Gov. Larry Hogan on Tuesday touted a tentative agreement he's reached with federal officials to swap park land in Western Maryland to build a new stadium for the Washington Redskins football team in Prince George's County, reports Luke Broadwater for the Sun. The Republican governor declined to release additional details about the plans — including the site under consideration in Western Maryland — saying the proposals were far from finalized.
MD, VA BALK AT METRO PLANS: Maryland and Virginia don't want to pay for a Metro plan to expand rush-hour service, adopt a flat $2 weekend fare and make other service improvements designed to lure back riders, write Bob McCartney and Faiz Siddiqui in the Washington Post. Officials in both states say the proposal from General Manager Paul J. Wiedefeld — to be considered at a Metro board meeting Thursday — would break a new 3 percent cap on annual increases in the operating subsidies they give the transit system.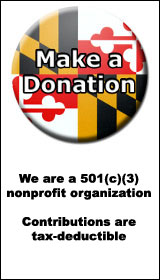 ***SUPPORT NONPROFIT NEWS: Any tax-deductible donation to MarylandReporter.com up to $1,000 will be doubled by four national foundations if we get it by Dec. 31. $50 becomes $100, $250 is worth $500, $1,000 doubles to $2,000. We're now over 80% toward the maximum grant of $25,000.***
NO POLS AT TRUMP-BALTIMORE MEET: What was once planned as a Baltimore-based event for President Donald Trump to discuss urban revitalization has turned into a White House meeting on Wednesday with two confirmed Marylanders — neither of them elected officials. Mayor Catherine Pugh, Gov. Larry Hogan and U.S. Rep. Elijah Cummings said through spokespeople that they won't be attending, Jeff Barker writes for the Sun.
HOGAN SPEAKS AT CONSERVATIVE KLATCH: Gov. Larry Hogan didn't mention President Trump's name Tuesday when he opened a conference in downtown Washington focused on the future of the GOP. He didn't have to. Hogan told the assembled political and policy thinkers that he ran for office four years ago because he was "completely fed up with politics as usual — and, quite frankly, I still am, maybe today more than ever," Ovetta Wiggins and David Weigel report in the Post.
NEW DEM PARTY EXEC DIRECTOR: The Maryland Democratic Party has a new executive director, Baltimore resident Ben Smith. Maya Rockeymoore Cummings, recently elected as the state party's chairwoman, announced Smith's hiring on Tuesday. Smith has been a political consultant and is chairman of the Baltimore City Democratic State Central Committee, Pamela Wood of the Sun reports.
OPINION: ROCKY ROAD FOR ROCKEYMOORE CUMMINGS: In a column for his Political Maryland blog, political prognosticator Barry Rascovar writes that when Maya Rockeymoore Cummings seized leadership of the Maryland Democratic Party, she bought herself a truckload of troubles. Despite a lopsided Democratic voter-registration edge in Maryland, the party is badly fractured. The far-left urbanist progressive movement cannot see eye to eye with traditional Democratic moderates.
A DIFFERENT REDISTRICTING FIGHT? One of the more important takeaways from the Maryland Republican Party Fall Convention from over the weekend was not the officer elections, but a new fight over redistricting that's looming, writes Brian Griffths in his Red Maryland blog. The question comes as to whether or not multi-member districts provide uneven levels of representation.
'TIME' HONORS CAPITAL GAZETTE: Time magazine has chosen "The Guardians and the War on Truth" for its Person of the Year, and the staff of the Capital Gazette are among those being honored, Sarah Meehan writes The magazine unveiled four covers on Tuesday featuring journalists whose work led to their arrests or their deaths. In addition to the Capital Gazette staff, the honorees include slain Washington Post columnist Jamal Khashoggi; Reuters journalists Wa Lone and Kyaw Soe Oo, who were arrested in Myanmar and are represented on the cover in photos held by their wives; and Maria Ressa, editor of the Rappler news website in the Philippines, who is facing up to 10 years in prison.