RX POT INDUSTRY, THE FIRST YEAR: Maryland's medical marijuana industry ended its first year of operation this week with $96.3 million in sales driven by nearly 52,000 patients who have purchased about 730,000 individual products such as vape pens. Between 250 and 350 patients have been applying each day with the state to be able to purchase cannabis products sold from the dozens of licensed stores across Maryland, many of whose owners cannot resist a pun, such as Starbuds in Baltimore, Hi Tide in Ocean City and Grow West in Cumberland, Doug Donovan notes in the Sun.
MARYLANDERS BUY HEALTH INSURANCE: As the state health exchange enters the final week of this year's open enrollment, Marylanders appear more interested in buying health insurance than many other Americans, Meredith Cohn writes in the Sun. The number of people buying private policies through the state's online marketplace created under the Affordable Care Act is up a bit, while enrollment on the federal exchange that serves 39 states is down 11%.
SAVING ACA IN SHORT-TERM: Maryland legislators in the 2019 General Assembly session will consider several measures aimed at reducing health care costs and protecting the Affordable Care Act in Maryland, but it appears unlikely they will focus on a long-term plan to stabilize the state's individual insurance market, writes Tim Curtis in the Daily Record.
OPINION: CUT TAX FILING FEE: The editorial board of the Annapolis Capital urges the state to drop fees required of those filing their taxes electronically, writing that roughly 85% of people file their Maryland tax returns electronically and the current systems take 2½ to three days from the time they click to file to the time a refund lands in their bank account. Federal returns are filed online for free, and state returns should be as well.
NURSING HOMES CANNOT SUE STATE ON BEHALF OF PATIENTS: Nursing homes cannot sue state officials to recover unpaid Medicaid benefits on behalf of past patients, a federal appeals court ruled Thursday in denying compensation requests by three Maryland facilities against health and social-services secretaries, Steve Lash of the Daily Record reports.
FROM ED BOARD TO HOUSE OF DELEGATES: Maryland State Board of Education member Michele Jenkins Guyton has already moved into her new role as an incoming delegate representing Baltimore County's District 42B in the General Assembly. Guyton (D) was in Annapolis at the end of this week for freshman orientation, Danielle Gaines reports in Maryland Matters. "My greatest joy has always been through directly impacting our students, our teachers and our communities," Guyton said. "And it was for that reason that I ran and was elected to represent Baltimore County in the General Assembly."
TRUMP TO VISIT BALTIMORE: President Donald Trump will visit Baltimore Wednesday, his first trip to the city since taking office, the White House said Friday, Jeff Barker and Ian Duncan of the Sun report. The trip is to promote so-called "opportunity zones," which were created by a Republican-backed tax law and are designed to encourage investment in and around struggling neighborhoods. The White House said the president will attend a roundtable with local leaders and mayors.
STATE WORKS TO KEEP REDSKINS: The Hogan administration negotiated a memorandum of understanding with a federal agency to gain control of a parcel of land near National Harbor, part of a strategy to keep the Washington Redskins from leaving the state, writes Bruce DePuyt for Maryland Matters. The MOU, negotiated with the Department of the Interior in September 2017 followed a written request from the governor to President Trump. It apparently went undisclosed for more than a year, until a Friday report in The Washington Post.
TRONE GAVE CAMPAIGN $1.5M IN LAST WEEKS: U.S. Rep.-elect David Trone contributed another $1.5 million out of his own pocket in the final three weeks of his successful congressional bid in District 6, according to post-election disclosure reports filed late Thursday with the Federal Election Commission, Louis Peck writes for Bethesda Beat.
BUSCH RETIRES FROM ARUNDEL REC & PARKS: In an effort to boost the Anne Arundel County Department of Recreation and Parks, then County Executive Bob Pascal turned to another former college football player who he had gotten to know through Democratic political circles and with whom he had built a close friendship. Michael Busch was hired as an administrator for the county department in 1979 and immediately made a difference, according to his original boss. The man best known as Speaker of the Maryland House of Delegates is retiring from Rec & Parks after 40 years, Bill Wagner reports for the Annapolis Capital.
CUMMINGS ON MD DEM PARTY FUTURE: The Sun's Luke Broadwater sits down with Maya Rockeymoore Cummings, the new head of the state Democratic Party, to talk about the recent election and the future of the party in Maryland. She outlines her plans to bring more people into the party.
STATE GOP ELECTIONS: The Maryland Republican Party voted on leadership positions at its fall conference at the Hotel at Arundel Preserve on Saturday. Incumbent Dirk Haire, a D.C.-based construction law attorney, retained his chairmanship, Catherine Rentz of the Sun reports.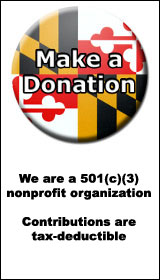 ***SUPPORT NONPROFIT NEWS: Any tax-deductible donation to MarylandReporter.com up to $1,000 will be doubled by four national foundations if we get it by Dec. 31. $50 becomes $100, $250 is worth $500, $1,000 doubles to $2,000. We're now over 80% toward the maximum grant of $25,000.***
LIGHTING UP GOVERNMENT HOUSE: Here's a photo gallery from Josh McKerrow of the Annapolis Capital of Government House, decorated and opened for visitors this past weekend.
DARDEN & THE GOVERNORS: Cumberland Times News digital editor Teresa McMinn writes a column about photographer Tom Darden and the relationships he forged with Maryland's governors.
PG COULD WIN WITH AMAZON LOSS: Prince George's officials felt snubbed when their county was the lone jurisdiction in the Washington region not picked as a finalist for Amazon's second headquarters. Now, though, they say Prince George's could be the "lucky loser" of the retailing giant's move to Crystal City, Rachel Chason reports in the Post.
OLSZEWSKI PERSONNEL CHANGES: Baltimore County Executive Johnny Olszewski Jr. announced this week that he'll do a national search for a new county police chief. Current Chief Terrence B. Sheridan plans to stay on for six months during the search, and then retire. Who else is leaving? Who is staying and who is in limbo? Pamela Wood writes the story for the Sun.
ON LES KINSOLVING: The Post's Matt Schudel reports this obituary of WCBM-AM gadfly Les Kinsolving, writing that he "always knew how to attract attention. He began his career in advertising and public relations before turning to other forms of persuasion: He was, at various times, an Episcopal priest, an investigative reporter, a nationally syndicated religion columnist, a gadfly White House correspondent and a longtime conservative radio talk-show host."