KIRWAN PANEL SUGGESTS $4.4B ED HIKE: The chairman of a committee looking to revamp Maryland's education system promised on Thursday to deliver a full report before the start of the legislative session, Danielle Gaines reports in Maryland Matters. After a midday conversation about whether the Commission for Innovation and Excellence in Education would hit its January deadline for a final report, Chairman Brit Kirwan said the commission was committed to delivering to lawmakers a complete report on policy recommendations, as well as cost estimates for those recommendations and suggestions for changes to the state's education funding formulas.
PANEL BANS MARIJUANA ADVERTISING: The Maryland Medical Cannabis Commission voted unanimously Thursday to ban billboard, radio, TV and most online advertising by marijuana companies — a move that representatives for the firms said they would fight in the General Assembly when it convenes next month, Doug Donovan of the Sun reports.
DEREGULATION USHERED IN HIGHER ENERGY RATES: Almost two decades ago, state lawmakers welcomed an influx of energy companies offering contracts in mailings and door to door. They said opening up utility monopolies to competition would drive down prices. But for most residents who have signed up for those deals, energy costs have not fallen. Instead, data compiled by consumer advocates show they have spent hundreds of dollars a year more than they would have if they stuck with standard utility rates, Scott Dance reports in the Sun
BAY DEBRIS CLEANUP: As of Sept. 27, Department of Natural Resources crews had removed 140,680 pounds of storm-related debris from navigable waters in the Bay. But the work was far from done. The DNR's John Gallagher said he expects the cleanup to continue, after a winter intermission, well into 2019, reports the Bay Journal's Jeremy Cox in MarylandReporter.
FACES OF THE LEGISLATIVE CLASS OF 2019: The official legislative facebook of the members of the General Assembly will not be out till January. But while we wait, MarylandReporter.com provides the Department of Legislative Services poster of the class of 2019 split into four printable parts. The new senators and delegates have been marked with red stars. First names are available on the State Board of Elections results.
COLUMBIA TALK: Maryland Reporter editor Len Lazarick will be talking about his recent book "Columbia at 50" this Friday at noon at the Museum of Howard County History next to the old Courthouse in Ellicott City, 8328 Court Ave., Ellicott City. For more information, click here.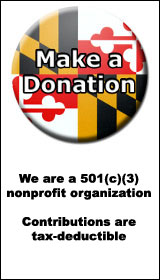 ***SUPPORT NONPROFIT NEWS: Any tax-deductible donation to MarylandReporter.com up to $1,000 will be doubled by four national foundations if we get it by Dec. 31. $50 becomes $100, $250 is worth $500, $1,000 doubles to $2,000. We're now over 70% toward the maximum grant of $25,000.***
PITTMAN TO ALTER PLANNING PANEL: Anne Arundel County Executive Steuart Pittman announced Wednesday planned changes to the General Development Plan Citizens Advisory Committee, but he did not provide any specifics on who may be asked to step down. Planned changes include less emphasis on developers and builders and increasing geographic diversity by adding members from lesser represented areas of the county, writes Chase Cook for the Annapolis Capital.
CHANGES AT TOP LOBBYING FIRM: Rifkin Weiner Livingston LLC, a regional law firm with one of the top-earning lobbying practices in Annapolis, is announced Thursday that Eric Bryant and John "JR" Reith will become co-chairmen of the RWL Government Relations Division. The firm's Annapolis operation has been led for 15 years by Joel Rozner, who will remain with the firm and keep his robust lobbying practice, Josh Kurtz of Maryland Matters writes.
OUTGOING MO CO FINANCE DIRECTOR REFLECTS: For most of the past three decades, Tim Firestine has been one of the most influential figures in Montgomery County government—as finance director under county executives Neal Potter and Doug Duncan, and then, for the past 12 years, second in command to County Executive Ike Leggett as chief administrative officer. This past Monday, Firestine retired after handing off the county's highest paid position to Andrew Kleine. As he prepared to leave office last week, Firestine, 63, took time out for an extended conversation on his career with Louis Peck of Bethesda Beat.
CAPITAL PHOTOG RESPONDS TO TRUMP: Tim Elfrink of the Post writes that photographer Joshua McKerrow spent Thursday at the Maryland governor's mansion, where he's traveled annually for years to cover the holiday decorations with Capital Gazette reporter Wendi Winters. But this year, Winters was absent – one of the five victims killed in a mass shooting in the paper's Annapolis newsroom in June. So McKerrow was already emotional when he saw President Trump's latest all-caps broadside against journalists.
SUN BUYOUTS: Longtime Sun State House reporter Michael Dresser is among the first journalists at the city's daily newspaper to go in the most recent round of buyouts from Tribune Publishing. Several employees from the smaller community papers within the Baltimore Sun Media Group, whose newsrooms have banded together to unionize, have announced their intentions to take the offer, Brandon Weigel of Baltimore Fishbowl reports.