NEW SCHOOL RATING UNVEILED: More than half of Maryland schools received the highest ratings — four or five stars — under a new system for tracking school performance rolled out Tuesday, Donna St. George of the Post reports.
Maryland has debuted a new school accountability system that gives parents, students and teachers a way to easily tell how well their school is doing. Every public school in the state is assigned a rating, from a minimum of one star to a maximum of five stars, based on several factors, including academic achievement, absenteeism, graduation percentage, curriculum, and performance of English language learners, Caroline Pate writes in the Sun. Charts of the school rankings accompany.
About 17% of Maryland's schools are operating at the highest level, according to new accountability scores released by the Maryland State Department of Education on Tuesday. Danielle Gaines of Maryland Matter reports that a little less than 3% of schools in the state received the lowest accountability score in the new measurement scheme, one star.
Here's a map showing every school in the state and their ranking, by Christine Zhang of the Sun. (The MSDE server for the new ratings crashed yesterday and continued to be down at 8 a.m.)
TAKEAWAYS ON NEW RATING SYSTEM: Talia Richman and Liz Bowie of the Sun offer up takeways of the new rating system, including that 70% of schools in the state earned three or four stars out of five, and 60% earned four of five stars.
EXCESSIVE ABSENCES: More than 60% of graduates in a Maryland school system had excessive unexcused absences in one or more required courses last school year, according to a random review of records — a problem that could have kept them from getting a diploma, Donna St. George of the Post is reporting.
ARUNDEL SCHOOLS: Anne Arundel County schools trail neighboring counties in new state educational rankings released by the Maryland State Department of Education Tuesday. Lauren Lumpkin of the Annapolis Capital reports that Arundel schools also lag behind the statewide average, according to a new rating system that awards schools between one and five stars based on performance indicators.
BALTIMORE CITY SCHOOLS: The majority of Maryland's struggling schools are concentrated in Baltimore City, according to rankings released Tuesday. Talia Richman of the Sun writes that there are 35 Maryland schools that earned one star — and 23 of them are in Baltimore. The city also has more two-star schools (76) than the rest of the state combined (68).
FREDERICK SCHOOLS: The majority of Frederick County Public Schools are four-star schools, with some schools receiving three- and five-star ratings in the 2018 Maryland Report Card released Tuesday by the state's accountability system that allocates a star rating to each school in Maryland, Emma Kerr reports for the Frederick News-Post.
HARFORD SCHOOLS: In Harford County, 10 schools achieved five-star status, and another 27 garnered four stars. Harford Superintendent Sean Bulson, speaking during a Board of Education meeting on Monday ahead of the release of the ratings, said officials had gotten a preview and that local schools "look pretty good," the Sun is reporting.
MONTGOMERY SCHOOLS: Nearly a quarter of Montgomery County Public Schools received the top ranking in a new state accountability model released Tuesday, Caitlynn Peetz reports for Bethesda Beat.
WASHINGTON COUNTY SCHOOLS: Fourteen public schools in Washington County earned top marks in Maryland's new school ratings, which were publicly released Tuesday, CJ Lovelace reports for the Hagerstown Herald-Mail. Three middle schools and two high schools also earned 5 stars, the highest score possible on the state's new 1 to 5 scale. Twenty-one schools earned a 4-star rating, while five schools — two elementary, two middle and one high — earned 3 stars. Washington County Public Schools was one of 14 local systems that had no schools rated lower than 3 stars.
REDRAWING DISTRICT MAY BE ENOUGH? A forthcoming proposal to redraw one Maryland congressional district may be enough to satisfy a court order even if the legislature doesn't act on it, according to a spokeswoman for Gov. Larry Hogan, writes Bryan Sears for the Daily Record. Last week Hogan issued an executive order creating a nine-member emergency commission tasked with redrawing the 6th Congressional District. But the governor's interpretation of the federal court order also leaves open the door to others who may want a hand in reshaping the district before an overall redistricting effort after the 2020 census.
COLUMBIA TALK: Maryland Reporter editor Len Lazarick will be talking about his recent book "Columbia at 50" this Friday at noon at the Museum of Howard County History next to the old Courthouse in Ellicott City, 8328 Court Ave., Ellicott City. For more information, click here.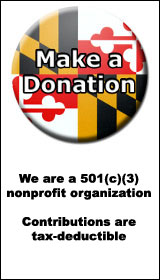 ***SUPPORT NONPROFIT NEWS: Any tax-deductible donation to MarylandReporter.com up to $1,000 will be doubled by four national foundations if we get it by Dec. 31. $50 becomes $100, $250 is worth $500, $1,000 doubles to $2,000. We're now over 70% toward the maximum grant of $25,000.***
FRANCHOT PREDICTS WINDFALL: Comptroller Peter Franchot said Maryland is anticipating a windfall of more than $1 billion in tax revenue because of the 2017 federal tax reform law and the implementation of a Supreme Court decision allowing states to collect sales tax from online retailers, and is urging lawmakers to put the money in a rainy day fund, Holden Wilen of the Baltimore Business Journal reports.
WA CO DELEGATION PREDICTS ISSUES: Proposals to raise Maryland's minimum wage and legalize recreational marijuana use will come up during the next General Assembly, Washington County lawmakers said Tuesday. Local business people asked members of Washington County's delegation about those issues during Tuesday morning's prelegislative forum, writes Mike Lewis for the Hagerstown Herald-Mail.
CONSTITUENTS LAYOUT PRIORITIES: From breakfast with the Chamber of Commerce through a public evening forum, Washington County's legislators spent all day Tuesday hearing from constituents as the next Maryland General Assembly session nears. Of particular interest this year were continued support for the Urban Improvement Project in downtown Hagerstown, aid for economic development and educational concerns, Tamela Baker of the Hagerstown Herald-Mail reports.
COMPLAINTS AGAINST DELEGATE-ELECT: Electioneering complaints filed against Frederick County Del.-elect Dan Cox (R-District 4) have been sent to the Office of the State Prosecutor, Samantha Hogan reports for the Frederick News Post. Cox was seen taking photos and recording a video during early voting within the 100-foot electioneering exclusion zone at the Thurmont Regional Library on Oct. 25. Two people filed complaints with the State Board of Elections for his actions.
OPINION: DEMOCRATIC PARTY TURNING PROGRESSIVE: In a column for Maryland Matters, Progressive Richard Deshay Elliott outlines how the state's Democratic Party leadership changed on Saturday to a more-Progressive movement.
TRUMP BUSINESSES SUBPEONAED: Dozens of subpoenas were issued Tuesday to businesses affiliated with President Donald Trump and others in a lawsuit by Maryland and the District of Columbia that alleges the president violated a constitutional prohibition on profiting from his post by doing business with foreign governments, Jeff Barker of the Sun reports.
ADDICTION & THE CIVIL WAR: In a column for Maryland Reporter, Charles Seymour of Give America Hope writes about the long history of addiction in the United States, writing that "most of us don't realize the first American opioid epidemic started in the Civil-war era with the invention of the hypodermic needle to administer morphine to injured soldiers. By the end of the conflict, the term "soldier's disease" came into existence to describe post-war addicts."
SUN COMMUNITY PAPERS UNIONIZE: A unionization effort by smaller community papers within the Baltimore Sun Media Group was voluntarily recognized by parent company Tribune Publishing, clearing the way for contract negotiations between the two sides, Brandon Weigel reports for Baltimore Fishbowl.
***Annapolis journalist sought: MarylandReporter.com is looking for a freelance writer to help cover the Maryland General Assembly from January through early April. We are also looking for someone to fill in for our state roundup editor, doing aggregation 6-8 a.m. Fridays and other days as needed. For more information on these opportunities and how to apply, click here on journalismjobs.org.***