ROCKEYMOORE CUMMINGS OUSTS MATTHEWS: Maya Rockeymoore Cummings, a onetime candidate for governor in Maryland, was elected chairwoman of the state Democratic Party on Saturday, ousting incumbent Kathleen Matthews after a debate over the party's future, Ovetta Wiggins of the Post reports.
BLACK CAUCUS TARGETS SMOKING: Concerned about the long-lasting toll smoking has taken on the African American community, the Legislative Black Caucus of Maryland is leading an effort to impose restrictions on access to tobacco products. The caucus is pushing for Maryland to join a growing number of cities and states that have raised the age to buy tobacco products, including electronic cigarettes, from 18 to 21, Ovetta Wiggins of the Post reports.
SPORTS BETTING: Legislative leaders in the Maryland General Assembly say the odds on passing legislation to legalize sports betting are improving, writes Bryan Sears for the Daily Record. Maryland lawmakers punted on legalizing sports betting as the clock ran out on the 2018 session. Meanwhile other neighboring states not only legalized the activity, they're luring gamblers away from Maryland's six casinos.
TRUMP OKs ATLANTIC OIL SEARCH: The Trump administration on Friday authorized use of seismic air guns to find oil and gas formations deep underneath the Atlantic Ocean floor, reversing Obama administration policies and drawing outrage from critics who say the practice can disturb or injure whales, sea turtles and other marine life, the Sun is reporting.
MILLER MAKES COMMITTEE PICKS: Josh Kurtz of Maryland Matters lists all the committee assignments that Senate President Mike Miller Jr. (D-Calvert) announced on Friday for his chamber, and other key assignments, for the upcoming General Assembly session.
McCRAY ON BUDGET & TAX: Incoming Sen. Cory McCray will represent Baltimore on the powerful Budget and Taxation Committee, Senate President Mike Miller announced Friday. McCray, 36, will take the committee seat held for 24 years by the man he defeated in June's Democratic primary, Sen. Nathaniel McFadden, Michael Dresser of the Sun reports.
SARBANES EYES SWAMP-DRAINING: U.S. Rep. John Sarbanes and other House Democrats announced plans Friday for their first bill of the new, Democratic-controlled House of Representatives — a political reform measure they say would "drain the swamp" in a way President Donald Trump has not, Jeff Barker of the Sun reports.
REMEMBERING PRESIDENT BUSH: Bruce DePuyt of Maryland Matters interviews Maryland political leaders about their memories and reflections on former President George H.W. Bush, who died on Friday at the age of 94.
PELOSI , THE BALTIMOREAN: The once and future U.S. Speaker of the House represents California. But she is indeed from Baltimore. The Sun offers a photo gallery of her early life, the daughter of well-known politician Tommy D'Alesandro.
FROSH TO PROBE MARRIOTT BREACH: Attorney General Brian Frosh said Friday that he is launching an investigation into a massive data security breach affecting as many as 500 million guests who stayed at hotels operated by Marriott Corp. Michael Dresser of the Sun reports that, calling the Marriott breach "one of the largest and most alarming we've seen," Frosh said his office would look into what caused the breach and how it would affect consumers.
GOVERNOR's OPEN HOUSE: Gov. Larry Hogan and first lady Yumi Hogan announced Thursday that they are inviting Maryland residents to attend their holiday open house on Dec. 8 at the governor's mansion in Annapolis from 1-4 p.m., Doug Donovan writes in the Sun. The annual tradition is free and open to the public without any need of an RSVP.
COLUMBIA TALK: Maryland Reporter editor Len Lazarick will be talking about his recent book "Columbia at 50" this Friday at noon at the Museum of Howard County History next to the old Courthouse in Ellicott City, 8328 Court Ave., Ellicott City. For more information, click here.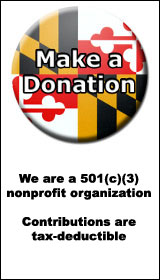 ***SUPPORT NONPROFIT NEWS: Any tax-deductible donation to MarylandReporter.com up to $1,000 will be doubled by four national foundations if we get it by Dec. 31. $50 becomes $100, $250 is worth $500, $1,000 doubles to $2,000. We're now over 70% toward the maximum grant of $25,000.***
NEW COUNTY LEADERSHIP: Pamela Wood of the Sun writes that elected officials will take their oaths of office in most of Baltimore's suburban counties on Monday, including Baltimore County Executive-elect Johnny Olszewski Jr., Howard County Executive-elect Calvin Ball and Anne Arundel County Executive-elect Steuart Pittman.
ELRICH ON ELECTION, TRANSITION: The day after Marc Elrich was elected Montgomery County's seventh executive, he had a moment of panic. "When I woke up … my first thought was: 'Jesus Christ, I've got to find an entire government by Dec. 3,' " he said. Unlike most elected Democrats in the deep-blue Washington suburb, he faced a vigorous challenge from a former Democrat in the general election, which left him little time to plan for the future before Election Day, Jennifer Barrios reports in the Post.
LEGGETT REFLECTS: Montgomery County Executive Ike Leggett (D) leaves office at noon today, after 12 years on the job, when Councilman Marc B. Elrich (D) takes the oath of office. Leggett sat down with Maryland Matters reporter Bruce DePuyt recently for an extended look back at his ground-breaking career. The interview focused on the challenges brought on by the Great Recession, the sexual harassment trial that nearly derailed Leggett's political career, and Kathleen Kennedy Townsend's decision not to choose Leggett as her running mate.
ALSOBROOKS PLANS TO BE THE BEST: Angela Alsobrooks, who will be sworn in Monday as the first woman to lead Prince George's County, has what she calls an "open secret": She intends to leave office having been the best county executive in Prince George's history, Rachel Chason of the Post reports. "I want a double first — I want people to say, 'she's a woman and she's the best we've ever had,' " Alsobrooks said. "You've got to outwork them."
PITTMAN PICKS 'REGULAR FOLKS' TO SPEAK: Anne Arundel County Executive-elect Steuart Pittman has invited four unlikely guests to speak at his inauguration Monday. The Capital Gazette's Lauren Lumpkin writes that he's planned the event with a community focus, underscoring the message the farmer-turned-politician recited during his campaign. They're "not your typical dignitaries," Pittman said. "In fact, the dignitaries are going to be seated off to the side in those raised seats, and we're going to have regular folks up on the stage."
ARUNDEL GROWTH & PITTMAN's VISION: In a column for the Annapolis Capital, Jimmy DeButts writes that the long-term plan for Anne Arundel County's growth will have Steuart Pittman's fingerprints all over it. The biggest — and most immediate for Anne Arundel — could be the direction of the General Development Plan Citizen Advisory Committee. This committee will be responsible for providing input to the county's Office of Planning and Zoning as it develops the blueprint for development over the next two decades.
SCHUH POINTS TO TRUMP FOR LOSS: As Arundel County Republicans watched election returns come in on Nov. 6 and their hopes for a strong Republican showing go down the drain, losing County Executive Steve Schuh pointed to one person as the cause for his and others' losses: President Donald Trump. There wasn't a problem with local candidates, campaigns or fundraising, he said. It was Washington. Chase Cook writes the story for the Annapolis Capital.
KITTLEMAN SAYS FAREWELL: It was a weepy celebration in Ellicott City Friday, as Howard County Executive Allan Kittleman's official portrait was unveiled in the county seat, reports Len Lazarick for MarylandReporter. Not only did it mark a jarring halt to a political career that some had seen going all the way to the State House as governor. It also marked a 32-year low point for the Republican Party in Howard County.
***Annapolis journalist sought: MarylandReporter.com is looking for a freelance writer to help cover the Maryland General Assembly from January through early April. We are also looking for someone to fill in for our state roundup editor, doing aggregation 6-8 a.m. Fridays and other days as needed. For more information on these opportunities and how to apply, click here on journalismjobs.org.***
BA CO FINANCIAL FORECAST DIM: When Johnny Olszewski Jr. takes the oath of office Monday as the new Baltimore County executive, he'll inherit a financial forecast for the county that could force him to consider raising taxes, Pamela Wood of the Sun reports. A new advisory report on county finances warns that Baltimore County cannot sustain its current rate of borrowing money for infrastructure projects.
PUGH's INTERESTING FUNDRAISER: After repeatedly drawing a link between crime and corner liquor stores in some of Baltimore's poorest neighborhoods, Mayor Catherine Pugh held a fundraiser in September with Korean-American store owners that netted her campaign account more than $20,000, Ian Duncan of the Sun reports.