REDISTRICTING EMERGENCY: Gov. Larry Hogan created an "emergency" commission on Monday to redraw the borders of Maryland's 6th Congressional District, moving ahead on a new map despite state Attorney General Brian Frosh's appeal of a federal ruling that ordered the redraft, Michael Dresser of the Sun reports.
GM PLANT CLOSING: A General Motors transmission plant in White Marsh, Baltimore County, is on the chopping block, but federal, state and local officials are vowing to fight the closure, Doug Donovan reports in the Sun.
EFFECTS OF CLIMATE CHANGE IN MD.: Scott Dance of the Sun reports that the latest edition of a report on predicted climate change impacts, released by the Trump administration on Friday, says Maryland is already seeing some effects of rising global temperatures. Many of them are well documented: more coastal floods, heavier downpours and shorter winters. Others are less well known, such as the disappearance of marshes, reduced air quality from wildfire smoke and more frequent waterborne illnesses.
UMCP ACCREDITATION: The agency responsible for awarding the University of Maryland its accreditation is planning a visit to the College Park campus and has asked the institution to hand over details of its governance, Lillian Reed of the Sun reports. The Middle States Commission on Higher Education confirmed earlier this month it was reviewing the University of Maryland's accreditation following media reports about the institution's athletic program over the summer.
BALTIMORE TRANSIT: A new Greater Washington Partnership report offering a high-level blueprint for improving transit connections from Baltimore to D.C. to Richmond criticizes the fact that the State of Maryland, not Baltimore City and other surrounding jurisdictions, operates our area's bus, light rail, subway and commuter train systems. Ethan McLeod of Baltimore Fishbowl reports.
REGIONAL RAIL: Baltimore Brew highlights a commentary about combining Maryland's and Virginia's commuter rail service in light of the Amazon headquarters location in Crystal City.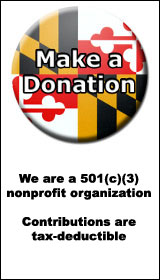 GIVING NEWS DAY: Scores of nonprofits have been filling email inboxes with reminders of Giving Tuesday today. Well, Giving Tuesday is also Giving News Day, part of the News Match challenge grant, helping to fund nonprofit news websites like MarylandReporter.com. Any tax-deductible donation to MarylandReporter.com up to $1,000 will be doubled by four national foundations if we get it by Dec. 31. $50 becomes $100, $250 is worth $500, $1,000 doubles to $2,000. We're now over 50% toward the maximum grant of $25,000. Please consider a donation today.
AGING IN PLACE: In an op-ed for the Sun, elder law attorney Jason Frank writes that in 1999, the Maryland legislature created what is now known as the "Medicaid Home and Community Based Options Waiver" program. What is "waived" is the federal requirement that someone be in a nursing home to get the help they need. Aging in place was now possible. Except that it isn't possible. It hasn't been possible. Maryland doesn't fund the program.
PLASTIC BAG FEE IN HOWARD BACKED: A proposal that would allow Howard County to place a fee on plastic bags saw overwhelming support during a Monday hearing where more than 20 residents implored delegates to vote in favor of the enabling bill. The bill, if passed by the General Assembly, would allow Howard County Executive-elect Calvin Ball to introduce, approve or veto legislation to implement the fee, Erin Logan of the Howard County Times reports.
SENATE CAMPAIGN DONORS: Nearly a dozen members of the Maryland Senate have given at least six figures in campaign donations to help other candidates and campaign committees in the state, fundraising records show. Danielle Gaines of Maryland Matters writes that Senate President Mike Miller Jr. (D-Calvert) gave colleagues and associated campaign committees more than $1 million. Sen. Guy Guzzone of Howard County gave the second most. Who else gave and how much did they give?
RASKIN ROLE IN NEW CONGRESS: Arriving on Capitol Hill, U.S. Rep. Jamie Raskin found himself a member of the minority for the first time in his political career. His status changed Nov. 6 when the Democrats picked up nearly 40 seats nationwide to regain majority status in the House. Come January, that will translate into enhanced influence for Raskin, including a possible post in the House leadership, as well as most of the rest of Maryland's House delegation, all but one of whom are Democrats, Louis Peck of Bethesda Beat reports.
GOP POSTS: Red Maryland lists the candidates running for officer seats with the Maryland Republican Party on the second weekend of December.
BA CO SCHOOL BOARD APPOINMENTS: Gov. Larry Hogan named three new members to the Baltimore County School Board on Monday, and returned one other member already serving on the board, according to a statement from the governor's office. The returning member is former Baltimore County Executive Roger Hayden, Liz Bowie of the Sun reports.
SQUEEGEE KIDS: In a column for MarylandReporter, Tyrone Keys and Richard Vatz go after Baltimore Mayor Catherine Pugh's attempt to address the Squeegee Kid Problem with what they say are outdated and minor entrepreneurial suggestions.