REDISTRICTING MARYLAND: The redistricting after the 2020 Census will mark the first time in modern history that Maryland has redrawn its congressional maps under a divided government. Early signs suggest a prolonged fight, reports the Post's Erin Cox. The reelection this month of Gov. Larry Hogan (R), an aggressive advocate for a nonpartisan redistricting commission, has heightened the standoff between the governor and Democrats who hold supermajorities in the General Assembly at a time when more states are moving to an independent redistricting process.
RX POT SALES SOAR: Sales of medical marijuana in Maryland this year are blowing by projections from one of the cannabis industry's leading market research firms. New Frontier Data forecast last year — before Maryland's market kicked off last December — that the state's 2018 sales would be $46 million. Doug Donovan of the Sun reports that for the first nine months of 2018, however, sales have been $67 million, according to the latest data from the Maryland Medical Cannabis Commission.
OYSTERS IN ANNAPOLIS: The editorial board for the Capital Gazette opines that, from dockside gardeners to massive, federally funded reef projects, people clearly care about the future of oysters, this foundational species of the bay. The details of the recent oyster survey, mandated by the General Assembly, will now be built into management plans being developed by the Department of Natural Resources. By Dec. 1, these plans will be forwarded to the legislature for consideration during the session that begins in January.
POCOMOKE REDO: Federal and state agencies along with the Nature Conservancy are redoing the Pocomoke River on the Lower Shore to allow more water to filter through its floodplain, the Bay Journal's Jeremy Cox writes in MarylandReporter.com. The nearly $4 million project, funded by government and nonprofit sources, is designed to slow the water down, officials said. The breaches will allow the river to spill more often onto 4,000 acres of its historic floodplain, diverting tons of nutrients and sediment that would otherwise gush downstream and enter the Chesapeake Bay.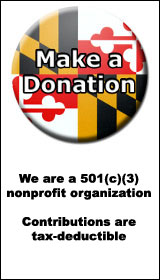 ***SUPPORT NONPROFIT NEWS: Any tax-deductible donation to MarylandReporter.com up to $1,000 will be doubled by four national foundations if we get it by Dec. 31. $50 becomes $100, $250 is worth $500, $1,000 doubles to $2,000. We're now almost 50% toward the maximum grant of $25,000. Tuesday is Giving News Day.***
DEL. MOON STEAMS OLD BAY LOVERS: Speaking of Maryland seafood, like a crab about to be cooked, state Del. David Moon found himself in hot water last week when he took a cue from D.C. Mayor Muriel Bowser, who had said she was annoyed by mumbo sauce, the famous D.C. condiment. Moon however took his aim at Old Bay Seasoning, and critics were steamed, Andrea Swalec of NBC-News 4 reports.
SAVING STATE PENSIONS: The editorial board for the Post offers a roadmap to stabilizing Maryland's state worker pension fund, opining that Gov. Larry Hogan (R) and the Democratic-dominated General Assembly have opted to muddle through over the past four years, adding a total of $375 million in supplemental payments to state pensions instead of the $300 million per year called for in a 2011 pension reform law.
BILLS TO AID CHILDREN ON HORIZON: The 2019 Maryland General Assembly session could become the year of the child in the areas of criminal justice and cyberbullying, reports Steve Lash for the Daily Record. Leaders of the legislature's judiciary panels list reform of the juvenile justice system and the prevention of online harassment of youngsters as top priorities for the 90-day session that begins Jan. 9.
HOGAN CITES VIOLENCE IN B'MORE AS NO. 1 ISSUE: The shooting of a 5-year-old in Sandtown last Monday evening highlighted once again to Gov. Larry Hogan how the cycle of violent crime remains "the No. 1 issue facing" Baltimore City, Melody Simmons writes in the Baltimore Business Journal. "It really comes to the city of Baltimore needs to have a comprehensive crime plan and we need to have some continuity," Hogan said during Tuesday morning on the C4 Show on WBAL Radio.
FUND ANTI-BULLYING BILL: In a column for the Annapolis Capital, Alvin Butler urges Gov. Larry Hogan to fund HB 669, which he signed into law on April 18, 2017. Another effort that Hogan touts, Butler writes, is a small step in the right direction, but will do little to reduce bullying or school violence. HB 669 authorized all school systems to establish an anonymous two-way electronic tip reporting system for students to report bullying, violence, suicide, drugs and other issues in their schools.
AUTOMATED FLAGGERS: WTOP-FM reports that Maryland highway officials will test new technology to reduce the risk to human flagging crews in road work zones. The Maryland Department of Transportation 's State Highway Administration will use an automated flagger assistance device instead of someone with a long pole with "Stop" and "Slow" signs attached.
PARROTT ON POSSIBLE RUN FOR 6th: In this Nov. 21 podcast, Brian Griffiths and Greg Kline of Red Maryland speak with Del. Neil Parrott about his potential run for Congress in the 6th District.
DEM STATE PARTY ELECTIONS UPCOMING: Former Democratic congressional candidate Allison Galbraith joins Ryan Miner for A Miner Detail Radio Podcast to discuss the upcoming Democratic State Party election on Dec 1. Galbraith is a candidate for vice chair. Maryland Democrats are slated to meet in Lanham on Saturday, where members of each county Democratic Central Committee will elect its party officers.
HOGAN's POST-ELECTION COFFERS: A week after Election Day, Gov. Larry Hogan Jr. (R) had almost $700,000 left in his various campaign accounts, according to campaign finance reports released last week. Josh Kurtz of Maryland Matters writes that Hogan's cash-on-hand is noteworthy and serves as a reminder of the financial advantage he held over his Democratic challenger, former NAACP President Ben Jealous. Overall, Hogan raised about $20 million en route to winning a second term.
MO CO TO ALLOW PROTEST AS SCHOOL ABSENCE: Skipping school to attend a protest is likely to get much easier for high school students in suburban Maryland beginning as early as January, Joe Heim of the Post reports. Montgomery County is expected to approve a revamped proposal to allow public high school students to take as many as three excused absences a year to participate in political protests and other forms of "civic engagement" during the school day.
PITTMAN EYES ETHICS PANEL RECORDS FEE: Anne Arundel County Executive-elect Steuart Pittman has no specific plans for the Anne Arundel County Ethics Commission — or other commissions — as he continues to set up his transition team but he did raise concerns about the commission's public records pricing structure, raising concerns about the commission's public records pricing at $1 a page. This is more than the county charges and double what citizens pay at the courthouse, Chase Cook reports in the Annapolis Capital.
OLSZEWSKI TAPS MILLER STAFFER: Baltimore County Executive-elect Johnny Olszewski Jr. (D) has hired the top staffer for state Senate President Mike Miller (D-Calvert) to be his chief of staff. Patrick H. Murray, who has been Miller's chief of staff for the past year and has a long history as a top Annapolis staffer, will serve as Olszewski's chief of staff, Josh Kurtz of Maryland Matters reports.
DON MOHLER's TENURE: In this profile of Don Mohler's short but noteworthy term as Baltimore County executive, Pamela Wood of the Sun writes that Mohler thought he'd be spending early December helping his friend and boss Kevin Kamenetz pack up his office in Towson to close out an eight-year run as county executive. Mohler even entertained the notion that he might start 2019 cheering on Kamenetz as Maryland's new governor.
MO CO LACKS WOMEN IN PUBLIC SERVICE: Despite its reputation as a politically progressive county, Montgomery County still has a long way to go when it comes to electing women to serve in public office, several politically involved women say. Dan Schere of Bethesda Beat reports that when the new County Council members are sworn in on Dec. 3, District 4 member Nancy Navarro, who was elected to her third full term in the Nov. 6 general election, will be the only woman serving on the nine-member council. Navarro, currently the council's vice president, is expected to be elected council president.
PELOSI & RETAINING POWER: Political observer Frank DeFilippo writes in Maryland Matters a lengthy but interesting column on how U.S. Rep. Nancy Pelosi will regain the House Speakership, and how other Marylanders have kept their local power bases.
CUMMINGS OFFICIATES AT 'MORNING JOE' WEDDING: Rep. Elijah Cummings officiated the wedding of "Morning Joe" co-hosts Mika Brzezinski and Joe Scarborough on Saturday, according to a Facebook post, Christina Tkacik of the Sun writes. "I wish the newlyweds much joy as they open a new chapter in their lives," Cummings said following what he called an "intimate" ceremony at the National Archives in Washington.