HOGAN TO CONTINUE SCHOOL BEGATHON:  Defying the General Assembly, Gov. Larry Hogan said Wednesday that he will continue to require local school superintendents to take part in the Annapolis ritual known as the "Begathon." The annual event compels the leaders of Maryland's 24 local school districts to appear before the Board of Public Works to justify the money they are seeking from the state. The legislature sought last year to change the process, which has long been the subject of complaints, Michael Dresser of the Sun.
ACLU TARGETS JUVIES IN FOR LIFE: Maryland's parole system for juvenile offenders sentenced to life in prison has "morphed" into one of executive clemency that does not comply with a series of recent Supreme Court rulings requiring such offenders be allowed a meaningful opportunity to prove they have matured and rehabilitated, opponents of the system argued Wednesday in federal court, writes Heather Cobun for the Daily Record.
In 1983, Nathaniel Foster was a 17-year-old high school graduate from Baltimore City with no prior criminal record, preparing to enroll in college. Then he participated in a botched robbery attempt in which a person died, leading to a conviction and a mandatory life sentence. Louie Krauss writes in Baltimore Brew that Foster, now 50 and still in prison – and with a clean record over three-plus decades of incarceration and "stellar reviews" from his supervisors – is a plaintiff in the lawsuit challenging Maryland's parole system for juveniles with life sentences.
HOGAN HITS 74% APPROVAL: Gov. Larry Hogan is still riding high among Maryland voters, with the latest poll showing his job approval rating at 74%; even two-thirds of Democrats say the Republican governor is doing a good job. The Gonzales Research poll also found that in Maryland, President-elect Donald Trump is in the doghouse, with 56% of state voters viewing him unfavorably, reports Len Lazarick for MarylandReporter.com.
TOURISM NUMBERS UP: "Tourism plays a critical role in Maryland's economic development story, from workforce attraction to corporate expansion and retention," said Mike Gill, the state's Department of Commerce secretary, in response to a report that Maryland's tourism revenue topped $17 billion in 2015. That's a 3.5% jump from the previous year, according to the report from the Office of Tourism Development. The article appears at WBFF-TV.
FREDERICK WON'T GIVE STATE STUDENT INFO:  Frederick County's school board won't allow students' personal information to be sent to the state education department without proof that the state's computer systems are secure, reports Jeremy Bauer-Wolf in the Frederick News-Post. This is part of the Frederick County Board of Education's response to approximately 1,000 Frederick County students' information being stolen in a data breach that officials said happened before 2010, but was just recently unearthed.
DEL. IMPALLARIA GUILTY OF DWI: Maryland Del. Richard Impallaria has been found guilty in Worcester County Circuit Court of driving while impaired, in regards to an August arrest made in Ocean City, Worcester County State's Attorney Beau Oglesby said, according to Gino Fanelli for the Salisbury Daily Times.
DEL. KORMAN TO STAY IN HOUSE: State Del. Marc Korman (D-Bethesda) announced Wednesday he will not run for Montgomery County Council in 2018 — a move that eliminates one experienced possible candidate from what's expected to be a crowded field for the District 1 seat being vacated by Roger Berliner, who must leave office due to term limits on council members, Andrew Metcalf.
EX-DEL. CARTER HEADS CIVIL RIGHTS OFFICE: Former Del. Jill P. Carter has started her new job in Baltimore Mayor Catherine Pugh's administration as director of the city's Office of Civil Rights and Wage Enforcement, where she will manage investigations on civil rights violations such as complaints against the city's police force, fair employment practices, and wage laws, Briahnna Brown of the Afro reports.
RUTHERFORD UPBEAT ON CITY: Boyd Rutherford, the state's ninth lieutenant governor and second African-American elected to the position, signaled that 2017 might be the Happy New Year Baltimoreans have needed since the 2015 unrest that shocked the city and nation, saying that he and Gov. Larry Hogan are ready to press the reset button with Mayor Catherine Pugh to address a range of issues, Deborah Bailey writes in the Afro. CORRECTION: Rutherford is the third African American LG in a row; surprised the Afro got it wrong and we failed to catch it. Hat tip to Neil B. for the catch.
STATE SUPER VISITS ALLEGANY SCHOOLS: During a visit to Allegany County on Wednesday, Karen Salmon, state superintendent of schools, watched as students at West Side Elementary School participated in the award-winning Chinese Partial Immersion program, Elaine Blaisdell of the Cumberland Times News reports. Later, across town, she visited John Humbird Elementary School, where students were working in Active Learning Labs.
MO CO's TOP COP TARGETS HATE CRIME SPIKE: Montgomery County Police Chief Tom Manger's presentation to parents at Charles E. Smith Jewish Day School in Rockville Wednesday evening about the post-Election Day spike in hate crimes came with a singular plea: please report what you see and hear, Bill Turque of the Post reports. "Be a good witness," Manger said at a community forum co-sponsored by the school and the Jewish Community Relations Council of Greater Washington. Those who decide not to report an incident "don't give us a chance to investigate the case to find the people responsible," he said.
CUMMINGS HOLDS OUT HOPE: Elijah Cummings considers himself an optimist. The 10-term Democratic congressman, who honed his political skills during 13 years as a Maryland state delegate, returns to the 115th Congress this week with a polarizing Republican about to enter the White House and the GOP in control of the Senate and House of Representatives. Even when it comes to Donald Trump — a figure Cummings has sharply criticized and questioned in recent weeks — he holds out hope that the president-elect will do what he considers to be the right thing, Jon Bleiweis of the Catonsville Times reports.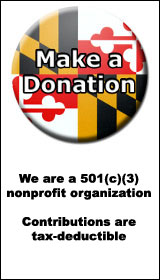 2 WEEKS LEFT FOR MATCHING GRANT: MarylandReporter.com is one of 57 nonprofit news organizations from around the country that will receive matching grants for any donations received by Jan. 19. Any donation of any size up to $1,000 will be matched dollar for dollar by the Knight Foundation, a major funder of nonprofit journalism. Contributions are tax deductible. So far we've raised over $7,000 that will be matched. Thank you.