By Len Lazarick
Gov. Larry Hogan is still riding high among Maryland voters, with the latest poll showing his job approval rating at 74%; even two-thirds of Democrats say the Republican governor is doing a good job.
The Gonzales Research poll released Thursday is the fifth public opinion survey in the last four months that has found seven out of 10 voters or more approving the job Hogan is doing as governor.
The Gonzales poll, as well as the others, found widespread support across party lines and genders. Approving of Hogan's job performance were 86% of Republicans, 81% of the unaffiliated and 66% of Democrats.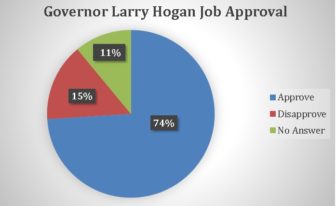 In a Dec. 5 memo, the Hogan campaign pollster, Chris Perkins of Wilson Perkins Allen Opinion Research, gave an upbeat analysis likely to be used for fundraising.
"Governor Hogan's numbers continue to get better and voters feel the direction of the state under the Governor's leadership is on the right track," Perkins wrote. "Given how well-liked Governor Hogan is among Maryland voters, if he can remain properly funded and maintain his public presence, he has an excellent chance of being re-elected."
UPDATE: Gonzales released the results of another question apparently done for WCBM radio. The firm asked about the choices for 2018 election and found  51% said they would vote for Hogan "if the 2018 election were held today," 31% would vote for the Democratic candidate, and 18% are undecided.
Hogan's popularity is due to be tested in the next three months as the Democratically controlled legislature returns to Annapolis next week with an eye to improving Democratic prospects in the 2018 election.
Gonzales Research conducted the poll between Dec. 14 and Jan. 2 contacting 823 registered voters by landline and cell phone. The poll's margin of error is plus or minus 3.5%.
Trump very unfavorable
While Hogan continues to be one of the most popular governors in the nation, according to several poll compilations, in Maryland, President-elect Donald Trump is in the doghouse, with 56% of state voters viewing him unfavorably. Almost half of Maryland voters (48%), including three-quarters of Democrats, hold a "very unfavorable" view of the next president. But 56% of Maryland Republicans do view Trump favorably.
Medical marijuana, yes; sports gambling, no
On other issues, 70% of Marylanders favor legalizing marijuana for medical purposes, as the legislature has already done in a program that has struggled to get off the ground. Republicans are fairly split on the issue, with 54% in favor, and 45% opposed.
There is strong opposition to legalizing gambling on sports such as football and basketball, with almost two-thirds of Maryland voters (65%) against the idea.
HEROIN: Forty-one percent of Maryland voters say that, over the past five years, the heroin epidemic in Maryland has had a harmful effect on someone they know, while 42% say it has not.