As Maryland seeks federal aid, questions remain about ability to stem invasion
Mike Malczewski used to make his living fishing year-round for channel catfish on Maryland's Eastern Shore. But then one wintry day about a decade ago, he went out to retrieve his baited pots from the Choptank River and found them full of a different kind of catfish.
Since then, the waterman from Cordova, MD, said he's had to diversify. He now spends about five months a year also targeting blue catfish, an interloper from the Mississippi River that in recent years has turned the Chesapeake Bay into its domain.
"I've made my whole career selling just channel catfish," Malczewski said recently. "But it's getting harder and harder because blue catfish are just taking over everything."
Introduced for sportfishing into a few Virginia rivers in the 1970s, blue catfish were originally thought to be safely limited to freshwater. But in time, the newcomers showed they could not only tolerate but thrive in slightly salty water, enabling them to expand their population to more and more rivers throughout the Bay region.
Complaints like Malczewski's helped spur Maryland Gov. Wes Moore in March to ask U.S. Commerce Secretary Gina Raimondo to declare a fishery disaster in the state, authorizing it to receive federal funds to help burdened watermen and seafood businesses.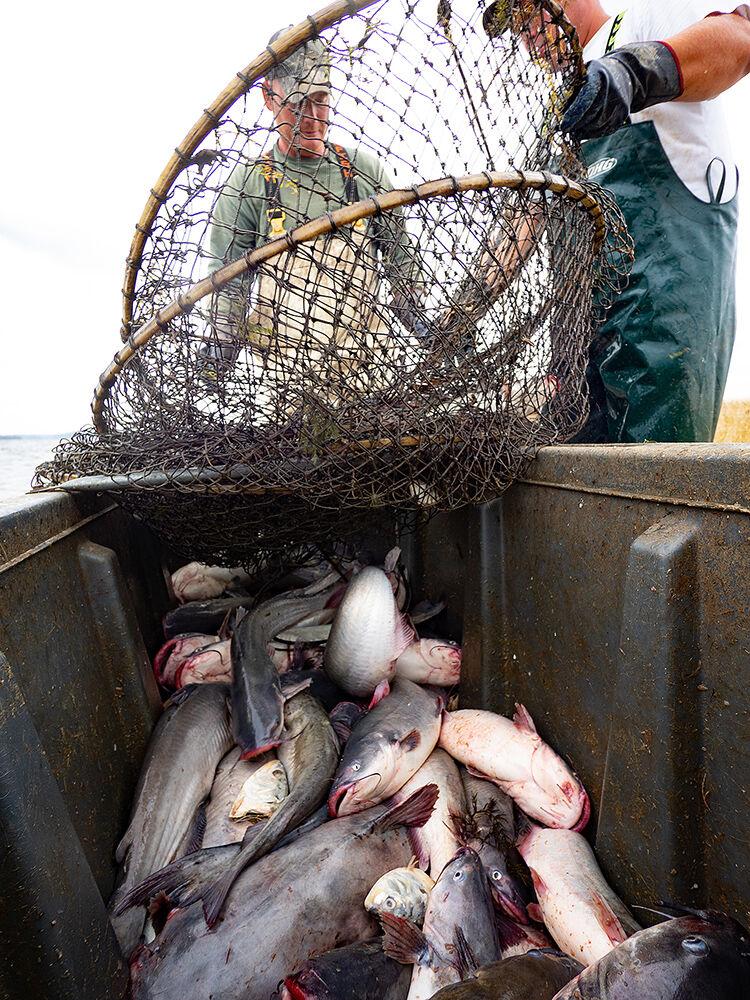 Moore said the state needs help responding to an "explosion" in the numbers of invasive nonnative fish in the Bay and its tributaries, including flathead catfish and northern snakeheads. But the chief culprit he cited was blue catfish, which many believe are responsible for declining abundance and catches in recent years of blue crabs, striped bass and other commercially valuable fish.
Blue catfish are voracious eaters, downing everything from underwater grasses to juvenile crabs and smaller finfish.
"We're [also] seeing this issue with American eels, with yellow perch, with white perch," said Josh Kurtz, Maryland's natural resources secretary. "The sheer number of important species that these fish are preying upon is a big concern of ours."
The invaders have grown so numerous and large — the record catch in Maryland weighed more than 100 pounds — that they are the dominant fish species in some rivers. Watermen and scientists alike fear they are not only consuming significant numbers of native fish but depriving them of food and habitat.
Federal help
Urged on by watermen and seafood businesses, Maryland officials say they want federal funds to help shift the state's fishing industry from chasing after declining numbers of native fish to catching more of the nonnative invasive species.
It's unclear, though, whether the governor's plea for federal help will succeed or, if it does, whether it will be enough to halt or reverse the surge of blue catfish.
In his March 15 letter to the commerce secretary, Moore invoked two federal laws authorizing disaster assistance to fishing communities suffering significant economic losses because of drastic declines in commercial harvests. The state's congressional delegation followed up with its own letter a few weeks later urging the administration to "prioritize" Maryland's request.
It's a well-worn appeal. In the past 30 years, there have been 127 other requests nationwide for federal fishery disaster declarations.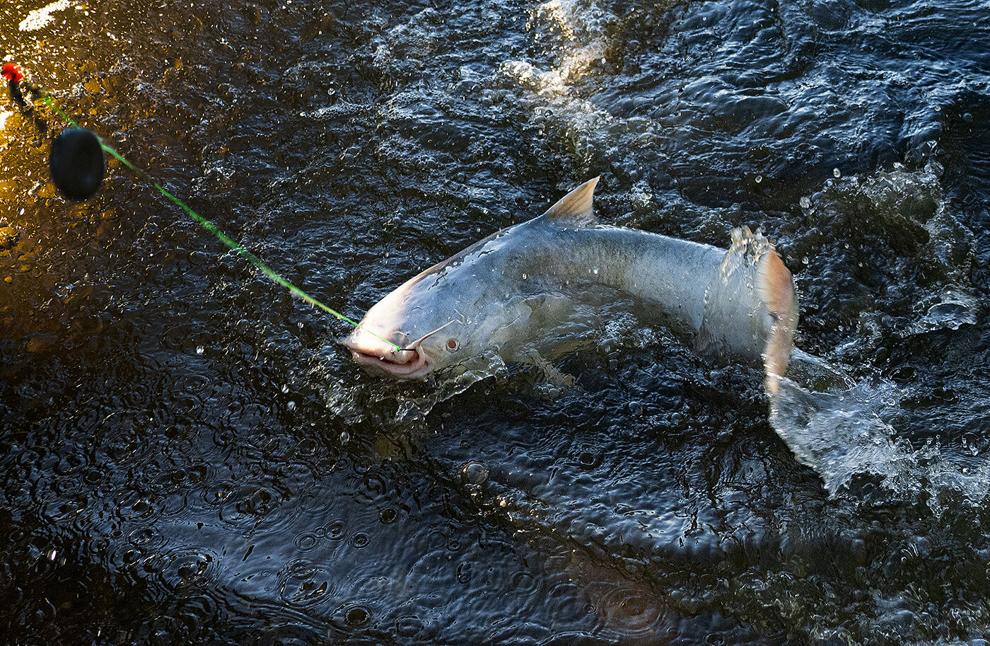 Southeastern and Gulf coast states have asked for help dealing with disruptions from tropical storms and red tides. On the West Coast, states have blamed some recent harvest declines on climate change and ocean warming. Frequently, though, states asking for help say they don't know why their fish suddenly became scarce.
States receiving a disaster declaration have received anywhere from less than $100,000 to more than $200 million in federal assistance. Congress appropriated $300 million last year for that purpose, but there are about a dozen other bids for aid pending that were submitted years before Maryland's.
Maryland's request is the first to cite invasive species as the cause of a fishery failure, according to Jenni Wallace, deputy director of the sustainable fisheries office in the National Oceanic and Atmospheric Administration.
There's nothing in the law that would bar disaster aid in that case, Wallace said. But the governor's letter did not provide sufficient information for NOAA to decide whether it is warranted, she said. The state must more clearly spell out the fisheries impacted, she explained, and must document revenue losses of at least 35% for affected individuals and businesses.
If the state's request is granted, it would be only the second federal fishery disaster declared in the Chesapeake. In 2008, Maryland and Virginia received $10 million each in economic assistance from NOAA after crab harvests plummeted for unknown reasons in both states. The states used some of that money to pay watermen to collect hundreds of so-called "ghost" crab pots from the Bay, lost or abandoned gear that could continue to catch and kill crabs.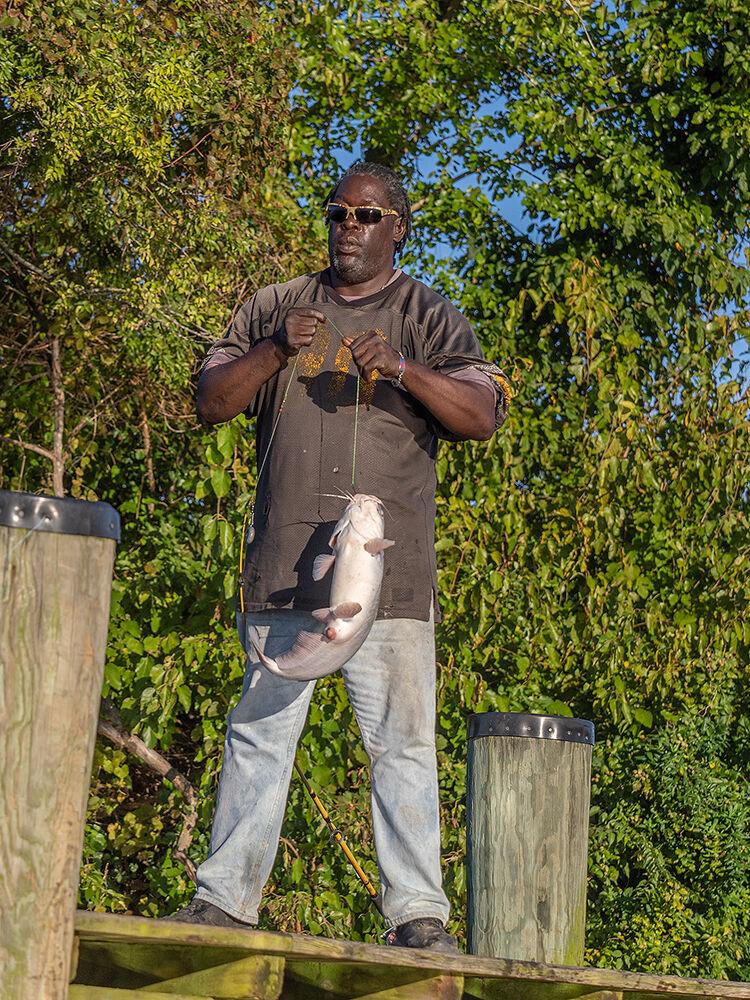 Virginia, though likewise swarmed by blue catfish, has not joined Maryland in asking for federal assistance. Michele Guilford, a spokesperson for the Virginia Marine Resources Commission, said officials are "reviewing the claims made by
Maryland" and its rationale for declaring a fishery disaster. Meanwhile, she said VMRC has "already been taking action and [is] looking into all options" for controlling invasive species in Virginia waters.
It was the 2008 blue crab disaster declaration that inspired Bill Paulshock, a seafood business owner in the Baltimore suburbs, to team up with watermen and press the Department of Natural Resources in January for similar federal help with blue catfish.
"The environment and the entire Maryland seafood industry is at risk," he said. "If we do not attack it immediately, in another four or five years it's going to be impossible to change the tide because they're eating everything up at an alarming rate."
In search of evidence
Scientists agree that blue catfish are likely preying on native species in the Bay, but the evidence of significant impacts is largely circumstantial. Maryland's commercial harvests of blue crabs, striped bass and several other economically important fish species in 2022 ranged from 27% to 91% below what they were in 2012, according to DNR.
At the same time, annual DNR surveys have tracked a growing abundance of blue catfish in waters frequented by young fish.
Studies in Virginia and Maryland have found that blue catfish are omnivores, eating underwater vegetation and invertebrates when small, then adding fish to their diets as they grow.
Noah Bressman, a biologist at Salisbury University in Maryland, is analyzing the stomach contents of blue catfish caught in the Nanticoke River. In spring, when river herring migrate up the Bay's rivers to spawn, more of them show up in blue catfish guts. In the summer, their consumption includes more juvenile crabs.
"We've also [found] crazy things," Bressman said. "A wood duck, turtles, rocks, sticks, mud, muskrats. In a 30-inch catfish, we found the head of a striped bass we estimated [had been] 18–19 inches long."
There's only been one study so far, though, that took a stab at quantifying the impact of blue catfish on other Bay species. In 2021, researchers at the Virginia Institute of Marine Science estimated that blue catfish in one stretch of the lower James River were consuming 2.3 million juvenile crabs annually — and likely even more.
More research is urgently needed, said Tom O'Connell, director of the Eastern Ecological Science Center of the U.S. Geological Survey.
"One of the challenges with the current fishery declaration is that I think there's a lot of people who believe blue catfish are having a negative impact on fisheries like blue crabs and maybe striped bass. But … nobody has been willing to make the investment to make the scientific connection."
O'Connell's agency is partnering with DNR to study blue catfish diets in the Patuxent and Nanticoke rivers, including partially funding Bressman's work.
Kurtz, the DNR secretary, acknowledged the information gaps but said the state hopes to use some of the federal disaster aid to fund more research.
Making a market
Meanwhile, say state officials and watermen alike, it's clear the blue catfish pop-ulation needs to be curbed. The best way to do that, they agree, is for more people to join Mike Malczewski and catch more of them.
Commercial harvests of blue catfish in Maryland have already grown threefold over the past decade, from 188,000 pounds in 2012 to 726,000 pounds in 2022, according to DNR. To begin making a dent in the blue catfish population, many think those landings need to at least double or triple.
It ought to be easy, advocates say. There are no limits on how many blue catfish can be caught, and they're tasty and nutritious, a worthy substitute for other fish in many recipes. But there are other curbs on how much or how fast the harvest can grow.
One is regulatory. A U.S. Department of Agriculture inspector must be present whenever fish wholesalers process blue catfish into filets. The regulation — imposed in 2017 to protect the farmed catfish industry in the South from Asian imports — adds to the cost and logistical challenges of processing blue catfish. Rep. Andy Harris (R-MD) has tried without success to get Congress to ease the rule.
The other hurdle is harder to overcome. Consumer demand for blue catfish is just not that great. Bill Paulshock said that's why he doesn't carry it in his market in the Baltimore suburbs.
Stephanie Pazzaglia sees demand picking up, but acknowledges it's been a slog. She is the business development manager for J.?J. McDonnell Co., a seafood wholesaler in Elkridge that's one of just four businesses processing blue catfish in Maryland.
In a region where striped bass is the favorite local finfish, she said it was "pretty tough" at first to get restaurants in Baltimore, Annapolis and the Washington, DC, area to put blue catfish on their menus.
But she's since changed some restaurateurs' minds, she said, by promoting it as an affordable alternative to pricier fish. And to expand the market, she said her company ships some blue catfish to California, the South and even overseas.
"Processors like us have to find homes for it in other places," she said. "I don't think we're going to solve it here in Maryland."
The Maryland Department of Agriculture's seafood marketing office spends $30,000 a year promoting sales of blue catfish, but more is needed, advocates say.
The newest entry into the blue catfish business may be Tighman Island Seafood on Maryland's Eastern Shore. Originally focused on oysters and crabs, the business got licensed several months ago to process blue catfish, which to meet USDA requirements meant renovating the inside of the old shucking house that formerly housed the Phillips Wharf Environmental Center.
"It's like an operating room in there," said owner Nick Hargrove.
As a startup, he's grappling with the dual challenges of finding enough customers for blue catfish filets to keep his staff busy and give watermen incentive to catch the fish that he needs. His first batch in early April was destined for a food bank in Salisbury.
"Because [blue] catfish is a very healthy fish to eat, we're hoping we can help people with food insecurities [while] also helping the environment," he said.
It's not realistic to think blue catfish can be eradicated from the Bay, experts agree. But if their population can at least be reduced, they think it may be possible to curb their impact on other species.
Malczewski sees a big drawback, though, to relying on the market to boost blue catfish harvests. Wholesalers only want fish that weigh between two and 20 pounds, he said, which means watermen like him will throw back the smaller ones, leaving the next generation of invasive fish to grow and multiply.
"Until they figure out what you do with the little ones, nothing's going to change," he said. Meanwhile, with a soft market, the prices wholesalers will pay for blue catfish are so low it doesn't encourage many watermen to go after them.
Paulshock, the Baltimore area seafood business owner, said he sees ways around those hurdles: Avoid the need for USDA inspectors by selling the fish whole to pet food companies, some of which already take fish scraps. Then, he said, use the federal funds to guarantee watermen a decent fixed price for their catch so more will get into the fishery. He sees it as a win-win for all concerned.
"We need this thing to happen now," he said. "The Chesapeake Bay cannot wait."
(Editor's note: Blue catfish fillets are good and tasty coated with Zaratrain's Fish Fry and baked in the over at 425 degrees.)