By Steve Monteiro and Jim Pettit
Ecuador is a second home for Montgomery County resident Robert Stephenson where he rents an apartment in the capital city of Quito and met with a member of parliament during his most recent visit which concluded last week. Over the last five years, Stephenson, 69, has made over 30 trips to the South American country, investing over $1 million.  He considers it the cost of doing business to save his two sons.
Older brother Ronell is battling cancer in a hospital in Cuenca where an armed prison guard is assigned to watch him.  His brother Roja, imprisoned in Macas, is a 15-hour bus ride from Cuenca.  While incarcerated together for most of the last five years, they narrowly escaped deadly prison riots so severe they attract worldwide media coverage.
Robert Stephenson, with a prominent warning, recently shared the images of mutilated bodies captured on a cell phone with the staff of Sens. Ben Cardin, Chris Van Hollen and Rep. David Trone, attempting to create some degree of urgency.
Eco-tourism business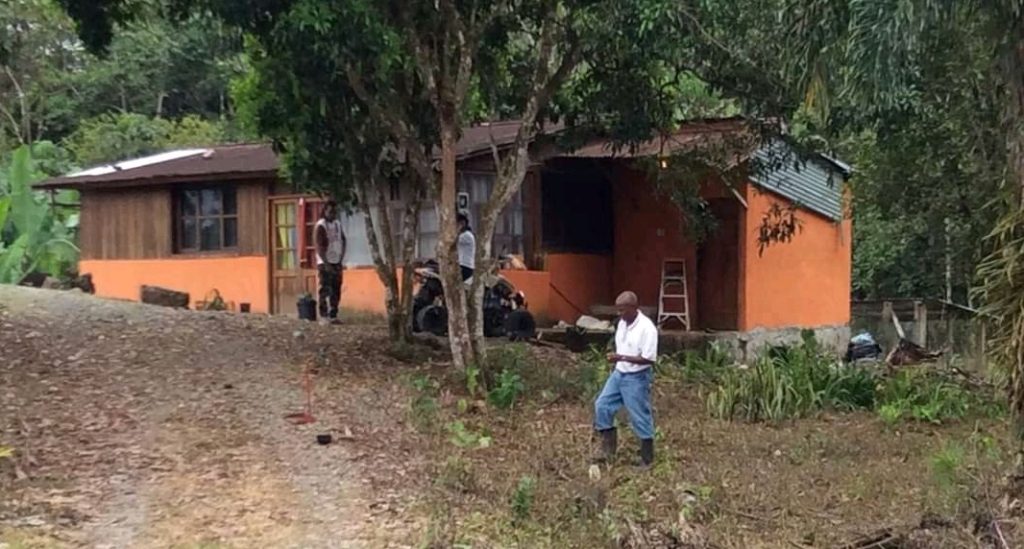 On the farm in Morona-Santiago province, Ecuador in 2016. Roja, Ronell (behind the tree) and father Robert Stephenson.
Photo courtesy of Robert Stephenson
It appears Ronell and Roja are guilty of starting a successful eco-tourism business in rural Ecuador that angered an indigenous tribe.  That's not how Ecuador's judicial system sees it.
The brothers were convicted of murder and other crimes and sentenced to 34 years each when two dead bodies were mysteriously "found" on their 130-acre property.  It's easy to see how the elder Stephenson's tab has run into seven figures:  he pays legal fees, healthcare costs, and travel expenses.  He estimates he spent $500,000 on lawyers in Ecuador and at least $100,000 on medical care for Ronell. Yet there is no "go-fund me" page or any organized fundraising effort.
The Stephenson family, however, have a band of loyal supporters on YouTube and TikTok who are working political, legal and media angles to resolve the case.  They go by the monikers of Carlton Travel, DC Born Rob, Myk, Razor Raze, Reluctant Nabi, Stezworld, and Strill Life who produce content about the adventures and perils of international travel.  Another key ally is Don Andre Investigations, or ASD-DOCS, who works to expose judicial and police corruption.
On May 12, they joined a 3-hour long YouTube video with other key allies including a human rights lawyer and a New Jersey local official.   Alfred Mohammed, a city council member of Linden, N.J., arranged a phone call in February with a potentially powerful advocate: New York Rep. Gregory Meeks, who chairs the House Foreign Affairs Committee.  It is Stephenson's highest-profile response to date from anyone in the U.S. government, but it wound up being nothing more than voice mail exchanges as the two were ultimately not able to connect.
Prisoners or hostages
When a U.S. citizen is incarcerated overseas, the State Department provides minimal assistance through its Bureau of Consular Affairs.  After their arrest, Ronell and Roja were given a list of Ecuadorian attorneys and received periodic vitamin supplements according to protocol.
An effort is underway to involve the State Department's Envoy for Hostage Affairs Roger Carstens.  Created by executive order in 2015, the envoy position gives high-level visibility within the government for freeing hostages.  For the Stephenson brothers, being deemed hostages means the difference between receiving vitamins and having direct negotiations at the highest levels of government for their release.
The subsequent Levinson Act codified the executive order. It gives sole discretion to the Secretary of State to put the special envoy in charge of cases like the Stephenson's. Another provision in the law relies on journalists to raise questions about innocence.  The State Department, under the law, therefore, defers largely to the media on whether cases warrant the attention of the envoy.
Getting media attention
As a result, the burden of starting a public relations and lobbying effort falls on family members of those detained abroad.  The Whelan family, whose brother Paul has been held in Russia for nearly four years, has done 40 media interviews in recent weeks leading up to a rally in Washington, D.C. this month. Sister Elizabeth has made more than 20 visits to Capitol Hill.
Their frustration at the inaction of freeing their brother, a Michigan auto parts executive charged with espionage, blew up last week when a State Department official told the family "to make more noise and be a squeakier wheel," according to the Detroit Free Press.
The purported State Department advice drew a sharp rebuke from U.S. Rep. Haley Stevens.  The Michigan democrat directed her wrath to the State Department on Twitter: "With all due respect, we have been working alongside the Whelan family for 4 years…Countless radio, print and tv interviews. Hundreds of social media posts. Are we not "loud" enough?"  Mr. Stephenson and his team would love this sort of advocate on Capitol Hill.
Rob Christian, or DC Born Rob, as he bills himself on YouTube, has reached out to numerous media outlets. Posting several videos about the Stephenson brothers over the last year, it was Christian who assembled the dozen guests on the May 12 video where one of them observed, "this is not getting the news that it should." Blavity, an online media platform geared to Black millennials, noted last year the "devastating story" has not gained traction in U.S. media.
But one ally who recently joined the team is providing much-needed legal analysis. Attorney Jason Poblete, who participated on DC Born Rob's video, has taken the case pro-bono. Late last year, the James Foley Foundation, established by Diane Foley after ISIS executed her son, referred the Stephenson case to Poblete's law firm, the Global Liberty Alliance, which is experienced in illegal detentions.
Upon reviewing court documents, Poblete, who is fluent in Spanish, said, "I knew within ten minutes something was terribly wrong here."  Among the legal issues that trouble Poblete are alleged witness tampering, destruction or loss of forensic evidence, false testimony, the inability to cross-examine witnesses, withholding exculpatory evidence, refusal or failure to conduct DNA tests, no translators at the trial, and obstruction of justice.
Now that Robert Stephenson is back in Boyds, Maryland, his attention will turn from the exhausting legal process in Ecuador to an equally exhausting process here at home: the lobbying and public relations effort required to free his sons.
Steve Monteiro is a former Secret Service agent whose book, "the Gray Bird of Baghdad" describes the rescue of an Iraqi prisoner. Twitter: @StevePMonteiro. Jim Pettit is a writer and researcher who worked for former Gov. Bob Ehrlich and on Larry Hogan's first campaign for governor.