MERRY CHRISTMAS:

We're taking the next week off. State Roundup will return next Friday morning, New Year's Eve for the final roundup of the year.

COVID-RELATED HOSPITALIZATIONS TRIGGER HOGAN'S EMERGENCY PLAN: Maryland's number of COVID-19 related hospitalizations have exceeded the threshold set forth in a recent order by the Maryland Department of Health. Measures being implemented include the prioritization of hospital beds for COVID-19 patients and others who are critically ill, the adjustment of capacity limits, the redeployment of staff, and the reduction of elective procedures. Bryan Renbaum/Maryland Reporter.

HOGAN-ALIGNED GROUP FILES CHALLENGE OF REDISTRICTING MAPS: A second legal challenge has been lodged against the new map for Maryland's eight congressional districts. The advocacy group Fair Maps Maryland, which is aligned with Gov. Larry Hogan, filed a lawsuit Thursday arguing the map is "filled with grotesque examples of extreme partisan gerrymandering" and violates the Maryland Constitution. Pamela Wood/The Baltimore Sun.
Both lawsuits cite the Maryland Constitution's requirement that "each legislative district shall consist of adjoining territory, be compact in form, and of substantially equal population" and that "due regard shall be given to natural boundaries and the boundaries of political subdivisions." In the past, that was applied to state General Assembly districts. Bennett Leckrone/Maryland Matters.
Doug Mayer, of Fair Maps Maryland, calls the map badly gerrymandered by Democrats who control this state legislature, but concedes that Republicans do the same thing in states they control. He said it's wrong no matter who does it. Joel McCord/WYPR.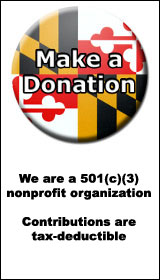 THE FINAL WEEK OF NEWSMATCH: Maryland Reporter, the original nonprofit website for news about state government and politics, is in the final week of its annual NewsMatch fundraising drive and we've reached 88% of our goal. Every contribution by Dec. 31 is matched by national foundations. Please make a tax-deductible contribution today.
 A LOOK INTO WORKER UNEMPLOYMENT LAWSUIT: A class-action lawsuit filed in U.S. district court last month against Maryland Labor Secretary Tiffany Robinson seeks redress for a slew of problems unemployed workers had over the past two years — from delayed payments to unexplained overpayment notices and discontinued benefits. Ovetta Wiggins/The Washington Post.
REDISTRICTING MAP ADDS 9TH DISTRICT IN MOCO: Montgomery County might get a ninth district added to its state legislative map. That's the recommendation of the state's Legislative Redistricting Advisory Commission, which finalized proposals for new state Senate and delegate districts this week. Steve Bohnel/Bethesda Beat.
COVID OUTBREAKS REPORTED IN SCHOOLS: Maryland has listed outbreaks of COVID-19 at more than 50 public schools in Anne Arundel County as of Thursday, as the system prepares to enter its weeklong winter break. Rachael Pacella/Capital Gazette.
CARROLL COUNTY WARNS OF OPIOID OVERDOSES: Carroll County Health officials are warning that they are seeing more suspected opioid overdoses. Allana Hayes, Meredith Cohn, Hallie Miller/Baltimore Sun Media.
JURY DELIBERATING IN RAVENELL CASE: A federal jury began deliberating Thursday afternoon whether prominent Baltimore defense attorney Ken Ravenell conspired to launder drug money through the law firm he worked for and help a wealthy drug boss evade law enforcement. Tim Prudente/The Baltimore Sun.
GREENMOUNT OTB CELEBRATES SPORTS BETTING LICENSE: Maryland's Sports Wagering Application Review Commission recently awarded a sports wagering license to Greenmount OTB, an off-track betting site within Greenmount Station Restaurant in Hampstead. Cameron Goodnight/Carroll County Times.