HOUSE DEMS OK DEM-FAVORING MAP: The House of Delegates Tuesday evening voted to approve a congressional redistricting plan that is favored by Democrats and was crafted by a legislative commission. The 97-42 vote was preceded earlier in the day by an intense floor debate led by Minority Leader Jason Buckel, R-Allegany, who had introduced an amendment that would have substituted the legislative commission's redistricting map with that of a map produced by an independent citizen's redistricting commission whose members were appointed by Gov. Larry Hogan. Bryan Renbaum/Maryland Reporter.
OPINION: DEMOCRATS' HYPOCRISY IS APPARENT: In an op-ed for Maryland Reporter, Howard Gorrell takes us back to the 2018 campaign promises of some Democratic leaders when they were asked by the Maryland League of Women Votrers about their views on redistricting and gerrymandering. Their hypocrisy is clear, Gorrel points out. 
OPINION: DEMS IGNORE PUBLIC OPINION IN REMAPPING: The editorial board of the Post opines that Maryland leans Democratic, but not as much as the party's 7-to-1 dominance in the state's delegation in the House of Representatives suggests.… Heedless of public opinion and the recommendations of a citizens commission, Democratic lawmakers in Annapolis appear determined to draw congressional districts even more tilted in their favor than the ones they established 10 years ago.
GOV's SAY ON PAROLE DECISION FOR LIFERS JETTISONED: Maryland will no longer allow the sitting governor to overturn parole decisions for inmates serving life sentences, removing itself from a list of three states that still give governors that authority. Ovetta Wiggins and Rebecca Tan/The Washington Post.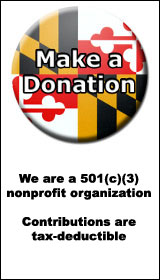 SUPPORT NONPROFIT JOURNALISM: Contributions to Maryland Reporter, the state's original nonprofit news site covering state government and politics, by Dec. 31 are doubled by national foundations and local donors. Please contribute today. 
LAWMAKERS CURB LOCAL COOPERATION WITH IMMIGRATION ENFORCERS: Maryland jails will no longer house federal immigration detainees and federal immigration agents' access to state databases will be limited, following actions Tuesday by state lawmakers. The Maryland General Assembly voted to overturn two vetoes from Gov. Larry Hogan of the bills, meaning the measures will become law. Pamela Wood and Bryn Stole/The Baltimore Sun.
STATE ED BOARD OKs PLAN TO DITCH STUDENT MASKING: Maryland's state school board approved an emergency regulation Tuesday that allows students to go without masks if the community spread of COVID-19 in their county is moderate or if vaccination rates are above 80% in the school or the surrounding community. Liz Bowie/The Baltimore Sun.
FEDERAL LOAN FOR NICE BRIDGE IN JEOPARDY: A federal loan that Maryland was counting on to finance construction of the new Nice/Middleton Bridge is in "significant jeopardy," a top Maryland Transportation Authority official said on Tuesday. Bruce DePuyt/Maryland Matters.
MARYLAND CITIES, COUNTIES SUE PURDUE PHARMA CONSULTANT: Several Maryland counties and cities have filed a new lawsuit against McKinsey & Co. alleging that the consulting firm conspired with Purdue Pharma to fraudulently market opioid painkillers. The complaint includes Allegany, Washington, St. Mary's and Cecil counties and the cities of Cumberland, Frostburg and Hagerstown as plaintiffs. Madeleine O'Neill/The Daily Record.
JAMIE RASKIN's YEAR OF GRIEF, PURPOSE: When Jamie Raskin revisits those shattered days of January, what surfaces in his memory are the sounds. Among them: a hideous pounding, the hammering of an enraged mob trying to violently force its way onto the floor of the House of Representatives. It was chaos, but Raskin watched it unfold with a strange sense of remove, a clarity of focus; he did not feel the visceral fear that gripped so many others around him. He would come to make sense of this later: What was there to be afraid of when the worst thing imaginable had already happened to him? Caitlin Gibson/The Washington Post.
FREDERICK EXEC PUSHES CLIMATE INITIATIVES: Frederick County Executive Jan Gardner on Tuesday announced a series of climate initiatives and two new departments to boost the county's push to cut greenhouse gas emissions in half by 2030 and eradicate them by 2050. Jack Hogan/The Frederick News-Post.
MO CO COUNCIL UPSET OVER ELRICH HANDLING OF HAZARD PAY: The Montgomery County Council lit into County Executive Marc Elrich and Chief Administrative Officer Rich Madaleno in a draft letter demanding more transparency and better communication. The council is upset about the administration's handling of hazard pay for employees who worked during the COVID-19 pandemic — particularly millions of dollars the county still owes workers. Steve Bohnel/Bethesda Beat.