VACCINE EQUITY DEBATED AS ROLLOUT CONTINUES: Gov. Larry Hogan Thursday slammed U.S. Rep. Anthony Brown (D-Md.) for having said that the state is not doing enough to ensure equitable access to coronavirus vaccines to underserved parts of Maryland, Bryan Renbaum writes for Maryland Reporter.
Maryland has scored high in closing an equity gap for Black residents getting vaccines, Bruce DePuyt reports for Maryland Matters. The Bloomberg analysis released Thursday said that Maryland is one of just seven states to have cut that gap in half.
The state plans to offer locally targeted vaccination efforts in Western Maryland, Health Secretary Dennis Schrader said as he toured spots in Washington County, Grantsville in Garrett County and Frostburg, Teresa McMinn reports for the Cumberland Times-News.
On Thursday, Hogan visited Frederick Community College, a little more than a week after site joined Maryland's growing list of mass vaccination sites, Greg Swatek reports for the Frederick News-Post. The state's mass vaccination sites will grow to 13 next week with a new one opening at the mall in Columbia in Howard County.
ENVIRONMENTAL GROUPS APPEALING DAM LICENSE: Environmental groups have appealed a ruling by a federal commission to grant Maryland's Conowingo Dam a new 50-year license that they argue missed an opportunity to address environmental problems, Christine Condon reports for the Sun. They also contend that the Federal Energy Regulatory Commission did not meet its certain legal duties in issuing it.
AMBITIOUS GREENHOUSE GAS INITIATIVES PLANNED AS EARTH DAY CELEBRATED: Maryland Environment Secretary Ben Grumbles emphasized Maryland's already ambitious plan to reduce greenhouse gases as President Joe Biden announced national goals and the country celebrated Earth Day, Julie Greene reports for the Hagerstown Herald-Mail.
Off-shore wind projects – like the ones planned off of Maryland's coasts– are a big part of Biden's ambitious climate change goals, Allison Winter reports in Maryland Matters with contributions from Josh Kurtz.
MD COUNTY RESCINDS DECISION ON EXPANDED INPERSON LEARNING: The Frederick County school board has rescinded its decision to expand in-person learning for elementary schools starting May 3 after receiving stark pushback from employee unions, Katryna Perera reports for the Frederick News-Post. The rescission also includes a policy of 3 feet of distancing at schools.
GRADES FALL AS PANDEMIC CONTINUES TOLL ON STUDENTS: "Failing grades have doubled — and sometimes tripled — in school systems across Maryland as the prolonged effects of learning from home take their toll on student achievement and well-being," Liz Bowie reports for the Sun.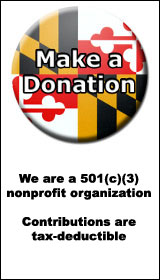 THANK YOU: Thanks to dozens of donors who contributed to this week's fundraising request. To show you value news, please consider making a tax-deductible donation to our nonprofit news website today. 
BROADBAND INTERNET INITIATIVES LAUNCHING: Next week, the Federal Communications Commission will launch a massive program to help connect people to broadband internet, the "Emergency Broadband Benefit" (EBB), which will provide between $10 and $50 per month to offset the cost of internet, Adam Echelman reports for Technical.ly. Shawn Gross, Baltimore City Digital Equity Program Manager in the Baltimore City Public Schools, is encouraging families to sign up using the FCC website rather than through cable providers.
Del. Brooke Lierman is touting to new state legislation that creates the Office of Statewide Broadband and requires the new office to come up with a plan by July 2022 that would ensure that 98% of residents have access to "affordable, reliable broadband internet" no later than the end of 2025, Rachel Baye reports for WYPR.
STEELE CONSIDERING RUN FOR GOV: In an interview near his Prince George's County home, former Maryland Lt. Gov. and national Republican chairman Michael Steele said he is giving "very serious consideration" to running for governor, Jeff Barker reports for the Sun. He also reported that Steele said he will not abandon nor be pushed from the GOP.
MOSBY'S EVOLVING TAX LIEN STORY: Fox45 details an up-close encounter with City President Nick Mosby trying to get to the bottom of a $45,000 tax lien placed on the home of Mosby and his wife, Baltimore City State's Attorney Marilyn Mosby, Mikenzie Frost reports for WBFF. Mosby said he had not denied the lien while walking away from the reporter holding a copy of it, referred her to his attorney, and then closed his vehicle door.
INJUNCTION IN PG RACIAL DISPARITY POLICE COURT CASE: A federal judge has granted a preliminary injunction on the Prince George's Police Department as he prepares for the court case alleging "extensive and systemic racial disparities" within the department, Megan Cloherty reports for WTOP.
CAPITAL GAZETTE SHOOTER JAIL DR TESTIFIES: The man convicted in the Capital Gazette murders fell off the radar of the psychiatrist at the Anne Arundel County jail, Alex Mann reports for the Capital Gazette as a hearing is slated to begin to determine if the the shooter will spend the rest of his life in prison or committed indefinitely to a state psychiatric facility, Alex Mann reports for the Capital Gazette. The jail doctor was convinced the gunman didn't need mental health care, Dr. Andrea Adiaconetei, said in court Thursday.
REPUBLICANS ANNOUNCE CAUCUS LEADERSHIP: Newly-elected House Minority Leader Jason C. Buckel (R-Allegany) and House Minority Whip Christopher T. Adams (R-Middle Shore) this week announced new appointments to vacant leadership positions within the House Republican Caucus, with Buckel commenting that the leaders come from different geographic regions and have strong leadership qualities, Josh Kurtz reports for Maryland Matters.