LOCAL LAWMAKERS: WILL BIDEN BE ABLE TO UNITE AMERICA? In about two-and-a-half months President-elect Joe Biden will assume leadership of a deeply divided America. In a speech on Saturday night Biden pledged to unite country and be a president for both Democrats and Republicans. But will he be able to? MarylandReporter's Bryan Renbaum speaks with a few state lawmakers to see what they say.
BIDEN BENEFIT FOR MARYLAND PREDICTED: Buoyed by Joe Biden's victory in the race for president, Maryland's U.S. senators on Monday predicted significant progress on a range of issues important to the state, Bruce DePuyt reports for Maryland Matters.
GROUP SEEKS TO STOP DIGITAL AD TAX PLAN: A group of Maryland business groups is launching a campaign Tuesday to persuade state lawmakers to nix a pioneering tax on digital ads. The coalition, which calls itself Marylanders for Tax Fairness, describe the tax as a poorly timed initiative that would ultimately hurt small businesses that advertise online, Erin Cox of the Post is reporting.
BANK GIVES PURPLE LINE FIRMS MORE TIME: The bank representing the bondholders on the Purple Line construction has agreed to postpone any "enforcement action" until Nov. 30, giving the project's concessionaire more time to try to reach a settlement with the state, according to project documents, Katherine Shaver of the Post reports.
OPINION: CHALLENGE STATUS QUO TO REDUCE CRIME: In an op-ed for the AFRO, state Sen. Cory McCray opines that "To truly make our neighborhoods and communities safe from crime, we must fully consider all of the factors that lead to crime, with an eye for the true elements and measures that cause and affect public safety. … Here's one way those of us in East Baltimore have acted swiftly to reduce crime and protect the public: holding problem liquor stores accountable by using data and tighter regulation."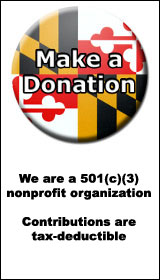 KEEP THE NEWSLETTERS COMING: MarylandReporter.com launched 11 years ago this month as the original nonprofit news website on Maryland government and politics. Since then, we have sent out over 2,700 daily State Roundups and done over 4,000 original stories to keep you in the know about what state government is doing to you and for you. Please consider making a tax-deductible contribution that will be matched by 10 national foundations to keep us going. And thanks to the 80 donors who have already contributed so far.
CONSUMER ADVOCATE CARMODY TO RETIRE: Paula Carmody is retiring as People's Counsel for the State of Maryland, ending a three-decade stint as a consumer advocate at a time of seismic changes in state regulatory rules, Johanna Alonso reports for the Daily Record.
1,000+ COVID CASES FOR 6th DAY: Maryland reported more than 1,000 daily COVID-19 cases for a sixth consecutive day Monday, as the state continues to wrestle with a fall resurgence of the novel coronavirus, Greg Swatek reports for the Frederick News-Post. Monday's spike in cases (1,375) was not as high as the ones reported Friday (1,541) or Saturday (1,410). Still, the number of cases represented one of the highest daily rises since the height of the pandemic in the spring.
COUNTY LEADERS ASK HOGAN FOR UNIFIED RESTRICTIONS: A fresh wave of coronavirus infections washing over the state is cause for new statewide restrictions, according to Baltimore County Executive Johnny Olszewski Jr. Olszewski Monday said his county is seeing dramatic spikes and is on the verge of imposing its own restrictions, Bryan Sears of the Daily Record reports.
CARROLL SHUTS 3 MORE SPECIAL ED PROGRAMS: Carroll County Public Schools closed three more special education programs after two staff members showed coronavirus symptoms and another tested positive, Kristen Griffith reports for the Carroll County Times.
BEHIND DR. MARCOZZI's EMOTIONAL RESPONSE: Dr. David Marcozzi, a top medical adviser to Maryland Gov. Larry Hogan on COVID-19, had rehearsed his remarks multiple times before standing in front of the cameras Thursday for a semiregular pandemic news conference at the State House in Annapolis. The audience in the room and at home saw Marcozzi briefly overcome with emotion, creating a moment of silence that perhaps amplified his point far more than he planned. Meredith Cohn of the Sun writes the story behind the emotion.
ARUNDEL STILL HAS 50,000 BALLOTS TO COUNT: Anne Arundel County elections officials said there are about 50,000 outstanding ballots to be counted as of Monday afternoon, including about 40,000 mail-in ballots and 10,000 provisional ballots, Olivia Sanchez of the Capital Gazette reports.
WA CO ELECTION RESULTS DELAYED A WEEK: The certification of Washington County election results is expected to be delayed about a week, Deputy Election Director Barry Jackson said Monday. The results were originally expected to be certified this Friday, Julie Greene reports for the Hagerstown Herald -Mail.
KLACIK TO PROBE MFUME ELECTION: Republican congressional candidate Kimberly Klacik raised so much campaign cash that she ran out of time to spend it during her unsuccessful bid to unseat Democratic U.S. Rep. Kweisi Mfume of Baltimore. Now, Klacik has a use for some of the leftover money — addressing her unspecified concerns about mail-in ballots in the 7th Congressional District race, Jeff Barker of the Sun is reporting.
MIXED RESULTS AS NAVAL ACADEMY GRADS RUN FOR OFFICE: Amy McGrath, Rep. Elaine Luria (D-Va.) and Rep. Mikie Sherrill (D-N.J.) were among at least five Naval Academy alumni to run for a congressional seat on Tuesday. Two others ran for statehouse positions, with another losing his primary race, Heather Mongilio of the Capital Gazette reports.
CHARLES COUNTY DEMS BLAST HOGAN COURT PICK: Charles County Democrats say they were shortchanged when Gov. Larry Hogan (R) appointed a Republican to serve as a judge on the local orphans' court, arguing that the governor should have consulted with them before filling the vacancy, Bennett Leckrone reports for Maryland Matters.
PLANK TIPS TOE INTO POLITICAL FRAY: Kevin Plank, the former Under Armour CEO, is dabbling in politics again after former Vice President Joe Biden's election victory. In an Instagram post on Sunday evening, Plank shared a note he received from former President George W. Bush last year shortly after announcing he would be stepping down as CEO of the Baltimore-based sportswear maker, Holden Wilen reports for the Baltimore Business Journal.