By Len Lazarick
In a tradition that goes back at least a dozen years, members of the State House press corps gathered at half past midnight on April 9 after an unusually somber Sine Die. We had just marked the first session in 17 years without Michael Busch wielding the speaker's gavel, ending with a memorial joint session of House and Senate.
For the photo, we gather in various sides of the large press room where many of us work. As usual, some State House regulars were missing and some one-and-done student journalists from the Capital News Service are in the photo and hard to identify. Also missing was our usual photographer, Max Franz, laid off by the Daily Record, like so many of his colleagues everywhere in journalism.
It was a pretty robust year for State House reporting, especially with Maryland Matters in its second year with three experienced full-time reporters led by Josh Kurtz. At MarylandReporter.com, we try to cover stories others aren't covering, particularly the wonkier topics about how taxpayer dollars are raised and spent.
Paywalls are barriers
It doesn't make a lot of sense to add yet another version of the same story that four or five others are covering — though many legacy publications have paywalls preventing readers from seeing the full story.
One of the strictest paywalls is unfortunately at the Daily Record, which has consistently strong state government reporting but also has a high subscription rate. The Record's Bryan Sears has both scoops and thorough coverage, along with courts reporter Steve Lash on judiciary issues, supplemented by other Daily Record reporters.
TV and radio can be spotty. Reporter David Collins for WBAL TV (Channel 11) is on hand much of the time, and John Rydell of Fox 45, Pat Warren of WJZ (Channel 13) and Don "Disco" Harrison of WMAR (Channel 2) are regulars. The Washington TV stations drop in for major debates and votes, but they have the usual D.C. problem of covering the DMV's three major jurisdictions along with several large counties on both sides of the Potomac.
The most consistent radio coverage is from Rachel Baye at Baltimore's WYPR, with drop ins from Kate Ryan at WTOP in Washington, and WBAL AM, which used to have more regular reporting on the scene. But BAL's three local talk shows break news, too.
The Sun and the Post
Of course there is the always solid coverage from the Baltimore Sun and the Washington Post, though both are typically staffed by just two reporters these days, fewer than in the past for the Sun.
Particularly notable this year, Ovetta Wiggins of the Post broke the story of the use of the N-word by Del. Mary Ann Lisanti, D-Harford, in front of other delegates and lobbyists — a story that blew up the middle of session for a week.
And the totally unexpected story that exploded in mid-March was the scandal of the insider-profiting by board members of the University of Maryland Medical System. The scandal may ultimately cost Baltimore Mayor Catherine Pugh her job, as well as executives of the hospital system. Without the Baltimore Sun's persistent probing that seemed to find a new story every day under every rock, the legislature might not have even paid much attention to an issue first raised by Sen. Jill Carter from the city.
The unbalanced State Roundup   
As you know, MarylandReporter.com does a daily roundup and newsletter about state government and politics, but it tends to be unbalanced — more by geography than by any ideology. The bulk of stories we wind up linking too are from the Baltimore region and from Western Maryland because that's the areas most heavily represented by news outlets in Annapolis.
As they have for years, the Frederick News-Post and the Hagerstown Herald-Mail send reporters most of the week, and this gives the legislators from Western Maryland — two-thirds of them Republicans — a louder voice.
Some of the surviving local papers, such as the Carroll County Times, cover Annapolis from afar, with an emphasis on local lawmakers.
Will Ford from the Washington Informer, serving the African American community, was also a regular this year.
And let's not forget Maryland Public TV, with three part-time reporters, and the Associated Press, with its lone correspondent Brian Witte, whose productivity supplies much of the rip-and-read briefs you may hear on radio and TV.
News deserts in the D.C. suburbs
But the biggest hole in Annapolis coverage continues to be for legislators from Maryland's two largest counties — Montgomery and Prince George's counties where about a third of the state lives.
No news organization has filled the gap left by the closing of the Gazette newspapers four years ago. The folks at Maryland Matters have added somewhat to the coverage, and since many of their legislators are committee chairs and floor leaders, they naturally get coverage from all sources. But unlike Baltimore or Frederick or Anne Arundel or Washington counties, there are no reporters whose sole purpose in life is to cover those local legislators.
That's why it is so important that the legislature become even more accessible and transparent, as the ACLU and other progressive groups have recently proposed. So much more about the legislative process is available online than was accessible even 10 years ago.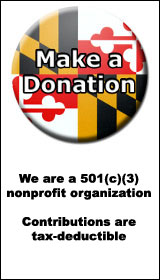 But there's no substitute for a reporter actually on the scene, and that's why keeping a vibrant State House press corps is so important. Governing magazine just published a story which says: "Recent academic studies show that newspaper closures and declining coverage of state and local government in general have led to more partisan polarization, fewer candidates running for office, higher municipal borrowing costs and increased pollution."
The story also includes links to past Governing stories about the loss of statehouse coverage.
Please help MarylandReporter.com highlight the work of the reporters covering government and politics around the state by donating today. MarylandReporter.com is 501(c)(3) nonprofit corporation, and all donations are tax deductible.