FEDERAL SHUTDOWN LOOMS OVER MARYLAND: As a possible federal government shutdown looms over lack of a budget deal, Gov. Larry Hogan said yesterday "We're calling on the leaders in Washington to get their act together and get this resolved, and hopefully cooler heads will prevail," the governor said. "Now it's going to be probably up to the president to come to his senses." According to Governing magazine, 26,474 federal employees work in Maryland at agencies that would be impacted by the failure to fund the government beyond Friday night. The story was written by Bruce DePuyt in Maryland Matters.
MARYLAND LEADS CHALLENGE TO OFFSHORE TESTING: Maryland is leading a group of nine Atlantic states in challenging the Trump administration's decision to allow energy companies to conduct thundering underwater seismic tests off the coast, Scott Dance of the Sun reports. The states are joining a lawsuit filed by environmental groups in South Carolina last week. Attorney General Brian Frosh said the seismic testing permits violate federal laws protecting endangered species and the environment.
P-TECH SCHOOLS GROW: Gov. Larry Hogan announced legislation and new funding Thursday to expand the number of schools participating in the state's technology education program. Maryland's Pathways in Technology Early College High School program, known as P-TECH, enables students to graduate with a high school diploma and — at no-cost — a two-year associate degree in a science, technology, engineering or math field in six years or less, Luke Broadwater of the Sun reports.
REDISTRICTING PANEL TAPPED: Gov. Larry Hogan on Thursday selected members of a nonpartisan commission created to redraw the state's 6th Congressional District, a move that complies with a federal court order invalidating the current boundaries — which is being appealed by Attorney General Brian E. Frosh (D), Antonio Olivo of the Post reports.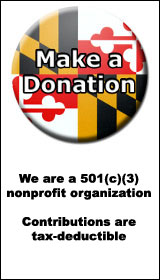 ***ALMOST TO THE GOAL: We're now over 95% toward the maximum matching grant of $25,000 from four national foundations. Any tax-deductible donation to MarylandReporter.com up to $1,000 will be doubled by the foundations if we get it by Dec. 31. $50 becomes $100, $250 is worth $500, $1,000 doubles to $2,000. Please support local nonprofit news. ***
TRONE URGES SUPREMES TO KEEP DISTRICT: David Trone, the Democrat who next month will begin representing a Maryland congressional district at the heart of a constitutional challenge to partisan gerrymandering, has urged the U.S. Supreme Court to validate the controversial district as having been reasonably redrawn, Steve Lash reports in the Daily Record.
11 HARASSMENT CLAIMS AGAINST LAWMAKERS: Eleven sexual harassment complaints were filed against Maryland state lawmakers in the past year, officials said Thursday. It was the first annual compilation of allegations in the General Assembly, ordered as part of an effort by the legislature to strengthen its anti-harassment policies, Ovetta Wiggins reports for the Post.
NEW HARASSMENT GUIDELINES OKd: A committee of General Assembly leaders voted new sexual harassment guidelines into effect Thursday, as the first annual report about the number of complaints in the legislature over the past year was released, Danielle Gaines of Maryland Matters reports. The new sexual harassment policies take immediate effect.
RURAL ACA ENROLLMENT JUMPS: While enrollment in health exchange plans in Maryland this year was up about 2%, there were places where policies were downright hot sellers, reports Meredith Cohn in the Sun. Rural counties reported jumps as high as 28% from last year. The reason? A "perfect storm" that made some policies sold under the Affordable Care Act the least expensive in the least populated areas.

HEALTH PANEL SENDS HOSPITAL PLAN TO LEGISLATURE: The Maryland Health Care Commission advanced to the state legislature Thursday a set of 14 recommendations to modernize Maryland's 40-year-old certificate of need process for health care facilities. The Senate Finance and House Health and Government Operations committees had requested the recommendations to look at potential ways to modernize the process that governs hospitals, nursing homes, home health agencies, rehabilitation facilities, addiction treatment centers and more, Tim Curtis of the Daily Record reports.
BANNED INSECTICIDES STILL SOLD: Maryland's pioneering law to restrict the sale and use of insecticides implicated in honeybee die-offs had a bumpy debut this year. Spot checks of home and garden, hardware and other stores around the state found some of them still stocking bug-killing products that should have been removed from retail shelves, the Bay Journal's Tim Wheeler reports in MarylandReporter.
EMOLUMENTS SUIT HALTED: The 4th Circuit U.S. Court of Appeals granted a halt Thursday to proceedings in the so-called Emoluments Clause lawsuit brought against President Donald Trump. The suit by Maryland and the District of Columbia alleges that Trump violated a constitutional prohibition on profiting from his post by doing business with foreign governments, Christina Tkacik of the Sun reports.
YEAR IN POLITICS: Larry Hogan made history this year when he became just the second Republican ever to win re-election as governor of Maryland. In doing so, Hogan avoided being dragged under a blue wave that swept parts of the region and the country due to concern over the presidency of Republican Donald Trump. Other Maryland Republicans weren't so lucky, writes Luke Broadwater as he looks back at the year in Maryland politics.
YEAR IN HIGHER ED: For some of Maryland's institutions of higher education, the year was one of turmoil and seismic change. The top stories for the state's colleges and universities were sometimes reflective of developments in the classroom, but they also were the results of human tragedy, bureaucratic ineptitude and efforts to come to grips with cultural, lifestyle and economic trends extending far beyond academics, Tom Baden writes in the Daily Record.
CORDISH ON TRUMP, JAIL REFORM: Former Trump advisor and Baltimore developer Reed Cordish tells Ian Duncan of the Sun about how he played a part in influencing President Donald Trump to support the just passed First Step Act, which will expand rehabilitation programs for nonviolent drug users and give judges more discretion in handing down sentences. The law could mean that as many as 200 federal inmates from Maryland get reduced prison sentences as a result of one of its provisions.
SENATE STAFFER FROM ELLICOTT CITY SENTENCED: A former Senate intelligence committee staffer was sentenced Thursday to serve two months behind bars after pleading guilty to lying to the FBI, Michael Balsamo of the AP writes. James Wolfe, 58, of Ellicott City was the longtime director of security for the committee, one of multiple congressional panels investigating possible ties between Russia and the Trump campaign. He pleaded guilty in October to a single charge in the three-count indictment against him.