KIRWAN PLAN TO BE DELAYED: A much-anticipated proposal to significantly increase state aid to Maryland's local school systems has been delayed yet another year, to the dismay of many teachers, parents and education advocates, Luke Broadwater is reporting in the Sun. President Mike Miller and House Speaker Michael Busch on Wednesday instructed the commission that has been studying increases to school funding — along with an ambitious array of new educational initiatives — to continue working through the fall of 2019.
OPPOSITION GROWS TO STADIUM PLAN: Federal land that few people outside Prince George's County have heard of is the focus of a brewing political squabble in Maryland. Gov. Larry Hogan (R) wants the Washington Redskins to build a stadium in Oxon Cove Park — and he has taken a key step to gain control of the land from the federal government. Environmentalists and many residents are livid, demanding that the park on the banks of the Potomac River be left untouched, Rachel Chason of the Post reports.
TOLL ROAD PROJECTS MOVE AHEAD: Eight months after Gov. Larry Hogan (R) killed a toll-road consulting contract that triggered concerns about potential conflicts of interest, Hogan and another top official voted to award the $90 million in work to a different team. The decision Wednesday by the state Board of Public Works clears the way for a surge of new activity on Hogan's multibillion-dollar plan to build toll lanes on Interstates 270 and 495.
SHORE SEA LEVEL RISE AT CRITICAL STAGE: The Eastern Shore will experience higher than average sea level rise, a risk that will increase substantially over the next 100 years if global emissions are not cut in the near future, according to new projections from the University of Maryland's Center for Environmental Science, Jenna Miller of the Salisbury Daily Times reports.
STATE OKs NEW JAIL MEDICAL CARE PROVIDER: Maryland officials on Wednesday approved a $680 million contract for a private company to provide medical care to state inmates, over the objection of the prior contractor who has already lodged appeals and a lawsuit, Pamela Wood of the Sun is reporting.
OPINION: THERE IS NO 'LARRYMANDERING:' In an op-ed for Maryland Matters, Republican Del. Michael Malone takes issue with a commentary by Frank DeFilippo, arguing that "DeFilippo cites not one shred of evidence to support his wild accusations (that Gov. Larry Hogan will redistrict to benefit the Republicans), instead relying on arguments that boil down to 'all politicians who can gerrymander do, Governor Hogan can, so therefore he will.'"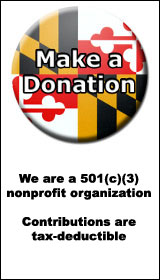 ***ALMOST TO THE GOAL: We're now over 95% toward the maximum matching grant of $25,000 from four national foundations. Any tax-deductible donation to MarylandReporter.com up to $1,000 will be doubled by the foundations if we get it by Dec. 31. $50 becomes $100, $250 is worth $500, $1,000 doubles to $2,000. Please support local nonprofit news. ***
D.C. OKs SPORTS BETTING: The D.C. Council on Tuesday approved legal sports betting, providing another nearby destination where Marylanders will soon have the chance to wager bets on professional sports and games. The decision came after a May Supreme Court ruling that struck down a federal law banning some states from offering wagering on sports. Jeff Barker of the Sun answers some questions about the impact of the decision.
STATE FUNDS GARRETT CENTER: A project to renovate and expand the former Garrett College gymnasium to create a Community Education and Performing Arts Center received a boost Wednesday thanks to a $685,000 grant, writes Elaine Blaisdell in the Cumberland Times-News. The award was one of seven capital grants totaling over $18.1 million approved by the Maryland Board of Public Works.
STATE AIDS IN TREE PLANTING: Over the last two years, volunteers and staff planted 477 trees in a 7-acre along the median between Martin Luther King Boulevard and Fulton Avenue in Baltimore city as part of a "greening" initiative. The Maryland Port Administration was the primary funder of the $150,000 effort, a cost that also includes maintaining the newly green lot for three years. The state's Department of Natural Resources and Baltimore Gas and Electric also helped with funding, Ethan McLeod of Baltimore Fishbowl reports.