EMOLUMENTS SUBPEONAS: A federal judge cleared the way Monday for the attorneys general of Maryland and the District of Columbia to begin issuing subpoenas in their lawsuit alleging that President Donald Trump has violated a constitutional prohibition, Jeff Barker of the Sun reports.
BASU: 'ANTIQUATED' REGS COST MARYLAND HQ2: Maryland economist Anirban Basu says he has concluded that Maryland lost in its bid for Amazon's 2nd headquarters because of the state's "antiquated" regulations and higher taxes for corporations and top-earning residents, Katherine Shaver writes for the Post. Amazon has said salaries at the new headquarters will average $150,000. Unlike in Virginia, Maryland jurisdictions impose a local income tax in addition to the state tax.
FROSH PUSHES TO RETAIN DISTRICT: Maryland's attorney general on Monday urged the Supreme Court to review and overturn a lower-court decision that a western Maryland congressional district was so severely drawn to ensure a Democrat's election as to violate the GOP voters' constitutional right to political association, Steve Lash of the Daily Record reports.
DIM FUTURE FOR RED LINE: Any rapid transit project providing a long-sought link between East and West Baltimore remains decades away, according to a recent report. The Maryland Department of Transportation/Maryland Transit Administration's November dispatch to the General Assembly essentially ends the limited hopes of Red Line light-rail backers of restarting the canceled project, writes Adam Bednar for the Daily Record.
GM TO MEET WITH LAWMAKERS: General Motors Co. chairman and CEO Mary Barra will meet this week with members of Maryland's congressional delegation at the request of the lawmakers, who said the automaker's decision to end operations at its White Marsh plant demonstrates "extremely poor corporate citizenship." The meeting is scheduled for Wednesday night in Washington, said Jaime Lennon, a spokeswoman for Rep. Dutch Ruppersberger, reports Jeff Barker for the Sun.
STATE TO CLOSE TO HONOR BUSH: Gov. Larry Hogan announced Monday that Maryland state government agencies and offices will be closed Wednesday in honor of former President George H.W. Bush's "lifetime of service and unwavering dedication to our country," Lillian Reed of the Sun reports.
REMEMBERING BUSH: Former Rep. Bob Bauman, an Eastern Shore Republican, and Rep. Tom McMillen, a Democrat who had played professional basketball, offered reminisces to MarylandReporter of President George H.W. Bush, who is lying in state at the Capitol Rotunda until Wednesday.
DEMS SWORN IN AS COUNTY EXECS: A political power shift in the Baltimore region was made official Monday as Democratic county executives were sworn into office in the three suburban counties surrounding the city. Steuart Pittman and Calvin Ball took the helm from Republican executives in Anne Arundel and Howard counties, while Baltimore County Executive Johnny Olszewski Jr. continued a 25-year streak of Democratic leadership in the largest of the three suburban counties, Pamela Wood of the Sun is reporting.
BALL TOUTS PROTECTING ELLICOTT CITY: Calvin Ball, who has served 12 years on the Howard County Council, was sworn in on Monday as the first black person to hold the office of Howard County executive, reports Erin Logan for the Howard County Times. Ball, in his installation speech, emphasized that he represents all of Howard including "Ellicott City who will not be defined by floods but who, with me as your champion, will become a national model for safety, strength, and resilience."
COLUMBIA TALK: Maryland Reporter editor Len Lazarick will be talking about his recent book "Columbia at 50" this Friday at noon at the Museum of Howard County History next to the old Courthouse in Ellicott City, 8328 Court Ave., Ellicott City. For more information, click here.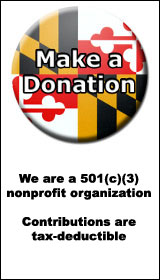 ***SUPPORT NONPROFIT NEWS: Any tax-deductible donation to MarylandReporter.com up to $1,000 will be doubled by four national foundations if we get it by Dec. 31. $50 becomes $100, $250 is worth $500, $1,000 doubles to $2,000. We're now over 70% toward the maximum grant of $25,000.***
OLSZEWSKI SWORN IN: Wearing a pin given to him by the widow of the late county executive Kevin Kamenetz, Baltimore County's new executive, Johnny Olszewski, took the oath of office Monday before a crowd of hundreds in Towson, Danielle Gaines of Maryland Matters writes.
PITTMAN URGES PUBLIC INVOLVEMENT: New Anne Arundel County Executive Steuart Pittman (D), who cut his teeth as a community organizer, urged his fellow county residents to organize and advocate for the changes they seek, writes Josh Kurtz for Maryland Matters. "If you want a voice in this government, you don't get it by who you know or how much money is in your bank account," Pittman said during his 15-minute inaugural address Monday at Maryland Hall in Annapolis. "You get it by building community."
ELRICH LAYS OUT VISION: Five minutes into his term, Montgomery County Executive Marc Elrich admitted to being a little nervous. But the longtime legislator pressed on, using his inaugural speech before a packed audience at the Music Center at Strathmore in North Bethesda on Monday to outline an expansive — and expensive — to-do list, Jennifer Barrios of the Post reports.
ALSOBROOKS URGES PRIDE IN PG: Angela D. Alsobrooks took the helm of Maryland's second-largest jurisdiction on Monday, calling on residents and elected officials to take pride in oft-maligned Prince George's County and work with her to build a better future there, the Post's Rachel Chason reports.
GARDNER STARTS 2nd TERM: Frederick County's second county council will have a few new faces, and a new Democratic majority. Four years after the county's transition to charter government, Jan Gardner (D) took the oath of office Monday as Frederick's first two-term county executive. She was joined by incumbent council members M.C. Keegan-Ayer (D), Jessica Fitzwater (D) and Jerry Donald (D). Council members sworn in for the first time Monday are Michael J. Blue (R), Philip Dacey (R), Kai Hagen (D) and Steven McKay (R).
***Annapolis journalist sought: MarylandReporter.com is looking for a freelance writer to help cover the Maryland General Assembly from January through early April. We are also looking for someone to fill in for our state roundup editor, doing aggregation 6-8 a.m. Fridays and other days as needed. For more information on these opportunities and how to apply, click here on journalismjobs.org.***