CONOWINGO GATES OPENED: Colin Campbell of the Sun reports that the crest gates of the Conowingo Dam have been opened until further notice to allow the Susquehanna River, brimming from record November rains, to flow freely through the dam into the Chesapeake Bay, the U.S. Coast Guard announced Wednesday. Twelve of the dam's floodgates will be opened, releasing water and debris into the bay — and creating a potential hazard for boaters, who should use "extreme caution," the Coast Guard said.
CAN MARYLAND PASS BIG TEST? In a guest commentary for Maryland Matters, Mike Tidwell writes that Maryland, like most states in the era of Donald Trump, can only save itself with an "all-nighter" effort. In the next dozen years, we have to build vast offshore wind farms, put solar panels on rooftops everywhere, convert perhaps half our cars to electric vehicles, revolutionize battery storage technology, and much more. This is not rhetoric. This really has to happen. The test will not be rescheduled.
STATE TO START DYE FARM: The state of Maryland will launch an urban farming pilot in Baltimore aimed at growing natural dye crops next year, the fruit of past Asian trade missions. The project will turn part of a vacant lot in west Baltimore into a garden. Planned crops include indigo, beets, onions, marigolds and Black-eyed Susans, which will be used to make dyes, Tim Curtis of the Daily Record reports.
TAX CREDIT FOR VENISON DONATION: Some Maryland deer hunters now can claim a credit against their state income taxes for donating their processed venison to the hungry. Chris Tulp of the Capital News Service reports that a new law allows hunters to receive a $50 tax credit for each antlerless deer they harvest and pay to have butchered. The maximum credit hunters may claim in one tax year is $200, for up to four antlerless deer.
HOW QI WON DELEGATE SEAT: Arelis Hernandez of the Post writes about Lily Qi, a first-generation Asian American who ran and won a seat in the Maryland state legislature. The Democrat had felt disconnected from the party establishment, despite having worked for Montgomery County Executive Ike Leggett for years. She turned to the large Asian American immigrant community in her district, writing columns about the U.S. party system in local Chinese-language newspapers and discussing her platform on WeChat, a popular messaging app.
KITTLEMAN NAMED TO STATE COMMISSION: Howard County Executive Allan H. Kittleman (R), who lost his reelection bid earlier this month, has been appointed to a full-time job with the Maryland State Workers' Compensation Commission. A spokeswoman for Gov. Larry Hogan (R) said Kittleman and a second appointee, lawyer Howard L. Metz of Frederick, were picked from among a pool of applicants for two vacancies on the 10-member commission. Erin Cox of the Post reports.
FREDERICK's ANNAPOLIS AGENDA: With the start of the next General Assembly session less than six weeks away, incoming members of the Frederick County delegation sat down with County Executive Jan Gardner on Wednesday to discuss priorities for 2019. Shortfalls in funding for paratransit, school construction and transitioning the state emergency management system to "next-generation 911" were among the top items Frederick County would like support for during the next session, Samantha Hogan writes for the Frederick News Post.
***ANNAPOLIS JOURNALIST SOUGHT:

MarylandReporter.com is looking for a freelance writer to help cover the Maryland General Assembly from January through early April. We are also looking for someone to fill in for our State Roundup editor, doing aggregation 6-8 a.m. Fridays and other days as needed. For more information on these opportunities and how to apply, click here on JournalismJobs.org.***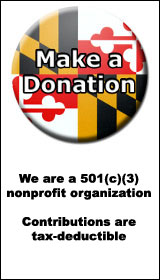 ***SUPPORT NONPROFIT NEWS: Any tax-deductible donation to MarylandReporter.com up to $1,000 will be doubled by four national foundations if we get it by Dec. 31. $50 becomes $100, $250 is worth $500, $1,000 doubles to $2,000. We're now over 60% toward the maximum grant of $25,000.***
STREAM EFFORTS ALONE CAN'T SAVE BAY: Writing in MarylandReporter, Jeremy Cox of the Bay Journal reports that some stream restoration projects curb more pollution and others less, given the variations in construction methods and local topography. There is a growing scientific consensus that stream restoration isn't improving water quality and aquatic habitats as much as was once hoped in a highly urbanized area.
PITTMAN REMOVES PANELIST AFTER FB POSTS: Anne Arundel County Executive-elect Steuart Pittman removed former county Fire Chief Roger Simonds from his transition committee Wednesday over posts Simonds shared on Facebook, Chase Cook of the Annapolis Capital reports. Simonds' Facebook page has posts directly targeting Muslims and their religion. Those posts included one calling it offensive when Muslim's wear American flag hijabs. Another one alluded to Muslims killing people and still being let into the country.
BALL NAMES LEADERSHIP TEAM: Incoming Howard County Executive Calvin Ball named his leadership team on Wednesday, featuring several individuals with experience working for the state government, Towson University and the Greater Baltimore Committee, Holden Wilen for the Baltimore Business Journal writes.
DON MOHLER HONORED: Baltimore County Executive Don Mohler, whose brief tenure ends Monday, was honored Wednesday as a dedicated leader who packed all he could into his seven months in office. Pamela Wood of the Sun reports that the occasion was the unveiling of Mohler's portrait, the 13th county executive portrait to line a hallway at the Historic Courthouse in Towson.
ELRICH OUTRAISED OPPONENTS: Marc Elrich outraised both of his two opponents by more than a 3-1 margin during the final two weeks of the Montgomery County executive campaign, pulling in more than $300,000, Dan Schere of Bethesda Beat reports.
BAKER REFLECTS: Prince George's County Executive Rushern L. Baker III (D) leaves office Monday, after eight years on the job. Angela D. Alsobrooks (D) takes the oath of office to replace him on Dec. 3 at noon. In a conversation with Maryland Matters reporter Bruce DePuyt this week, Baker talked with unusual candor about his tenure, his accomplishments, a fear that he was in over his head, and a public panic attack that he fretted would create public doubt about his readiness for the job.
BALTIMORE SUES TRUMP ADMIN: The city of Baltimore on Wednesday filed what advocates call a first-in-the-nation lawsuit challenging President Trump's efforts to curtail legal immigration by penalizing people who use public benefits. Legal immigrants have stopped using school programs, food subsidies, housing vouchers and health clinics for which they are eligible, the lawsuit says, hurting the city's mission to welcome immigrants and creating long-term expenses as Baltimore deals with a sicker and less-educated community.