FOR SPORTS BETTING: Will Hobson and Emily Guskin of the Post report that while Maryland voters likely will have to wait at least two years to decide whether to legalize sports gambling, a narrow majority of the state's voters approve of adding lawful sports betting today, according to a Washington Post-University of Maryland poll.
ELECTION PANEL ANALYSIS: MarylandReporter.com's editor Len Lazarick will be on a panel analyzing election results with several Democratic bloggers  and Sun reporter Pam Wood Wednesday evening at the Columbia Democratic Club, 7 p.m. at the Jeffers Hill Neighborhood Center, 6030 Tamar Drive, Columbia 21045.
LOH IGNORED ATTY GEN ADVICE: Talia Richman of the Sun reports that according to a source with knowledge of the proceedings, University of Maryland President Wallace Loh's decision to take "legal and moral responsibility" for mistakes made in treating 19-year-old football player Jordan McNair went against advice from the attorney general's office.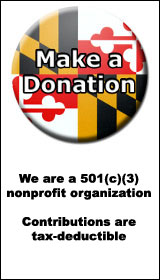 ***SUPPORT NONPROFIT NEWS: Any tax-deductible donation to MarylandReporter.com up to $1,000 will be doubled by four national foundations if we get it by Dec. 31. $50 becomes $100, $250 is worth $500, $1,000 doubles to $2,000. We're now 23% toward the maximum grant of $25,000.***  
NO AMAZON HQ2 FOR MARYLAND: Amazon will open major new outposts in Northern Virginia's Crystal City and in New York City, splitting its much-sought investment of up to 50,000 jobs between the two East Coast sites, according to people close to the decision-making process, the Post is reporting. Maryland had been in the running. An announcement could come as early as today, according to the people, who spoke on the condition of anonymity because they had signed nondisclosure agreements with the company.
UMB SUED OVER HARASSMENT CLAIMS: An investigation by the Baltimore Sun has found that four women complained to the University of Maryland, Baltimore, and its School of Medicine about one surgeon's behavior, saying he harassed them or other women and that superiors failed to take action to stop the behavior. Two of those women provided The Sun copies of their written communications with administrators in the university's Title IX office, which investigates claims of sexual harassment. One has brought a federal lawsuit against the school. Liz Bowie and Talia Richman report the story for the Sun.
VOTER TURNOUT IN MARYLAND: At 51.1%, the turnout of the voter eligible population in Maryland was 1.9% higher than in the country as a whole. Maryland ranked 23rd among the 50 states and DC – not too bad for a state with neither a competitive gubernatorial nor senatorial election, writes David Lublin for Seventh State blog. On the other hand, education is highly correlated with turnout, so maybe Maryland doesn't do so great for such a highly educated state. We rank third among states in terms of the share of residents with college degrees and second based on the share with advanced degrees.
WHAT's NEXT FOR HOGAN? In an article for Maryland Matters, Josh Kurtz ponders Gov. Larry Hogan's next four years, writing, "Unburdened by the need to put himself before Maryland voters again, but with the possibility of elevating his national profile dangling before him, will Hogan undergo a political transformation? What will his priorities be in a second term?" The governor answers, "There's going to be no change of direction. The voters wanted us to go in the same direction. And that's what we intend to do."
PART 1: WHY JEALOUS LOST: In the first of a two part "autopsy" of Ben Jealous's losing gubernatorial race against incumbent Larry Hogan, David Lublin of the Seventh State blog writes after a losing campaign, people are often looking for someone to blame. "Racism and a lack of party support are two reasons that some of Ben Jealous's more zealous supporters think explain his loss. Today, I take the bull by the horns and argue that neither can explain why Ben Jealous lost the governor's race so badly."
PROGRESSIVES MAKE PROGRESS: In a commentary for Maryland Matters, Progressive Richard DeShay Elliott writes that "the 2018 political cycle has been one for the books. Through the ups and downs, the grass-roots left has built a roadmap for the future in Maryland, and we are poised for huge gains in our state."
ARUNDEL ADDRESSES HATE INCIDENTS: Amid a rash of hate incidents, officials in Anne Arundel County are scrambling to address the problem — with plans to submit legislation, change school curriculum and improve prosecution of hate crimes. Catherine Rentz and Pamela Wood of the Sun report. Examples of hate from just the past month include Ku Klux Klan fliers in Lothian on Monday, KKK fliers dropped in front yards in Glen Burnie on Saturday. On Nov. 1, a noose made of toilet paper was found hanging in a boys bathroom at a middle school.
TOWARD A MORE OPEN GOVERNMENT: As Arundel County Executive-elect Steuart Pittman gets ready to take office, he has promised a more open county government and has even taken steps to ensure that that will happen. The editorial board of the Annapolis Capital offers its own suggestions to make county government more transparent.
DEPORTATION RIPS FAMILY APART: Wyatt Massey of the Frederick News Post writes about how deportation of illegal immigrants has ripped apart one local family, whose father had escaped from Honduras more than 10 years ago.