DC-AREA GOALS MAY ADVANCE: Democrats' takeover of the U.S. House in Tuesday's election instantly strengthened the Washington region's deep blue congressional delegation, which may advance local goals such as Metro funding, statehood for the District and protecting federal workers and the Chesapeake Bay, Robert McCartney of the Post reports. U.S. Rep. Jamie B. Raskin (D-Md.), whose district includes much of Montgomery County, is one of several Democrats from Maryland and Virginia who are in line for key positions in the House now that they will be in the majority.
6th DISTRICT DILEMMA: Maryland's leaders face a critical and complex choice in light of a decision in which three federal judges found the state's 6th Congressional District to be unconstitutionally gerrymandered: fix it or appeal to the U.S. Supreme Court, reports Michael Dresser for the Sun. Attorney General Brian Frosh, who will make the final call, hasn't announced a decision. A spokeswoman said he hopes to decide soon, but under court rules he has more than three weeks to make up his mind.
PARROTT FLOATS RUN FOR 6th: A Republican state delegate from Washington County is considering a run in 2020 for the state's yet-to-be-redrawn 6th Congressional District. Del. Neil C. Parrott said Friday he is forming an exploratory committee as he weighs the decision, Ovetta Wiggins of the Post reports.
HEALTH EXCHANGE DEFICIENCIES: A legislative audit of the Maryland Health Benefit Exchange that enrolls uninsured people in Medicaid and qualified health insurance plans found "significant deficiencies" in the program. This is a term in auditing standards meant to bring serious problems to the attention of the governing board and not just the executives in charge, Charlie Hayward writes in MarylandReporter.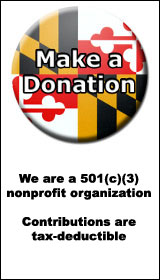 ***SUPPORT NONPROFIT NEWS: Any tax-deductible donation to MarylandReporter.com up to $1,000 will be doubled by four national foundations if we get it by Dec. 31. $50 becomes $100, $250 is worth $500, $1,000 doubles to $2,000. We're now 23% toward the maximum grant of $25,000.***  
OPINION: COME OUT SWINGING: In a column for Maryland Matters, Frank DeFilippo urges Democrats to take the gloves off and come out swinging when they take over the House of Representatives. And in Annapolis, he writes blood-sport is unnecessary; a veto override will do. So it's amusing to watch Gov. Larry Hogan, newly elected to a second term, embrace Democrats as if they're his partners and push off Trump as the pariah that he is in Maryland.
RECORD NUMBER OF WOMEN ELECTED TO GENERAL ASSEMBLY: A record number of women will serve in the Maryland legislature next year, Danielle Gaines reports for Maryland Matters. Seventy-one women were elected or reelected on Tuesday night — 56  to the House of Delegates and 15 to the Maryland Senate. The previous high watermark for women serving in the State House was 67, according to the Center for American Women and Politics at Rutgers University, which tracks women candidates and lawmakers nationwide. Last year in Maryland, there were 61 women lawmakers for the majority of the General Assembly session.
MD DEMS STILL CLAIM VICTORY: Maryland Democrats again lost the state's top political prize, and yet they're ecstatic. Erin Cox and Ovetta Wiggins of the Post report that for the second time in four years, Republican Larry Hogan has captured the governor's mansion, winning by 13.5 percentage points and with a record 1.2 million votes in a state that has twice as many Democrats as Republicans. Democratic leaders are celebrating, however, thrilled by down-ballot wins that they think cleared the bench of rising GOP stars who could succeed Hogan in 2022.
CLOSER LOOK AT HOGAN WIN: Gov. Larry Hogan on Tuesday won the most votes of any gubernatorial candidate in state history, a victory that made him only the second Republican executive in the state to win reelection, Rachel Chason of the Post reports. Although Hogan lost to Democrat Ben Jealous among voters 29 and younger, according to a voter survey conducted by Fox News and the Associated Press, he was propelled to victory by older voters, political independents and Democrats who crossed party lines.
ANALYSIS: STILL NO GOP IN IN BALTIMORE: In an analysis for Baltimore Brew, Mark Reutter examines whether Gov. Larry Hogan actually made headway into the deep blue hearts of Baltimore voters. More black Baltimoreans voted for Hogan in this election cycle than in 2014 when he faced Lt. Gov. Anthony G. Brown. But in the absence of a viable campaign infrastructure, the Republican Party continues to be a non-factor in local politics.
ON THE RESULTS: Maryland's midterm elections are over: Gov. Larry Hogan was re-elected; Democrats gained seats in the House of Delegates; Comptroller Peter Franchot won the most votes of any statewide Democrat. What does all of this mean? Len Foxwell, Franchot's Chief of Staff, and Ryan Miner discuss the results and their implications, in this A Miner Detail podcast.
RISING STARS: Pundit Barry Rascovar, in his Political Maryland blog, looks at the last week's midterm elections and comes away with a few observations, including that Gov. Larry Hogan has no coattails, that two incumbent Republican county execs lost, leaving no rising GOP stars to take Hogan's place, but that Democratic County Executives-elect Angela Alsobrooks and Johnny Olszewski, respectively of Prince George's and Baltimore County, could.
PITTMAN ON HARNESSING TALENT: In a column for the Annapolis Capital, Arundel County Executive-elect Steuart Pittman writes that "Many people seemed surprised by the election outcome. I wasn't one of them. I believed many months ago that we would win this election, so everything I did on the campaign trail was preparation to govern. I spent less time waving signs on the side of the road than most candidates, but more time meeting with policy experts, researching issues and listening to community members. We have tremendous talent in our county and I want to harness it."
CAPITAL GAZETTE CASE TO MOVE FORWARD: Anne Arundel County's new head prosecutor will lead on the Capital Gazette shooting case, she said Saturday, and predicts the case will go to trial, Danielle Ohl of the Annapolis Capital reports. State's Attorney-elect Anne Colt Leitess said she would prosecute the case following the departure of her predecessor Wes Adams, who has handled the case since the June 28 attack.
WOMEN TAKE ARUNDEL COUNCIL: It's a historic year for the Anne Arundel County Council. It started as all-male with four term-limited members and three others running for re-election It's completely different now, writes Chase Cook for the Annapolis Capital. There are six new council members and the gender ratio is 5-2 in favor of women, a historic number. There are no black council members after Pete Smith was defeated in the primary. Incoming councilwoman Jessica Haire, R-Edgewater, said, "The most interesting part is the variation of experience and different backgrounds … We have teachers, engineers and attorneys."
OPINION: A MOST DIVERSE DELEGATION: The editorial board for the Annapolis Capital praises voters in District 32 and throughout the county for sending a statement against bigotry on Election Day and electing the most diverse trio of delegates to ever represent Anne Arundel County in the General Assembly. They re-elected Del. Mark Chang, the first Korean-American ever elected from the county. They voted for Sandy Bartlett, the first African-American woman elected to the House of Delegates from the county. And they picked Mike Rogers, only the second African-American man elected from the county to the state legislature.
BALL MULLS ELLICOTT CITY FUTURE: As he prepares to move into the Howard County executive's suite in less than a month, Calvin Ball says he needs more information before deciding if he will get behind a $50 million plan that could dramatically remake historic Ellicott City to better protect against major flooding, reports Erin Logan for the Howard County Times. Ball will have to work with an entirely new, majority Democratic five-member County Council in dealing with a flood control project to mitigate flooding in historic Ellicott City— a plan he voted against partially funding as councilman earlier this year.
ELRICH BEGINS TRANSITION: Montgomery County Executive-elect Marc Elrich, a three-term County Council member, is starting to put his administration together. Elrich said in an interview Friday morning he is assembling his transition team, which will include some members of his campaign staff, Dan Schere of Bethesda Beat writes. The transition team will conduct interviews with possible department heads and staff members this week, he said.