ADDRESSING TAXES: As Republicans in Congress weigh a dramatic reduction in taxing inheritances left by wealthy Americans, progressive lawmakers in Maryland want to make sure the state does not follow suit. Del. Jimmy Tarlau (D-Prince George's) said he will sponsor a bill in 2018 to exempt only the first $4 million of an estate from state taxes, even as federal lawmakers want to raise the threshold from $5.49 million to $11 million. Josh Hicks of the Post reports the story.
CONGRESSMEN TO SPEAK AT TAX FORUM: Three Democratic members of Maryland's congressional delegation will appear at a town hall meeting in Baltimore Monday to discuss the Republican effort in Washington to overhaul the nation's tax code, reports John Fritze for the Sun. Reps. Elijah E. Cummings, Dutch Ruppersberger and John Sarbanes, all of whom represent a portion of Baltimore, will speak at the forum, organized by BMore Indivisible.
STATE INSURANCE MANDATE: As President Trump and congressional Republicans aim to eliminate the individual insurance mandate contained in the Affordable Care Act, a push is on in Maryland to buttress the federal mandate – or even create a state mandate, writes Josh Kurtz in Maryland Matters.
REDUCING BALTIMORE VIOLENCE: With the number of homicides exceeding 300 annually in Baltimore, the General Assembly this coming session will consider increasing funding for programs legislators say show promise for reducing violent crime in the state's most populous city as well as strengthening penalties for illegal gun possession and witness intimidation, reports Steve Lash for the Daily Record. Legislation will also be introduced to broaden the law prohibiting cyberbullying. Lawmakers also say 2018 will be the year oft-introduced legislation is enacted to expedite the termination of parental rights of those who conceive a child through non-consensual intercourse.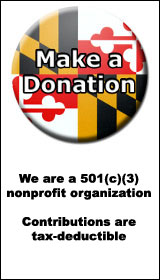 TIME TO GIVE: With a goal of making 2017 a record-breaking year for donations to nonprofit news, MarylandReporter.com is joining more than 100 local and investigative newsrooms that are eligible to receive up to $28,000 each in matching grants, doubling every donation up to $1,000 they receive by Dec. 31. Giving Tuesday encourages people to support the causes that matter to them. #GivingNewsDay is a reminder that quality journalism shines a spotlight on those issues every day.
LEGISLATIVE SUMMIT FOR ADVOCACY GROUPS:The Maryland Legislative Coalition of nonprofit advocacy groups is holding a summit on Sunday, Dec. 3, 10 a.m. to 6 p.m. at UMBC's Engineering Building Lecture Hall to prepare for the 2018 legislative session. The morning session teaches how to communicate effectively with legislators, with training on lobbying provided by Maryland Working Families. At 1 p.m., major non-governmental organizations will discuss their priorities for the session. Participants will have the opportunity to connect directly with the organizations to help support their legislative goals. Click here to see a full list of advocacy groups and register for the event.
HOGAN COMMITTEE FINED: Maryland's Board of Elections has fined Republican Gov. Larry Hogan's reelection committee for an email soliciting donations on behalf of the campaign during the annual legislative session, when fundraising for state elections is prohibited, reports Josh Hicks of the Post.
***MARYLAND FARMERS COMMITTED TO CONSERVATION Today, Maryland farmers use technology and some pretty nifty techniques to grow a bigger crop using fewer inputs. They also operate with conservation and sustainability as top priorities. Maryland soybean farmers now harvest 29% more bushels of soybeans on just 11% more soybean acres than they did in 2010. At the same time, Maryland farmers reduced soil erosion 21% between 2000 and 2015. The USDA reflected these findings, citing independent reports that show positive trends for water quality, habitat and key aquatic species. The reports also show declines in nutrient and sediment loads to the Chesapeake Bay. Read more about Maryland farmers' commitment to conservation and sustainability. SPONSORED CONTENT***
BAY DEFENDERS WAIT ON U.S. SENATE: If the Senate does not restore a deep, House-passed cut in federal funding to the Environmental Protection Agency's Chesapeake Bay Program, the ripple effect on Maryland conservation efforts could be far larger than what the state would lose in actual dollars, according to program supporters. For the fourth consecutive year, House appropriators in September slashed funding for the EPA's Chesapeake program by 20%, to $60 million. In past years, the Senate restored the cut, maintaining annual funding for the program at $73 million, more than $12 million of which went to Maryland in 2016. Capital News Service reports in MarylandReporter.com.
HELP FROM LEGAL AID: Legal Aid attorney Amy Petkovsek, who helps run a free legal help program out of Enoch Pratt Free Library, said clients leave the clinics free of problems only a lawyer could fix. Some, in tears, writes Yvonne Wenger in the Sun. "An attorney can spend five to 20 minutes with one person here and literally change a life," Petkovsek said. "They can get a job. They can have access to housing or access to their children just with 20 minutes of an attorney's time. That is a really big deal."
METRO FARE CHANGES: The day after Thanksgiving brought two SmarTrip-related announcements for Metro riders. One was an addition to a popular fare pass program, which is likely to be welcomed, while another development would surely pose a hassle for scores of riders beginning in the new year. Metro will soon stop allowing negative balances on SmarTrip cards amid its push to enforce its fares, as the agency cracks down on fare evaders, reports Faiz Siddiqui for the Post.
HOEBER DEFENDS HOGAN ROAD PLAN: Congressional candidate Amie Hoeber responds to Montgomery County Council candidate Ben Shnider's critcism of Gov. Larry Hogan's plans to ease congestion along I-270. She writes in Maryland Matters that while Hogan's plan doesn't solve all problems, they will greatly reduce congestion on I-270 – which is not just a rush hour problem, unless one defines rush "hour" as extending for more than a third of each day. Further, as Hogan has indicated, relieving traffic in I-270 is just one element of his planned improvements to the Maryland highway infrastructure as a whole.
BA CO SUPER TO ABIDE BY RULES: Baltimore County interim school superintendent Verletta White announced Friday that she will no longer receive pay from consulting work and will abide by new restrictions on her out-of-state travel, reports Doug Donovan for the Sun. White will accept compensation only from the school system, seek and obtain school board approval before taking any out-of-state trips and post information about any travel on the district's website, according to a joint statement released by White and the county school board. Board members also agreed to publicly disclose any trips they take.
PG's CLEAN WATER PARTNERSHIP: How Maryland jurisdictions address clean-water regulatory requirements has been a point of political contention in the state for years, writes Rachel Siegel for the Post. In Prince George's County, Green Forever was one of the first seven to participate in that county's Clean Water Partnership, which aims to retrofit up to 2,000 acres of impervious surfaces in the Maryland suburb with green infrastructure.
ANOTHER MO CO CANDIDATE QUALIFIES FOR PUBLIC FUNDING: District 3 County Council member Sidney Katz, facing a competitive re-election challenge, is the latest candidate to fulfill the requirements for receiving funds from Montgomery County's new public campaign finance system, Louis Peck and Andrew Metcalf of Bethesda Beat report.
HOW BUCKLEY WON ANNAPOLIS: In a column for the Annapolis Capital, Nick Berry opines: We all know now that, by a big vote margin, Gavin Buckley is the mayor-elect. This result surprised many. So, what happened?