MarylandReporter.com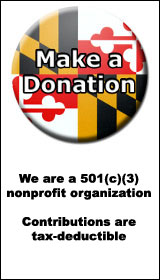 With a goal of making 2017 a record-breaking year for donations to nonprofit news, MarylandReporter.com is joining more than 100 local and investigative newsrooms that are eligible to receive up to $28,000 each in matching grants, doubling every donation up to $1,000 they receive by Dec. 31.
News Match 2017 was launched by Democracy Fund, the Knight Foundation, and the MacArthur Foundation to support nonprofit news organizations like MarylandReporter.com that play a vital role informing the public and holding those in power accountable.
The donations support MarylandReporter.com's original reporting on state government and politics and its daily State Roundup of news from over 50 news sites and blogs. Its daily email newsletter goes to more than 8,400 people, with 20 to 30 new subscribers each week.
A $50 donation doubles to $100, a $500 gift equals $1,000 and a $1,000 contribution brings in a total of $2,000. MarylandReporter.com started its News Match campaign on its 8th birthday Nov. 2, and is already halfway to the $28,000 goal.
"Trusted nonprofit news organizations like MarylandReporter.com are essential to building stronger communities, holding our decision makers accountable, and providing people with the information they need to contribute to civic change. Ensuring they have a bright future is in all of our interests," said Jennifer Preston, Knight Foundation vice president for journalism.
All news organizations participating in News Match are members in good standing of the Institute for Nonprofit News. To be a member, an organization must be a 501(c)(3) or have a 501(c)3 fiscal sponsor, must be transparent about funding sources, and produce investigative and/or public-service reporting. Donations are tax-deductible as allowed by law.
Donors can make contributions through MarylandReporter.com's Donate button or by sending a check to MarylandReporter.com at 6392 Shadowshape Place, Columbia, MD 21045. For more information, contact founding editor and publisher Len Lazarick, Len@MarylandReporter.com.