HOGAN SAYS NO TO MORE METRO FUNDING: Contrary to the public display of goodwill for the media after a closed-door meeting last week, the region's top three elected officials clashed sharply over Metro funding, with Maryland Gov. Larry Hogan (R) saying the transit agency would get no additional money from his state, reports Robert McCartney for the Post. The lack of agreement among the leaders over how to meet Metro's financial needs makes it increasingly unlikely the region will come up with the additional money that General Manager Paul J. Wiedefeld says is necessary by next July to keep the system safe and reliable.
MARYLAND's RX POT ENTREPRENEURS: After years of delays, lawsuits and other controversy, 14 firms in Maryland are now growing or poised to grow legal medical marijuana, firing up the supply chain for a market that's expected to reach a quarter billion dollars annually. The entrepreneurs who were awarded the lucrative licenses to produce the plant have largely stayed out of the limelight as they built multimillion-dollar facilities, fended off legal challenges and raced to get growing before lawmakers could authorize more licenses. Erin Cox of the Sun takes a closer look at these businesses, offering profiles of each.
RX POT ADVOCATES: As the state is set to launch its medical marijuana industry, Fenit Nirappil and Aaron Gregg of the Post interview the businesses and the parents who have been advocating for it for years. Nearly 13,000 patients have signed up to be able to purchase marijuana, and 428 health-care providers have registered to certify the patients' need for the drug, according to the commission. But hurdles remain.
LIABILITY, BENEFITS OF LATER SCHOOL START: For the first time in more than two decades, public schools across Maryland open Tuesday under a new state mandate that required them to start after Labor Day, Talia Richman and Liz Bowie of the Sun write. Some teachers and families see the late start date ordered by Gov. Larry Hogan as a gift: more time for vacation, more time to prepare lesson plans, more time to play. Others see it as a liability: less time for spring break, and more costs for child care.
An executive order signed by Gov. Larry Hogan in August 2016 extended the summer break for Frederick County Public Schools to about 12 weeks. The decision added about four weeks to the summer vacation, with the break scheduled to start June 15. While the new calendar was controversial among policymakers at the state and county levels, students, teachers and administrators largely appreciated the extra time away, Allen Etzler writes in the Frederick News-Post.
END OF THE TRAIL FOR NOW: Ever since it opened 20 years ago, the clock had been ticking on the Georgetown Branch Trail, an oasis of green space in suburban Maryland that was set aside for a public transitway during the late 1980s, reports Antonio Olivo of the Post. Even so, the heartache was palpable Monday among trail users who spent a picture-perfect Labor Day holiday taking a last walk, jog or bike ride along the 3.1-mile path before it closes Tuesday for the next four to five years to make room for the light-rail Purple Line.
Two Montgomery County Council members have questioned whether the trail needs to be closed so soon. In a letter sent Thursday to the Maryland Department of Transportation, County Council President Roger Berliner and Council member Tom Hucker wrote that the announcement that the trail would close today "caught many of us by surprise." They question the immediacy and length of the closure, Joe Zimmerman of Bethesda Beat reports.
HELP FOR PEOPLE WITH DISABILITIES: For more than two decades, disability rights advocates have pushed for tax-preferred savings accounts to allow individuals with disabilities to save money without jeopardizing state and federal means-tested benefits like Medicaid, Supplemental Security Income, food or housing assistance. Last week, the Maryland 529 Board approved an intergovernmental cooperative agreement with the State of Oregon and Sumday Administration LLC for the savings program known as Maryland ABLE (Achieving Better Life Experiences), which is now headed to the Board of Public Works for final approval on Wednesday, Andrew Friedson writes in a guest commentary for Maryland Matters.
POLITICS & THE PRUDENT CUT: The editorial board for the Sun opines that it's amazing, as we head into an election year, how much political posturing can attach itself to something as minor as a 0.14% cut in the state budget. About the only person who's calling this for what it is — a minor bit of fiscal housekeeping — is Department of Legislative Services Director Warren Deschenaux, who said the move "isn't surprising" and is "prudent."
ARUNDEL's SAFE STATIONS: Rachel Siegel of the Post follows up on earlier stories on Anne Arundel County's "Safe Station" efforts to treat addicts, writing that it starts, usually, with the ringing of a fire station doorbell. Someone new has come for help — maybe a parent with a struggling teenager or an adult who has realized his life is being unraveled by drug addiction. Twenty-four hours a day, seven days a week, firefighters and police officers at stations in Anne Arundel County are ready to assess people addicted to opioids and set in motion a broader coalition that can get them quickly into drug treatment, whether or not they have money to pay.
UMMS TAKES OVER PG HOSPITALS: The University of Maryland Medical System closed a deal Friday to take ownership of a Prince George's County hospital system so plagued with financial and image problems that two-thirds of county residents went elsewhere for care, reports Andrea McDaniels in the Sun. The university medical system announced that it has completed an agreement to take over Dimensions Healthcare — which includes two hospitals, an ambulatory care center and two health and wellness centers.
YUMI HOGAN IN S. KOREA IN TENSE TIME: As the U.N. Security Council gathered in New York Monday to discuss North Korea's latest nuclear test, Maryland first lady Yumi Hogan was in South Korea, promoting the state, its university and one of its most prominent businesses, Matthew Hay Brown and Doug Donovan. Hogan, the wife of Gov. Larry Hogan, met with South Korean first lady Kim Jung-sook in Seoul on Monday as part of a trade mission led by the Maryland Commerce Department and the Office of the Secretary of State. She met earlier with University of Maryland alumni at an Under Armour store in the South Korean capital.
BLAME THE JUDGES: Ian Duncan and Luke Broadwater of the Sun write that with exceptional violence raging across Baltimore, many top officials have started pointing fingers of blame toward city judges. Baltimore Police Commissioner Kevin Davis likened the situation to a game of baseball: Detectives and prosecutors are generally doing their jobs and getting criminal cases "to third base" and from there, Davis said, law enforcement is counting on the judiciary to bring cases home by imposing impose tough sentences. The critique has been adopted by Baltimore Mayor Catherine Pugh and Maryland Gov. Larry Hogan, who also fault judges for refusing to meet with them to explain themselves.
GRANDSON OF TALMADGE BRANCH SHOT TO DEATH: Maryland House Majority Whip Talmadge Branch said his grandson is Baltimore's latest murder victim, and the veteran lawmaker pleaded for the city's gun violence to stop, Erin Cox of the Sun reports. "It's touched my family now," Branch said Monday afternoon, three hours after he said his grandson Tyrone was killed in northeast Baltimore.
KAGAN JUGGERNAUT: In a piece for his Miner Detail blog, Ryan Miner writes that now that David Trone has decided to run for Congress, the three term-limited Montgomery County councilmen running to succeed County Executive Ike Leggett now can relax a bit without worrying about challenging Trone for county executive, his slate of council candidates and the mega dollars he would have brought. Or can they relax? One name – state Sen. Cheryl Kagan – pops up in almost every county executive conversation he's had with tuned-in Montgomery County politicos.
MO CO EXEC CANDIDATES DEBATE: The Democratic candidates for Montgomery County executive will face off in the first debate of the campaign Nov. 15 at The National 4-H Conference Center in Chevy Chase, Bethesda Beat is reporting.
STATE CENTER BOONDOGGLE: Every so often, the prospective developer of the long-stalled State Center re-do in Baltimore stirs the waters and agitates community groups to denounce Gov. Larry Hogan for not giving the A-OK to its $1.5 billion project. On paper it is sparkling, exciting effort to energize and uplift a depressed portion of mid-town Baltimore with high-rise apartments, modern office space for state workers and retail space. That's the developer's public "spin." Left unsaid is the gigantic taxpayer giveaway to the State Center developer if the project is re-started, opines Barry Rascovar in a column for MarylandReporter.com.
STATE HOUSE RACISM PROTEST: It was art as protest, or vice versa, as a handful of activists lit up the Maryland State House in Annapolis on Friday night with anti-racism messages, reports Pat Furgurson for the Annapolis Capital. The night sky and the facades of the oldest state house in the country were emblazoned with "Disable White Supremacy," "Alt-Right is Wrong" and "Stop the Hate," projected using stage theater lights powered by a small rented generator.
CUMMINGS RETURNS TO DC: Rep. Elijah E. Cummings, who has been recovering from a heart procedure for months, told John Fritze of the Sun on Monday he expects to return to Capitol Hill next week. The Baltimore Democrat, the ranking member of the Oversight and Government Reform Committee, underwent what his office described as a "minimally invasive" heart procedure in May. Cummings said in July that an infection prolonged his recovery.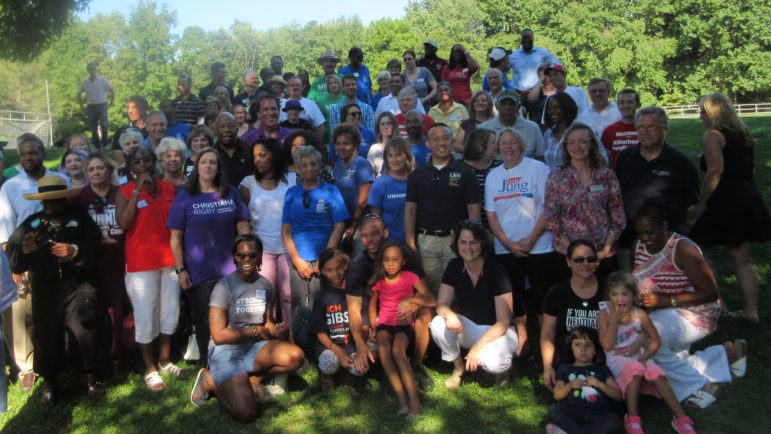 LABOR DAY PICNIC: Five candidates for governor showed up at Howard County Democratic Party's traditional Labor Day picnic, including Prince George's County Executive Rushern Baker, Baltimore County Executive Kevin Kamenetz, Montgomery County Sen. Rich Madaleno, Alec Ross and Maya Rockeymoore Cummings. The keynote speech came from Maya's husband, Rep. Elijah Cummings, looking thin after losing 45 pounds and walking with a cane after 45 days at Johns Hopkins Hospital. "I don't wish what I went through on anyone," said Cummings, ranking Democrat on the House Oversight and Government Reform Committee. Doctors had told him to take it easy, but "every time I looked at that TV I wanted to scream." Len Lazarick, MarylandReporter.com.
ILLEGALLY POOR: Attorney Amy Hennen writes in an op-ed for the Sun that the Sun recently reported on a rarely used legal maneuver that has resulted in the arrest of more than 100 people for their failure to pay rent. The existence of this tactic as a legal process is somewhat surprising since it is on par with putting people in jail for being poor (which is illegal). The bigger surprise is that the person behind its increased use is President Trump's son-in-law and senior advisor Jared Kushner.
HOGAN DUMPS CAMPAIGN MANAGER: Gov. Larry Hogan (R) has parted company with his short-tenured campaign manager, Ryan Reynolds, reports Josh Kurtz for Maryland Matters. Multiple sources saids that Reynolds, who previously worked for Hogan's pollster, WPA Intelligence, was abrasive and did not mesh with other campaign staffers and people in the governor's broader political circle.
O'MALLEY MIGHT RUN FOR PRES AGAIN: Former Democratic presidential candidate Martin O'Malley said Saturday he may run for president again, as speculation swirls over other prospective Democratic candidates, Julia Manchester writes for the Hill. "Sure, I just might," O'Malley told MSNBC's Alex Witt when asked about a potential presidential bid. However, the former Maryland governor said his primary focus is on the upcoming 2018 elections and getting "good people" elected.
UPDATED MO CO CANDIDATES LIST: Here's Maryland Reporter's updated list of people running for office from Montgomery County. The offices include county executive, county council, state legislature, Congress and statewide offices.
IGNORANCE OF RACISM: Rob Hiassen of the Annapolis Capital writes about the ignorance that many white people grow up with when it comes to black lives. He recounts growing up in Florida and only learning much later about the historic and horrific events that occurred around him.