RX POT DEAL IMPERILED: Advocates who want to diversify and expand Maryland's medical marijuana industry are calling on the General Assembly to hold a one-day special session to get the job done. But the top politicians in Annapolis are again at odds on the issue, imperiling the chances for a deal, reports Fenit Nirappil for the Post. Democratic lawmakers agree that the state should approve five new minority growers to join the 15 mostly white-owned companies already pre-approved to open cultivation sites.
HOGAN REAPPOINTS SCHRADER, PETERS: Setting up a potential constitutional clash, Gov. Larry Hogan reappointed two officials to his Cabinet on Wednesday who failed to make it through the confirmation process during the General Assembly session that ended this week, Michael Dresser reports in the Sun.
HOGAN's SESSION: Gov. Larry Hogan, who has clashed with Democratic legislative leaders and struggled to get bills passed over the past two years, just finished his most successful legislative session since taking office in 2015, reports Ovetta Wiggins in the Post. Hogan, a Republican who enjoys wide popularity in the deep-blue state, got his major win in his final legislative session before he gears up for reelection next year.
HOGAN's RACE TO LOSE: That's the headline on a Baltimore Sun editorial with a very long, balanced and sympathetic analysis of the Republican governor and his successes this session, along with brief takes on his potential Democratic challengers. It concludes: "But after his third legislative session, Mr. Hogan is in as strong a position as he can be. The 2018 election is his to lose."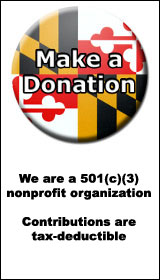 ***We hope you've found MarylandReporter.com's coverage of the Maryland General Assembly and daily State Roundup keep you in the know. Most of our many new readers this session don't realize that MarylandReporter.com is a 501(c)(3) nonprofit corporation. We depend on the support of foundations, sponsors and individual contributors like yourself to stay in business. We hope you will consider making a contribution today via our PayPal button.***
PUGH TOUTS SESSION: Mayor Catherine Pugh said Wednesday the 90-day legislative session ended with some victories for Baltimore City. Pugh, a former state senator, said among the legislative successes that will benefit the city is $2 million to help pay for the newly approved consent decree between the police department and the U.S. Department of Justice. She noted that the state also will send money to build new schools and help close $130 million budget shortfall in the school system, Yvonne Wenger of the Sun reports.
KAMENETZ OUTLINES VICTORIES: Baltimore County Executive Kevin Kamenetz says the county scored several victories in the recently completed General Assembly session, including legislation to pave the way for a Guinness brewery to open in the county and a bill tackling prescription drug price gouging, reports Pamela Wood in the Sun. "We had a very successful year in Annapolis," Kamenetz said in an interview Wednesday.
DRUG PRICE GOUGING: Hours before adjourning for the year, state lawmakers approved a first in the nation bill that would allow Maryland's Attorney General to sue the makers of generic drugs over sharp price increases—or price gouging, reports Brendan Reynolds for WYPR-FM.
LIQUOR RETAILING IN MO CO: Later this year the Montgomery County Department of Liquor Control may not be the exclusive retailer of liquor in the county, reports Andrew Metcalf in Bethesda Beat. The General Assembly unanimously approved a bill during the session that will allow the DLC to contract with privately-owned beer and wine stores to sell liquor.
COMPLAINT FILED OVER HOGAN EMAIL: The AP is reporting that the Maryland Democratic Party is complaining about a fundraising email for Gov. Larry Hogan sent during the legislative session, but Hogan's campaign treasurer says the complaint is "baseless." Interim party chair Kathleen Matthews has filed a complaint with the elections board
JEALOUS STUMPS: Ben Jealous, who is running for the Democratic nomination for governor, brought his firebrand speaking style to Western Maryland Wednesday night when he appeared before about 60 people at a meeting of the United Democrats of Washington County. The former president of the NAACP, Jealous praised Maryland for its progress on issues like abolishing the death penalty and passing marriage equality, Dave McMillion writes in the Hagerstown Herald-Mail.
ACLU-MD JOINS TRAVEL BAN LAWSUIT: The American Civil Liberties Union of Maryland joined a nationwide lawsuit on Wednesday in an effort to learn more about the implementation of President Donald Trump's travel ban, John Fritze of the Sun writes. Forty-one ACLU affiliates filed the suit, alleging U.S. Customs and Border Protection had not adequately responded to a request for documents filed this year under the Freedom of Information Act.
JERVIS FINNEY DIES: Jervis S. Finney, a former U.S. attorney for Maryland and legal counsel to former Gov. Bob Ehrlich who also served in the state Senate and was a Baltimore County councilman, died Sunday at his home in the Charlesbrook neighborhood of Baltimore County of congestive heart failure. He was 85. (Finney was a friend and supporter of MarylandReporter. We will miss his occasional phone calls with advice. "Old Jerv here," he would say. Thanks to Fred Rasmussen at the Sun for another nice send off.)