HOGAN BUDGET: Faced with a half-billion-dollar budget gap, Gov. Larry Hogan is proposing to roll back several programs enacted to help Baltimore recover from the riots of 2015 and to freeze pay for state workers, the Sun's Erin Cox reports. The Republican governor would also downsize a major state prison in Hagerstown, delay money for a long-desired hospital in Prince George's County and reduce extra payments into the state's pension system.
JUDICIARY SEEKS 5.4% HIKE: Steve Lash of the Daily Record writes that the Maryland Judiciary seeks $576.4 million in fiscal year 2018 – a 5.4% increase from the $546.8 million appropriated for the judicial branch this fiscal year, which ends June 30.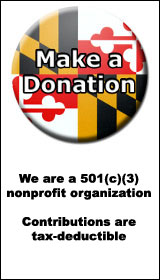 FINAL DAY FOR MATCHING GRANT: This is the final day of a matching grant from the Knight Foundation to MarylandReporter.com, one of 57 nonprofit news organization from around the country that are receiving the matching grants for any donations received by Thursday, Jan. 19. Any donation of any size up to $1,000 will be matched dollar for dollar by the Knight Foundation, a major funder of nonprofit journalism. Contributions are tax deductible. So far we've raised over $12,000 that will be matched. This is our second major grant from the Knight Foundation. Thanks to many who have contributed, many first time donors.
FILMING SENTENCING HEARINGS: A Baltimore city delegate has reintroduced legislation to allow media organizations to film and broadcast criminal sentencing proceedings after his bill died in committee during last year's General Assembly session, writes Heather Cobun for the Daily Record.
HOGAN SEEKS BACKGROUND CHECKS: Gov. Larry Hogan is asking people nominated to fill vacancies in the General Assembly to undergo background checks before taking their seats, infuriating Democratic leaders, Erin Cox and Pamela Wood of the Sun are reporting. Two people recently nominated to fill seats in the House of Delegates — Baltimore's Nick Mosby and Montgomery County's Jheanelle Wilkins — have not yet been sworn in. Both were asked by the governor's office to submit to background checks. Neither has complied.
DELEGATE AIDE FIRED AFTER NYT ARTICLE: Danielle Gaines of the Frederick News Post reports that a legislative aide to a Frederick County lawmaker was fired after he was revealed Wednesday in a New York Times article to be the mastermind behind a fake political news website. Cameron Harris, an aide to Del. David E. Vogt III, previously ran the website ChristianTimesNewspaper.com, according to the Times.
NEW DELEGATE: Bilal Ali, a community liaison in the Baltimore state's attorney's office, was selected Wednesday to become Baltimore's newest state delegate — part of a series of recent changes to the city's delegation triggered by the election of Mayor Catherine Pugh and the retirement of state Sen. Lisa Gladden. Ali, an event promoter who sits on the Democratic Central Committee that made the selection, beat fellow committee member Joyce Smith in a 5-1 vote, Luke Broadwater of the Sun reports.
EX-DELEGATE's ACTIONS RAISE CONCERNS: When a paint manufacturer ran into trouble with a contract with the state of Maryland, John Bohanan knew just what to do. The former Democratic state legislator, who works as a consultant for lobbying firm Cornerstone Government Affairs, opened up conversations with the secretary of the Department of General Services and Lt. Gov. Boyd Rutherford. Bryan Sears of the Daily Record reports that Bohanan's actions, while not an overt violation of state lobbying laws, have raised the eyebrows of some in the small world of the state capital lobbying corps and with a watchdog group that advocates for more transparent lobbying and campaign finance laws.
EPA HOPEFUL WOULD SUPPORT BAY: President-elect Donald Trump's nominee to lead the U.S. Environmental Protection Agency, a frequent critic of environmental regulations, appeared to offer support Wednesday for a federally directed Chesapeake Bay cleanup program he once sued to stop. Oklahoma Attorney General Scott Pruitt, who has repeatedly sued the agency he is now poised to oversee, told a Senate panel he would use his authority to enforce the pollution reductions pledged by six states in the Chesapeake Bay watershed, and he would push for federal funding for the bay's restoration., Scott Dance and John Fritze of the Sun write.
FROSH URGES 'NO' VOTE ON SESSIONS: Maryland Attorney General Brian E. Frosh is leading a coalition of Democratic attorneys general from six states urging the Senate to reject President-elect Donald J. Trump's nominee to head the Department of Justice, the Sun's Scott Dance and Jessica Anderson report.
$5 M IN HOGAN COFFERS: Gov. Larry Hogan's re-election war chest swelled by nearly $4.5 million this year, campaign finance reports show, bringing his campaign accounts to $5.1 million, writes Erin Cox for the Sun. The reports were filed with the Maryland State Board of Elections on Wednesday afternoon, ahead of a midnight deadline.
CUMMINGS, PUGH TO ATTEND INAUGURATION: Rep. Elijah E. Cummings, a Baltimore Democrat and a former chairman of the Congressional Black Caucus, said Wednesday that he will attend President-elect Donald Trump's inauguration — even as dozens of other Democrats have decided against it. Cummings' decision means that all but two Maryland lawmakers — Rep. Anthony G. Brown  and Rep. Jamie Raskin  — will attend Trump's inauguration on Friday, John Fritze of the Sun is reporting.
FORD FOUNDATION OFFERS BALTIMORE $1M: Mayor Catherine Pugh said Baltimore will get $1 million from a social justice foundation to help pay for police reforms required by the U.S. Department of Justice. The New York-based Ford Foundation called to offer the city the money as Pugh looks to shepherd sweeping changes to the police department, aimed at restoring community trust and ensuring officers do not violate citizens' Constitutional rights, reports Yvonne Wenger for the Sun.
OPEN MEETING VIOLATION: The Mardela Springs Town Commissioners were found to be in violation of Maryland's Open Meetings Act for failing to give public notice of a March 8, 2016, meeting with state planning officials, Liz Holland reports in DelmarvaNow.
VATZ ON TRUMP, PUTIN: Towson University Professor Richard Vatz has a Sun op-ed on Trump and Putin.