HAPPY NEW YEAR: We're back with a long roundup covering the past 10 days.
CUTTING BACK ON STANDARDIZED TESTING: The state's largest teachers union and its General Assembly allies are planning to renew their push to limit the amount of time public school systems in Maryland devote to standardized testing, reports Michael Dresser for the Sun. Betty Weller, president of the Maryland State Education Association, vowed that her 73,000-member union would mobilize behind a statewide cap on testing when the legislature opens its 90-day session in January.
STATE PAYROLL SYSTEM CHECKUP: Taking a shot at Republican Gov. Larry Hogan, Democratic leaders of the General Assembly in late December that they have set up a legislative panel to investigate problems with the state's payroll system, Michael Dresser reports in the Sun. The joint House-Senate committee will look into what Assembly leaders called the "alarming mishandling" of employee paychecks in recent months.
JAILED YOUTH: In a story in the Sun, Erica Green reports on one young Columbia resident's move through the state's juvenile justice system after he stole another teen's cell phone, the people who advocated on his behalf to free him and the difficulty he has had since his release.  She writes that some advocates are calling for the entire incarceration system for youths to be scrapped. They say kids should be placed in group homes or sent home to receive treatment and counseling.
STUCK IN JAIL: Shannan Wise, who was working two temp jobs and attending school for medical billing, remembers the countless calls she made from Central Booking in Baltimore, praying that her friends and family would come up with the $1,000 she needed to get out of jail. Wise, 27, had never been in jail before October 2015, when a police officer arrived at her home and said he had a warrant for her arrest. Her younger sister, who suffers from mental illness, had filed an assault charge against her. Wise, a single mother of two, stayed in jail for five days before she was able to post bail. Ovetta Wiggins details her journey for the Post.
MD OD DEATHS SOAR: Drug-overdose deaths surged to new levels in Maryland during the first nine months of 2016, far surpassing the total for all of the previous year as fatalities related to heroin and fentanyl use increased sharply, reports Josh Hicks for the Post. The state health department reported Thursday that the number of overdose deaths for January through September climbed to 1,468, a 62% jump compared with the same period in 2015, and the sixth straight year that the figure has risen.
HANDGUN PURCHASE PORTAL: To buy a handgun legally in Maryland, you'll now have to go online first. Beginning New Year's Day, all handgun purchase applications must be submitted through the Maryland State Police Licensing Portal. The old handwritten forms will no longer be accepted, Jessica Anderson and Emily Chappell of the Sun report.
SCHOLARSHIPS FOR PRIVATE SCHOOLS: Gov. Larry Hogan's plan to double the amount of money the state spends to provide scholarships for students to attend private schools is not sitting well with top legislative leaders, reports Ovetta Wiggins in the Post. Del. Maggie L. McIntosh, chairman of the House Appropriations Committee, who supported the initial funding for the scholarship, said she is concerned about the state's budget shortfall, the amount of money that will be given to public schools, and whether the new scholarship program is working as intended.
ON BUSINESS ISSUES: In another in his series on Countdown to the Annapolis Summit, WEAA-FM's Marc Steiner hosts Donald Fry, the president and CEO of Greater Baltimore Committee,  to discuss some of the business issues coming up in the next session of the Maryland General Assembly.
MEDICAL POT ON THE HORIZON: Medical marijuana could finally become a reality next year in Maryland, one of the states slowest to make the drug available for purchase after legalizing sales. In 2016, regulators awarded long-awaited licenses to grow, process and sell cannabis while grappling with fallout from those shut out of the potentially lucrative industry, writes Fenit Nirappil for the Post.
REIMAGINING STATE CENTER: As an early New Year's gift to Maryland taxpayers, Gov. Larry Hogan Jr. delivered the final blow to an outrageously priced scheme aimed at turning over to private investors the 28-acre State Center complex in Baltimore for redevelopment, political columnist Barry Rascovar writes in MarylandReporter.com.
HOGAN COURTS JEWISH CONSTITUENTS: Robert McCartney of the Post reports that analysts say Gov. Hogan, whose approval rating halfway through his first term in office is about 70%, has an especially good opportunity to pick up support in Montgomery County's Jewish electorate. Though they are more likely to be registered Democrats or independents, those voters are sympathetic to Hogan's avoidance of hard-line conservative positions on divisive social issues and to his emphasis on economic management and job creation.
PROJECTS GET STATE TAX CREDITS: A downtown Hagerstown project is among eight recent recipients of state tax credits. According to a news release from the Maryland Historical Trust, $190,560 in tax credits was awarded to a project that will renovate the Ramocciotti/Professional Arts Building on the Public Square in downtown Hagerstown, Mike Lewis writes in the Hagerstown Herald Mail.
HOGAN TO ATTEND INAUGURATION: Gov. Larry Hogan, who refused to support Donald Trump's election, will attend his inauguration. The Republican governor received an invitation and will attend the ceremony with his wife, Yumi Hogan, in Washington Jan. 20, the Governor's Office said Friday. During the campaign, Hogan expressed disdain for Trump's candidacy and vowed not to vote for him even after Trump clinched the Republican Party's nomination, reports Michael Dresser in the Sun.
BLACKWATER REFUGE DROWNS: Scott Dance of the Sun writes that the view from the observation deck over a meadow of brown marsh grasses would make a nice postcard. Eagles roost on tall pines, muskrats burrow in mounds of mud and straw, and black ducks splash in a pond. Beyond the marsh is what Matt Whitbeck, a Fish and Wildlife Service biologist, calls "Lake Blackwater." "It's this beautiful body of open water," he says. "When you really start to think about why this is here, it's disturbing."
VA WAITS CUT DRASTICALLY: Senior doctors in the VA Maryland Medical System say they have solved the problems that 2 1/2 years ago left veterans waiting an average of 80 days to get their first primary care appointment. Ian Duncan of the Sun writes that in November, the average wait was down to about seven days, said Dr. Amit Khosla, a VA physician in Baltimore.
DEL. CARTER RESIGNS: Del. Jill Carter has resigned her seat in the House of Delegates to take a job in Baltimore Mayor Catherine Pugh's administration. In a letter dated Dec. 23, Carter told House Speaker Michael E. Busch her resignation will take effect on Jan. 2. Pugh announced Friday that she has appointed Carter as director of the city's Office of Civil Rights and Wage Enforcement, Michael Dresser and Yvonne Wenger of the Sun report.
DEL. HAMMEN REPLACED: Gov. Larry Hogan Friday appointed Robbyn Lewis to the House of Delegates to fill a vacated seat in the 46th district in Baltimore City. Adam Bednar of the Daily Record reports that the official appointment by the governor follows the recommendation of the Baltimore City Democratic Central Committee. Lewis replaces Pete Hammen, who left the state legislature after taking a position in Baltimore Mayor Catherine's Pugh's administration.
LINING UP TO REPLACE DEL. SMITH: Louis Peck of Bethesda Beat reports that a half-dozen candidates have jumped into the contest for the appointment to the state delegate vacancy in District 20 created by former Del. Will Smith's elevation earlier this month to succeed U.S. Rep.-elect Jamie Raskin in the Maryland Senate. And more aspirants could get in before the Montgomery County Democratic Central Committee  decides Jan. 9 who will fill the empty delegate seat.
DELANEY BILL REVIVAL: Rep. John Delaney (D-Md.) has been pushing a plan to use a one-time tax on accumulated overseas corporate profits to pay for infrastructure projects since he first ran for office in 2012, but without much success. Now with his political rivals poised to retain control of Congress and occupy the White House, Delaney's repatriation tax proposal may find new life, Jenna Portnoy reports in the Post.
SEN. VAN HOLLEN: Louis Peck of Bethesda Beat reports that even before his swearing in Tuesday as Maryland's next U.S. senator, it's already clear that Kensington's Chris Van Hollen won't be a typical freshman. Van Hollen, the first Montgomery County resident in a century to represent Maryland in the Senate, has already been named to a key leadership post and appointed to a powerful committee.
HO CO SCHOOLS & PUBLIC INFORMATION: A state report released Friday afternoon by the state's public access ombudsman found the Howard County Public School System did not follow Maryland's public information law in some cases, Fatimah Waseem reports in the Howard County Times.
BUILDING ON POLITICAL INFLUENCE: Nothing about the unassuming, three-story brick townhouse at 2423 Maryland Ave. suggests its status as one of Baltimore's most politically connected addresses. But, writes Doug Donovan for the Sun, former and current mayors, influential lobbyists, a campaign strategist, powerful contractors and city government's highest-ranking lawyer all orbit the property in one way or another. Powerful lawyer and lobbyist Lisa Harris Jones owns the building, which houses the law firm she runs with her husband, Sean Malone, a former top aide for ex-Gov. and ex-Mayor Martin O'Malley.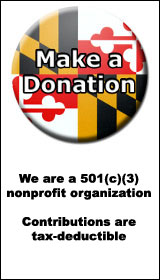 MATCHING GRANT FOR MARYLAND REPORTER: MarylandReporter.com is one of 57 nonprofit news organizations from around the country that will receive matching grants for any donations received by Jan. 19. Any donation of any size up to $1,000 will be matched dollar for dollar by the Knight Foundation, a major funder of nonprofit journalism. Contributions are tax deductible. So far we've raised over $6,000 that will be matched. Thank you.
JH CEO MEETS TRUMP: Dr. Paul B. Rothman, the CEO of Johns Hopkins Medicine, met with President-elect Donald Trump on Wednesday along with other medical leaders to discuss reform efforts at the Department of Veterans Affairs. A senior transition official said Trump is considering a public-private option that would allow veterans to seek care from private hospitals, John Fritze of the Sun writes.
SINCLAIR'S TRUMP SCOOP: The most striking thing about the four interviews that Donald Trump gave in early August may be that one company was behind all of them: Sinclair Broadcast Group. The Maryland-based company is the nation's largest owner of TV stations, with 173 in 81 cities nationwide, including those that interviewed Trump in August, reports Paul Farhi in the Post.
POST ADDS JOURNALISTS: 2016 was the year the Washington Post came of age — again, Ken Doctor writes in Politico. In its audience growth, in the ambitiousness of its journalism, in its impact on the American conversation, the Post became the U.S.'s fourth national newspaper company, joining The New York Times, The Wall Street Journal and USA Today. Now, come 2017, the Post seems to be doing something unique in daily journalism: It is adding journalists early in the year.