HARRIS 'WILLING' TO WORK IN TRUMP ADMIN: Rep. Andy Harris is being considered by President-elect Donald Trump to lead the National Institutes of Health, CQ Roll Call reported Thursday, quoting a statement from a Harris aide. The Maryland Republican, who represents the 1st Congressional District, told Nicole Gaudiano of the Salisbury Daily Times in a statement that he would be "very willing" to take a position in the Trump administration, including at NIH or the Food and Drug Administration.
CURTAILING YOUTH STRIP SEARCHES: A task force recommended Thursday that Maryland lawmakers drastically curtail when the state's juvenile justice system can strip-search young people in its custody, Erica Green of the Sun reports. The panel voted 10-9 to ban strip searches unless there is an "articulated, reasonable belief" that a youth is concealing drugs, keys or anything that could be used as a weapon. Such searches could only be authorized by a juvenile detention facility's superintendent, administrator or a designee.
PAID SICK LEAVE: Paid sick leave legislation could become reality in Maryland under a compromise proposal being hammered out between legislators and supporters and opponents of the measure. Word of the compromise comes weeks before the General Assembly reconvenes in January and signals that business groups who once opposed such laws are recognizing that paid sick leave legislation is likely to happen with or without their input, Bryan Sears of the Daily Record reports.
CURRIE'S DECISION & THE DEMS: The Post's Ovetta Wiggins and Arelis Hernandez take a closer look at what the Sen. Ulysses Currie's decision to remain in the state Senate instead of retire means for the Democratic Party in Maryland. When Larry Stafford heard that Currie was retiring and Currie's wife was being floated as his replacement, the political activist thought: "Here we go again." Earlier this year, after the death of Del. James E. Proctor Jr., the county Democratic Committee nominated Proctor's wife as his successor, urged on by Senate President Mike Miller. And he wasn't happy about it. "It's not their seat," said Stafford, executive director of Progressive Maryland. "It's the people's seat."
LOCAL LOOPHOLE FOR TRONE: Nine Maryland delegates have signed on to a proposal that would clear the way for Total Wine and More, a Bethesda-based retailer co-owned by Potomac businessman David Trone, a former candidate for the U.S. House, to open a store in Montgomery County, Bethany Rodgers writes in Bethesda Beat. The drafted bill would create a local loophole in a state law barring individuals and businesses from holding more than one Class A license permitting retail sales of beer, wine and liquor.
ELECTORAL VOTE CHANGE? Anne Arundel County Councilman Michael Peroutka on Thursday urged local Republicans to lobby Maryland legislators for a new approach to the way the state awards its Electoral College votes. Peroutka told members of the county's Elephant Club that he supports changing the state's "winner-takes-all" system to one that allocates electoral votes based on which presidential candidate wins each congressional district, reports Amanda Yeager for the Annapolis Capital.
MARYLANDREPORTER.COM MOST INFORMATIVE: Rigged elections really do work. In the annual Baltimore Sun MOBBIES contest for Most Outstanding Blog, MarylandReporter.com won in the Most Informative category. The awards, a thin plastic disk with a smiley face, were handed out at Diamondback Brewing Thursday night. The Sun won't disclose the actual votes, so we're not demanding a recount. Thanks to all for voting early and often.  (The Sun wins the MarylandReporter.com Roundup award for the most annoying and obtrusive pop-up ads of any legacy website in Maryland.)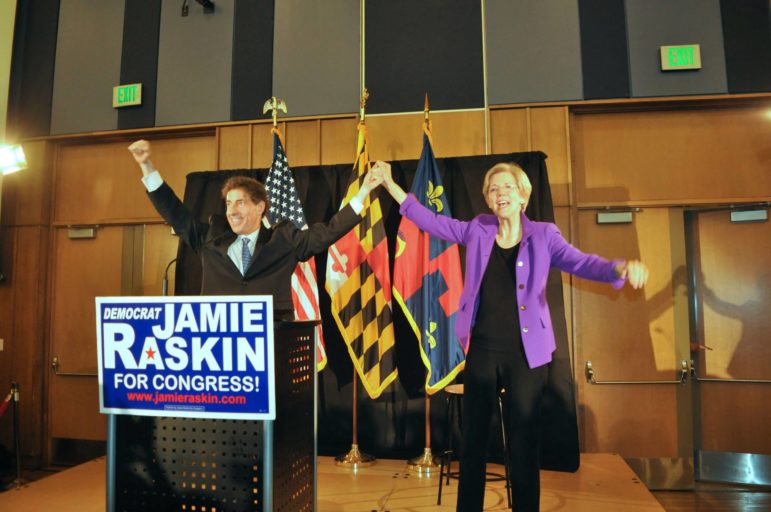 RASKIN, WARREN RALLY: It had been billed in advance as a "community conversation"—but Wednesday night's gathering at the Silver Spring Civic Center was far more of a political pep rally, as Rep.-elect Jamie Raskin, D-Takoma Park, was joined by liberal luminary Elizabeth Warren in serving up rhetorical red meat to a solidly blue audience, Louis Peck reports in Bethesda Beat. (Photo by Ed Kimmel)
HOGAN FUND-RAISER: Republican Gov. Larry Hogan hosted a black-tie fundraiser in a downtown Baltimore hotel Thursday that was expected to raise $1.5 million for his re-election campaign, Erin Cox reports in the Sun. That sum, confirmed by a Hogan campaign adviser, would match the amount the first-term governor spent on his entire primary campaign in 2014.
VAN HOLLEN URGES DE-ESCALATION: Sen.-elect Chris Van Hollen on Monday called on the Army Corps of Engineers to "deescalate" the standoff over a pipeline in North Dakota that has been the subject of months of demonstrations and reverse its decision to evict protesters, John Fritze reports in the Post. Opponents of the pipeline are concerned about the potential effects on drinking water on the Standing Rock Sioux reservation and farther downstream on the Missouri River, as well as destruction of cultural artifacts, including burial sites.
LOST GOVERNORS' RACES, WIN HOUSE RACES: Getting to know your new classmates is always an awkward experience, but a handful of new House members will have at least one thing in common: losing a race for governor. One of those is Democrat Anthony Brown, who two years ago lost the Maryland gubernatorial race to Republican Larry Hogan in an upset, 51% to 47%. But the former lieutenant governor rebounded to win a competitive Democratic primary this year in Maryland's 4th District, Nathan L. Gonzales of Roll Call reports the story.
PG COUNCILMAN HAD PREVIOUS ACCIDENTS: Prince George's County Council member Mel Franklin, who was charged with driving under the influence last week in a crash that injured two people, also damaged another government vehicle on two separate occasions four years ago, according to county records. Arelis Hernandez of the Post reports that Franklin totaled a county-owned Ford Explorer sport-utility vehicle in a distracted-driving crash in 2012, the records show, two months after banging up the same vehicle in an incident that he did not report to police.
TRAIN TUNNEL REPLACEMENT: The AP is reporting that the Federal Railroad Administration is proposing a $4 billion project to replace a 143-year-old Amtrak tunnel beneath Baltimore that is a major bottleneck in the Northeast Corridor between Boston and Washington. The agency said Thursday that the project is the preferred alternative in a final environmental impact statement . The administration says it expects to decide next spring whether to approve it. The story appears in the Daily Record.
BUILDING RX POT FACILITIES: Paul Risk Construction, a family-owned commercial construction company with Cecil County ties, announced this week the creation of a new division to focus on building medical marijuana facilities in the mid-Atlantic region, reports Cheryl Mattix in the Cecil Whig. The firm is focusing on Pennsylvania and Maryland right now, but hopes to expand into adjacent states as the demand increases.