Over 150 movers, shakers and regular folks packed the upstairs bar at Harry Browne's across from the State House Tuesday night raising close to $30,000 to support MarylandReporter.com, the nonprofit news website about state government and politics.
Guest bartenders for the event were Gov. Larry Hogan and Comptroller Peter Franchot.
In the only brief speech, founding editor Len Lazarick thanked the sponsors and guests for supporting the news operation. When Comptroller Franchot reminded him to thank the bartenders, Lazarick said that whatever else the governor might do, he was a great bartender, as he was for last year's event.
Hogan shot back that he ought to tell that to Barry Rascovar, the columnist who is a persistent critic of the governor.
Despite the presence of the chief tax collector behind the bar, Franchot was not able to waive the 9% alcohol tax on the hefty bar tab, one of the many tax hikes by his predecessor Hogan campaigned against.
Here is a gallery of photos from the event and below it is a list sponsors and donors.
Sponsors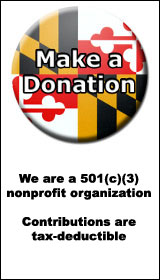 The Mikulis Family
Konterra
Greater Baltimore Committee
Gerard E. Evans
Rifkin Weiner Livingston, LLC
Strategic Campaign Group
Host Committee
Anonymous (2)
AFSCME
Alexander & Cleaver, P.A.
Bell Nursery
Claiborn M. Carr III
Ellen Valentino
Dr. Richard Vatz
Harford County Executive Barry Glassman
Jewel Rucker
Manis Canning & Associates
Maryland Association of Petroleum Distributors (MAPDA)
Maryland Association of Realtors
Maryland Business for Responsive Government (MBRG)
Maryland Multi-Housing Association
Maryland Public Policy Institute
Michael & Joanne Davis
National Federation of Independent Business (NFIB)
Paul Katula
Schwartz, Metz & Wise, P.A.
SMECO
S. Zeke Orlinsky
Steve & Lee Sachs
Strategic Partners & Media
Friends of Len
Dan Gainor
David Albert
Delegate Chris West
Delegate John Wood
Delegate Mary Beth Carozza
Dennis & Sandy Schrader
Fitzgerald Auto Mall
Gordon Feinblatt LLC
Independent Insurance Agents of Maryland
Jack Andryszak
Jeff Troll of Pinnacle Advisory
Katharine O'Donovan
Liz Bobo & Lloyd Knowles
Maryland Association of Community Colleges
Maryland Petroleum Council
Mayor Jeffrey Slavin
Randy Marriner
Richard Johnson
Spear & Dee Lancaster
Tom McMillen
Washington Gas