By Len Lazarick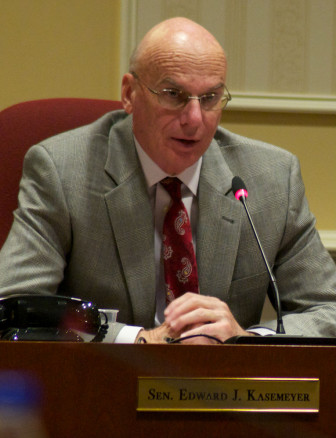 Maryland business groups are uniformly opposed to mandatory paid sick leave legislation that already passed the House of Delegates in April before dying in a Senate committee.
But a key Senate leader told a Howard County Chamber of Commerce breakfast Wednesday that the bill was bound to pass this term, and business leaders should try to make it as palatable as possible.
After hearing two business group leaders dump on the proposal, Sen. Ed Kasemeyer, chair of the Senate Budget and Taxation Committee, said, "My job is to be realistic and practical."
"This issue is going to pass before this term is over in some fashion," Kasemeyer said. The key questions are "what can you salvage out of this thing" and how can business "make this bill as good as possible."
The Senate president and House speaker will determine when the bill reaches the floor, Kasemeyer said, but legislators from Montgomery and Prince George's counties, and Baltimore City "have the majority. It is going to pass."
Called onerous and overreaching
Kasemeyer was on a panel that included Christine Ross, president of the Maryland Chamber of Commerce, and Duane Carey, president of Maryland Business for Responsive Government.
Ross called the proposal that includes paid sick leave for employees who work as little as eight hours a week "onerous."
"It's absolutely overreaching," she said, and an example of the kind of overregulation that deters business growth in Maryland.
The bill, HB580, passed the House 84-54 with all Republicans opposing the measure. In its annual Roll Call report, MBRG singled out a vote on an amendment to the bill offered by House Minority Leader Nic Kipke that was defeated by a similar margin, 51-83.
Kipke's amendment would have exempted employers of less than 50 employees; the bill exempted only those with less than 15 employees. It also raised the hours worked by a covered employee from 8 to 30 hours per week, and insisted that covered employees work at least 120 days a year, so that seasonal employees wouldn't be covered.
Republican legislators on the chamber panel, Sen. Gail Bates and Del. Trent Kittleman, said that few Democrats in the General Assembly understood the needs of small business.
Del. Terri Hill, a first-term Democrat who operates a small business as a plastic surgeon, said she had heard that business groups were not lobbying for changes to the bill with the House Economic Matters Committee until late in the session.
"We are really talking about using your expertise" as business people to tell the lawmakers how to improve the legislation, and not just rely on efforts to kill the bill completely.
The Senate Finance Committee, led by Chairman Thomas Mac Middleton, has not brought the bill to the floor. The speculation among business lobbyists is that the sick leave legislation will emerge from committee in the session that begins in January, and that if it passes both houses, Gov. Larry Hogan might veto it, and give Democrats ammunition to use against his reelection.