BAY POLLUTANTS DROP: Levels of pollutants in the Chesapeake Bay dropped from 2009 to 2015, the Chesapeake Bay Program announced Monday. Christina Jedra of the Annapolis Capital writes that throughout the bay, nitrogen, phosphorus and sediment levels decreased by 8%, 20% and 7% respectively. In Maryland, those pollutants decreased about 7%, 15% and 11% respectively.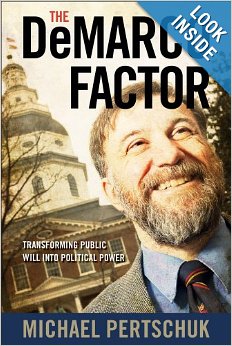 DEMARCO STEPS DOWN: The leader of an organization that advocated for tougher gun laws in Maryland said Monday he is taking a step back from lobbying in Annapolis and turning over the group he helped establish, Bryan Sears reports for the Daily Record. Vinny DeMarco said he is leaving as president of Marylanders to Prevent Gun Violence to focus on efforts to coordinate health care in faith-based communities. "I'm ready to move on," DeMarco said.
MESSAGE POLITICS: The editorial board for the Frederick News Post outlines the frustration of Comptroller Peter Franchot, who is facing what he said are "increasingly sophisticated and brazen" criminals using stolen or bought hacked financial information to commit tax fraud. And yet there's little the comptroller's office and its 35 badge- and gun-carrying, search warrant- and subpoena-delivering investigators can do.  At Franchot's request, a bill was filed to give his office minimal enforcement powers to go after income tax cheaters. "I was assured by all the legislative 'important people' that this was a no-brainer," Franchot said. One of those was Senate President Mike Miller. So much for promises. It didn't pass out of the Senate.
UB ADOPTS REGIONAL TUITION: Daniel Leaderman of the Daily Record writes that next year, the University of Baltimore will become the latest Maryland institution to let out-of-state graduate students pay in-state prices. The university is adopting a regional tuition rate for part-time graduate students in its business, arts and sciences and public affairs programs — meaning students from Delaware and Washington, D.C. as well as Arlington, Loudoun, Fairfax and Prince William counties in Virginia and Adam, York and Lancaster counties in Pennsylvania will be billed the same as Maryland residents.
PRIMARY PREVIEW: Josh Kurtz of Center Maryland offers up a primary preview, beginning on the Baltimore City mayor's race and how things are shaking out now that Nick Mosby has dropped out and endorsed Catherine Pugh; addressing just how razor thin that razor thin race really is in the  Senate race between Donna Edwards and Chris Van Hollen; and with that how do the House races for Edwards' and Van Hollen's seats shake out.
SMIGIEL, HARRIS DUKE IT OUT: Two First Congressional District candidates battled over their voting records in a Thursday, April 14, GOP debate, while two other candidates focused mainly on their views, rather than votes, writes Josh Bollinger for the Easton Star Democrat. While their stances on various issues didn't differ much, it was apparent that three candidates are unhappy with the incumbent. Former Del. Mike Smigiel attacked incumbent Andy Harris' record during the debate, as he has for much of his campaign.
LAST DISTRICT 8 DEBATE: There was an unusual twist to the 25th candidates forum for Maryland's crowded 8th District congressional primary: The contenders were allowed to question one another directly. The Post's Bill Turque writes that their Sunday Q&A, which wound up an estimated 37 hours of sometimes heated debate and discussion, enabled each of the nine Democrats to get one last poke at an opponent before next Tuesday's primary.
CUMMINGS BACKS JAWANDO: Maryland District 8 Democratic congressional candidate Will Jawando has landed the endorsement of Rep. Elijah Cummings (D-Md.), whose robo-call will be going to over 40,000 households later this week, writes Bill Turque in the Post.
TRONE DROPS $2.5M MORE ON RACE: Maryland Democratic congressional candidate David Trone has put another $2.5 million of personal funds into his campaign for the 8th District Democratic nomination, according to new filings with the Federal Election Commission, Bill Turque of the Post is reporting. The latest contributions, combined with the $9.9 million reported on his first-quarter campaign finance disclosure last week, makes Trone the heaviest self-funding House candidate ever.
RUPPERSBERGER BACKS VAN HOLLEN: In the competitive Maryland Senate Democratic primary, Rep. Chris Van Hollen has received the first endorsement from a fellow member of the state's congressional delegation. Rep. Dutch Ruppersberger, who comes from Baltimore County, endorsed Van Hollen Monday over fellow Rep. Donna Edwards, Rachel Weiner reports in the Post.
Ruppersberger, a former Baltimore County executive, signaled last week that he was frustrated with the tone of the race, which erupted over a series of attack ads about gun control, writes John Fritze in the Sun. A super PAC supporting Edwards began running an ad that criticized Van Hollen for his role in a 2010 campaign finance bill that exempted the National Rifle Association and other groups from its requirements.
MOSBY BACKS EDWARDS: Baltimore State's Attorney Marilyn J. Mosby will endorse Rep. Donna F. Edwards' bid for Senate, the campaign said Monday writes John Fritze in the Sun. The endorsement will take place on Tuesday in Baltimore, would represent the highest-profile endorsement she has received from an elected African American official to date. Most of the state's highest-profile black leaders have backed rival Rep. Chris Van Hollen.
CRUZ CAMPAIGNS IN TOWSON: Republican president hopeful Ted Cruz, making his first Maryland of the primary campaign, urged supporters in Towson to help him deny Donald Trump the delegates he needs to secure the GOP nomination before the party convention in July. "Maryland is a battleground," Cruz told hundreds of supporters at an American Legion Post. Ian Duncan of the Sun reports the story, which is topped by a photo gallery. One picture in particular is of interest. Ellen Sauerbrey stands near Cruz, but remains unidentified in the cutline. Sauerbrey introduced Carly Fiorina, who introduced Cruz.
"Come out and vote for me 10 times," Texas Sen. Ted Cruz urged his boisterous supporters at a Towson American Legion Hall Monday afternoon, writes Len Lazarick in MarylandReporter.com. "But look, we're not Democrats, so I'm not suggesting voter fraud. If everyone here goes out and gets nine other people to vote for me, you will have voted 10 times."
TRUMPS STUMPS IN WORCESTER: Republican presidential front runner Donald Trump will hold a rally in Worcester County on Wednesday — marking the candidate's first visit to Maryland since last year, writes John Fritze in the Sun. Drawn-out fights for the nomination in both parties have forced presidential candidates to pay an unusual level of attention to Maryland this year. Ohio Gov. John Kasich and Texas Sen. Ted Cruz have both already appeared in the Baltimore region.