Rachel Lazarick and Kevin Ward were married Saturday at St. John the Evangelist Roman Catholic Church in Columbia and the wedding reception was at the Calvert House on State Circle in Annapolis.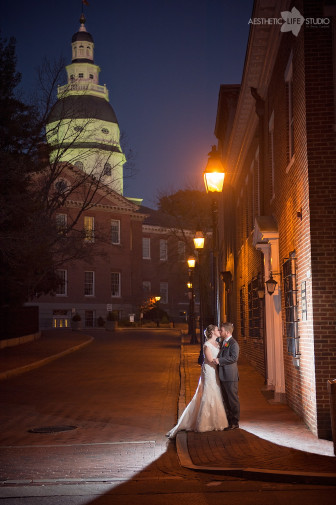 Photographer Rodney Cool of Aesthetic Life Studio, alifestudio.com, took some really wonderful photos, but I'm particularly fond of this one shot at dusk looking up School Street to the State House. I've walked this street hundreds of times and I've looked out thousands of times from the ground-floor windows of the State House press room you can see in the distance.
Rachel Lazarick-Ward is a science teacher at William H. Farquhar Middle School in Olney and Kevin Ward is an associate with Booz Allen Hamilton, working in counterterrorism for the Department of Homeland Security.
The couple lives in Woodley Park in DC, and they plan a "heritage" tour honeymoon in December to Poland, the Czech Republic and Ireland.
Len Lazarick