GUN 'FINGERPRINT' PROGRAM KILLED: Millions of dollars later, Maryland has officially decided that its 15-year effort to store and catalog the "fingerprints" of thousands of handguns was a failure, Erin Cox reports for the Sun. Since 2000, the state required that gun manufacturers fire every handgun to be sold here and send the spent bullet casing to authorities. The idea was to build a database of "ballistic fingerprints" to help solve future crimes.
STATE MAY PUT ALL DRUNK-DRIVERS IN IGNITION LOCK PROGRAM: Gov. Larry Hogan has proposed regulations to toughen restrictions on people who drive under the influence, a move that is being hailed by advocates against drunken driving as a major step in the effort to save lives on the roadways. The proposed regulations lower the blood alcohol level for convicted drunk drivers who must participate in the ignition lock program from 0.15 or more to 0.08 or higher. The state considers drivers to be drunk if their blood alcohol content is 0.08 or higher, Ovetta Wiggins reports in the Post.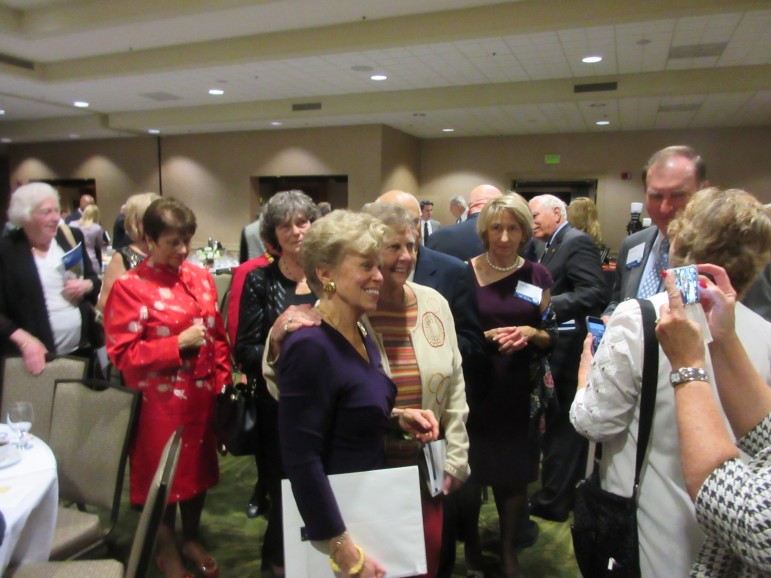 SAUERBREY HONORED: Ellen Sauerbrey was honored Friday night at a dinner by Maryland Business for Responsive Government, a group she has chaired for several years. Sauerbrey, shown above in purple dress with friend Audrey Scott, is a former U.S. ambassador to the United Nations for human rights and ran in 1994 and 1998 as the Republican nominee for governor, coming close to winning in 1994, a role that several speakers said laid the groundwork for the election of GOP Govs. Bob Ehrlich (2002) and Larry Hogan last year. The nonpartisan business group set up a scholarship in Sauerbrey's name at her alma mater, McDaniel College.
POLITICAL NOTE: At the Sauerbrey dinner, former Anne Arundel County Executive Laura Neuman was telling folks she is cochairing the Maryland campaign for Marco Rubio for president with Del. Christian Miele. Gov. Hogan also has appointed her to the Maryland Economic Development Commission.
STRUCTURAL DEFICITS PREDICTED: Democratic legislators proudly proclaimed on Monday they had cured Maryland's structural deficits with a big surplus this year, but it turns out it is only a temporary respite from a chronic budget disease, Len Lazarick of MarylandReporter.com reports. On Friday, the legislature's top nonpartisan staffer told legislative leaders in a letter that structural deficits are forecast to recur again in two years, growing from $37 million in fiscal 2018 to $465 million in fiscal 2021.
$28M FOR HIGH-SPEED RAIL STUDY: The U.S. Transportation Department has awarded nearly $28 million to conduct studies on building a high-speed rail line that would carry passengers between Washington and Baltimore in about 15 minutes, Josh Hicks reports in the Post.
AUDIT COULD COMPLICATE SUITS: A legislative audit of the failed Maryland Health Benefits Exchange that was expected to be completed by the end of the year could influence the state's ability to sue other vendors, reports Bryan Sears for the Daily Record. That draft of initial findings by the Office of Legislative Audits apparently pointed in a direction that raised concerns for Attorney General Brian E. Frosh and resulted in a letter to legislative leaders that essentially pleads for a delay.
PARCC SCORES: Liz Bowie of the Sun reports that statewide scores released Thursday that reflect Maryland students' knowledge of Algebra I might have parents questioning why high school math scores are so low — especially when middle school scores were generally higher. School officials say that is because the best math students — in some cases nearly half the student body in some schools — take Algebra I in seventh or eighth grade, pass the test there, then move on to higher-level math courses in high school.
The editorial board for the Frederick News Post takes comfort in Frederick County's scores, writing that Frederick's middle and high school students' pack-leading performance on Partnership for Assessment of Readiness for College and Careers is gratifying, and also cause for some relief. What's gratifying is that Frederick County Public Schools students scored higher across the board on PARCC's three tests — Algebra I, Algebra II and English — than the rest of state.
UNFRIENDLY PERCEPTIONS: The company created to transform Sparrows Point says some new potential tenants for a planned manufacturing, distribution and logistics campus have the perception that Maryland isn't friendly to businesses, and had concerns regarding April's riots. But Gov. Larry Hogan is working to change that perception, Jonathan Munshaw writes in the Baltimore Business Journal.
NO TRANSIT AUTHORITY LEGISLATION: Montgomery County Executive Ike Leggett won't submit controversial state legislation this year that would allow for creation of a county Transit Authority to raise funds, build and operate a countywide bus rapid transit system, Aaron Kraut reports for Bethesda Beat. Leggett's proposal, the subject of multiple public hearings and intense study by a county-organized Transit Task Force, faced significant community opposition from the start as some feared it would lead to a property tax increase to help pay for the system.
MD HAS NO STAND ON SEISMIC SURVEYS: Municipalities along the Delmarva coast are considering resolutions regarding seismic surveying, a method for detecting oil and gas beneath the ocean floor. On the state level, Delaware is opposed to the surveying. Virginia just confirmed its support for surveying and requested that the federal government prevent further delay of permit approval. But in Maryland, where Ocean City just passed a resolution opposing seismic surveys in September, the state has no stance, Rachael Pacella reports for the Salisbury Daily Times.
SCHUH SEEKS CONTROL ON SCHOOL BUDGET: Cindy Huang of the Annapolis Capital reports that Anne Arundel County Executive Steve Schuh is proposing a task force study of ways to improve a school budget process he calls "dysfunctional." Schuh said the superintendent and Board of Education propose a budget and negotiate employee salaries without enough guidance from county government on budget constraints.
SCHOOL CLOSURES IN CARROLL: As enrollment declines, Carroll County Public Schools Superintendent Stephen Guthrie will present his recommendation for potential school closures at the Board of Education's meeting on Wednesday, Lauren Loricchio reports for the Carroll County Times.