Happy 10th Birthday to MarylandReporter.com.
Ten years ago, on November 2, 2009, MarylandReporter.com launched the original nonprofit news website in Maryland covering our state government and politics.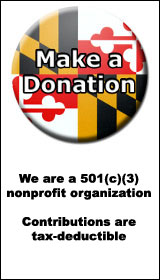 We hope you'll send us a 10th birthday gift to keep us going for another year – and have your gift doubled by four national foundations.
In the past decade, we've produced 2,500 daily newsletters and 4,000 other stories by our staff, interns and news partners, such as the Bay Journal and Capital News Service. Our editors get up at the crack of dawn five days a week to put together a daily State Roundup from over 40 different websites to keep you informed about what state and local government is doing to you and for you. Over, 9,000 people get the daily newsletter. Other websites pick up our coverage.
We got started with generous foundation funding that lasted for the first three years. Because of the requirement of that initial funding, we've never charged a cent for the newsletter or the stories other publications and websites pick up from us. Our mission statement emphasizing keeping government accountable hasn't changed, either.
We depend on the generosity of hundreds of readers like you and the support of foundations to pay for what we do.
Between now and December 31, any individual donation up to $1,000 will be matched dollar for dollar through the national NewsMatch program. The Knight Foundation, the MacArthur Foundation, the Democracy Fund and the Ethics and Excellence in Journalism Foundation, along with the Facebook Journalism Project, are supporting NewsMatch to over 100 members of the Institute for Nonprofit News across the country.
We're happy you're a reader. If everyone who opened the newsletter contributed $50, we'd be in great shape. But the truth is only a small percentage do.
We are sincerely grateful to all our past donors listed on our website, and we hope you will become one of them, if you are not already.
Thanks in advance.
With gratitude,
Len Lazarick
Editor and Publisher
MarylandReporter.com