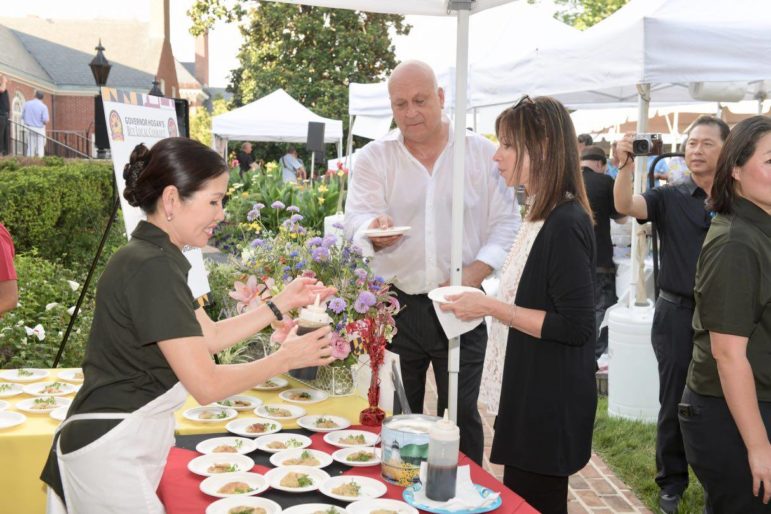 BUY LOCAL COOKOUT: At 12th annual Governor's Buy Local Cookout, Maryland First Lady Yumi Hogan serves dipping sauce with her Korean pancakes to baseball great Cal Ripken and Judge Laura Ripken, some of hundreds of guests on the lawn of Government House. Here is the menu of local food and drink, and a link to a cookbook of the recipes. The governor's office posted a gallery of 70 photos on Facebook. There are four photos of Gov. Larry Hogan sampling the fare including a flank steak taco, steak and mushroom slider, strawberry salsa with cinnamon tortilla chips, and an oyster appetizer called angels on horseback. Hogan urged the crowd to chow down so they wouldn't leave him with the leftovers.
CUMMINGS TAKES DHS TO TASK IN CHILD SEPARATION HEARING: House Oversight Chairman Elijah Cummings ripped into the acting head of Homeland Security Thursday, upbraiding Kevin McAleenan over the conditions of detention facilities for migrants at the U.S.-Mexico border, reports Caitlin Oprysko of Politico.
CUMMINGS FEELINGS ON TRUMP REMARKS: Recent remarks by President Donald Trump brought back an old scar for U.S. Rep. Elijah Cummings, who was injured by white mobs who taunted and threw rocks and bottles at Cummings and other children seeking to integrate the Riverside Park pool in South Baltimore, reports Jeff Barker in the Sun.
CONGRESSIONAL CAMPAIGN FUNDRAISING FIGURES: Federal campaign finance reports filed this week offer the first look at fundraising for some political challengers, but incumbents still have the upper hand, reports Danielle Gaines in Maryland Matters. Democratic Reps. Steny Hoyer and Anthony Brown have attracted party challengers.
WESTMINSTER MAN INDICTED FOR ALLEGED THREAT TO CONGRESS MEMBER: Darryl Albert Varnum, who lives in Westminster, was indicted Wednesday by a federal grand jury after allegedly threatening to kill a member of Congress in June, reports Jon Kelvey of the Carroll County Times.
AOC APPEARS IN MARYLAND, BRINGING STAR POWER:Rep. Alexandria Ocasio-Cortez drew adoring crowds to Maryland Rep. Jamie Raskin's event in Silver Spring, with all 700 benefit tickets gone within hours for "Democracy Summer," a program to train new generations of liberal activists, reports Paul Schwartzman for the Post.
SUN STAFF REJECTS CONTRACT EXTENSION: Reporters and advertising representatives at The Baltimore Sun have voted down a proposed three-year extension of their already 12-year-old union contract, arguing that pay increases are long overdue, Melody Simmons reports in the Baltimore Business Journal.
FORMER CONGRESSMAN MCMILLEN IN MAR-A-LAGO VIDEO: In 1992, then-Congressman Tom McMillen of Maryland appeared with future President Donald Trump and accused human trafficker Jeffrey Epstein at a party at Trump's Mar-A-Lago resort, Pamela Wood of the Sun reports on an old video released by NBC News.
MORGAN STATE TEAM TO REVIEW CANNABIS APPLICATIONS: A team from Morgan State University has been selected to evaluate a new round of medical cannabis grower and processor license applications, reports Morgan Eichensehr in The Baltimore Business Journal.
GAG ORDER LEGISLATION PROPOSED: The Baltimore Police Department would be prohibited by law from requiring victims of police brutality and misconduct to sign gag orders under an ordinance that will be introduced in the City Council next week, reports Colin Campbell of the Sun.
RUTHERFORD IN WESTERN MD: Maryland Lt. Gov. Boyd Rutherford spent time in Garrett County last week, where he checked two parks off his "State Park Bucket List," which is his plan to visit all 75 Maryland state parks by the end of his term, reports Brenda Ruggiero in The Garrett County Republican.
OPINION: PAROLING ELDERLY PRISONERS: The Baltimore Sun editorial board is urging the General Assembly to expand the pool of prisoners eligible for "geriatric parole." Having elderly people sitting in prison does no one much good, they argue. But the proposed solution is just a start because, if adopted, only 265 elderly inmates would be eligible by the end of 220 and a total of 445 would eventually qualify.
WIND FARM PARTNERSHIP:Tradepoint Atlantic in Baltimore is expected Tuesday morning to announce a new offshore wind energy partnerships with Ørsted U.S. Offshore Wind, reports Wilborn P. Nobles III in the Sun. Details of the partnership aren't being discussed, but Ørsted is in the middle of developing Skipjack Wind Farm, a 120-megawatt wind farm 19.5 miles off Maryland's coast.
SOLAR FARM APPLICATIONS: The Maryland Court of Appeals has ruled that local land use is impliedly preempted by the state over the siting of large solar facilities, writes Les Knapp on the Maryland Association of Counties Conduit Street blog.
PRINCE GEORGE'S AMAZON WAREHOUSE: Amazon has not yet confirmed that it plans to build a logistics center in Prince George's County, but the message from hundreds of residents who attended two public meetings  this week was clear: They don't want it, reports Rachel Chason for the Post.
CAPITAL SHOOTING CASE:The judge in the Annapolis Capital shooting case is giving prosecutors access to tax records of Jarrod Ramos, but denied their wish to have their own mental health expert evaluate him, reports Alex Mann in the Capital. Prosecutors argued Ramos' tax records from 2003 to present would prove that he was and is sane, and was capable of understanding his actions when police say he blasted his way into the newspaper's office, killing five.
EXONEREES ASK STATE FOR COMPENSATION: Attorneys for four exonerated men are asking the state Board of Public Works to pay the men $100,000 for each year they spent behind bars, reports Heather Cobun in The Daily Record.
EMAIL USE COULD FALL UNDER OPEN MEETINGS LAW: Public officials will have to reconsider how they use electronic communications in the wake of a new opinion from the state's Open Meeting Compliance Board, reports Brayn Sears in The Daily Record. For more than 20 years electronic communications, such as emails and text messages, have been considered public documents but not subject to open meetings laws in Maryland, despite repeated warnings that such views could one day be overtaken by how the technology is used.
MUNICIPAL ORGANIZATION LEADERS:Two Leonardtown government officials were elected to leadership positions in state municipal organizations this month, reports Taylor Deville in the St. Mary's Enterprise. Leonardtown Mayor Dan Burris will be president of the Maryland Mayor's Association.
MD LAWYERS RECALL JUSTICE STEVENS: Local attorneys say Justice John Paul Stevens "is sorely missed," sharing their recollections of the retired Supreme Court Justice who died in Florida after suffering a stroke, reports Steve Lash in The Daily Record.