MARYLANDERS COULD BE FURLOUGHED: For the second time this year alone, some of the 300,000 Marylanders who work for the federal government could be furloughed or have to work without pay if Congress and the president cannot agree on funding for agencies from the IRS to Customs and Border Protection to the National Park Service, Jean Mirbella of the Sun reports.
MARYLAND SEEKS ACA SALVATION: Maryland backers of the Affordable Care Act reacted with anger and alarm to a court ruling striking down President Obama's signature health law over the weekend. They predicted that the ruling, by a judge in Texas late Friday, will be overturned on appeal, and they warned that considerable harm will come to millions of Americans if it is not, reports Bruce DePuyt for Maryland Matters.
HIGHWAY EXPANSIONS BEFORE BPW: A contract to expand two major highways using toll lanes will come before the Board of Public Works Wednesday, seven months after it was withdrawn because of the appearance of ethics issues, reports Bryan Sears for the Daily Record. The board, chaired by Republican Gov. Larry Hogan, is scheduled to discuss Wednesday the $90 million, five-year contract with Maryland Traffic Relief Partners to oversee engineering, planning, final design and construction of expansions to I-270 and portions of I-495 that run through Maryland. State officials have called the public-private partnership one of the largest, if not the largest, in the country.
OPINION: HELP TAXPAYERS: As Maryland leaders look toward 2019, they should plan to complete unfinished business, opines Jimmy DeButts in a column for the Annapolis Capital. Tax cuts at the federal level allowed Maryland to retain $200 million in higher state taxes after the bill became law earlier this year. Last week, it was announced the state has $1 billion in unspent revenue. In addition to filling stockings, Hogan and the House and Senate leadership ought to carve out time to ensure no Marylander's taxes spike because the feds capped state and local deductions at $10,000 on their federal return.
PAYING FOR ED CHANGES: Maryland's public education system is on the verge of major policy changes, but how to pay for those recommendations could elude lawmakers, many of whom ran for election promising to increase school funding, writes Bryan Sears for the Daily Record.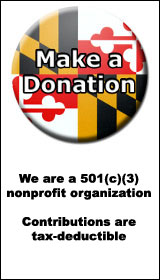 ***ALMOST TO THE GOAL: We're now over 90% toward the maximum matching grant of $25,000 four national foundations. Any tax-deductible donation to MarylandReporter.com up to $1,000 will be doubled by four national foundations if we get it by Dec. 31. $50 becomes $100, $250 is worth $500, $1,000 doubles to $2,000. Please support local nonprofit news. ***
OPINION: HOGAN SCHOOL PLAN DOA: Barry Rascover of Political Maryland predicts that Gov. Larry's Hogan's $1.9 billion school construction proposal will be dead on arrival when the General Assembly convenes in January. How could that be? Enthusiasm should be rampant for Hogan's plan — monetizing slot machine tax revenue earmarked for education in a way that provides roughly $190 million more each year for new public school buildings.
VIOLENT IMMIGRANTS HELD: Chase Cook of the Annapolis Capital reports that Anne Arundel County detention officers have screened 180 inmates through the 287(g) partnership with the federal government, resulting in 64 federal detainment requests against immigrants charged with crimes ranging from murder to driving without a license. Thirty-six of those detained were charged with violent crimes that included murder, attempted murder, assault and other acts. The rest were charged with driving without a license, credit card fraud, drunken driving or other non-violent crimes.
RANKED CHOICE VOTING: The push to bring ranked-choice voting to Maryland is gaining momentum, writes Josh Kurtz for Maryland Matters. On Saturday, election reform advocates were to gather in Silver Spring to build support for the concept. On Monday night, the Montgomery County delegation to the House of Delegates will be considering legislation to create the option to bring RCV to elections for county offices.
FRANCHOT's NEXT MOVES: Len Lazarick of MarylandReporter writes that state Comptroller Peter Franchot touts the fact that he received more votes than even Gov. Larry Hogan himself, and hasn't ruled out a run for governor. "And if you bump into Governor Hogan, could you tell him I happened to get 300,000 more votes than he did?" Franchot suggested. But who's counting?
TRONE GOES TO ISRAEL: Between hiring staff and setting up district offices, three freshman lawmakers from Maryland and Virginia made time for another political rite of passage: a trip to Israel. Reps.-elect Elaine Luria (D-Va.), David Trone (D-Md.) and Denver Riggleman (R-Va.) were returning Friday from a five-day crash course in U.S.-Israel relations sponsored by the American Israel Education Fund, the charitable arm of the American Israel Public Affairs Committee, Jenna Portnoy of the Post reports.
METRO FARE CHANGES: The Metro board on Thursday voted to charge riders peak fares for special events and agreed to hold a public hearing on expanding rush-hour service windows as part of General Manager Paul J. Wiedefeld's proposed budget for the coming fiscal year, Faiz Siddiqui of the Post reports.
OPINION: PITTMAN CAN REDUCE GUN VIOLENCE: The editorial board of the Annapolis Capital, a newspaper that has experienced gun violence in its newsroom, opines that after almost six months of publishing essays on ways to end mass shootings, the deadliest form of gun violence, we have some ideas for the commission on gun violence, created by new Anne Arundel County Executive Steuart Pittman to study ways to reduce gun violence in the county.
OPIOID ADDICTED OFFICERS: Tim Prudente of the Sun writes about an issue that will no doubt receive wider attention throughout the nation: Police officers who become opioid addicts, some while dealing with injuries from the job. Some have easy access to pills, either through evidence rooms or through drug take back programs.
WHO ADVISES ELRICH? In this first in an occasional series on Maryland's five new county executives and their "kitchen cabinets," Josh Kurtz of Maryland Matters writes about Montgomery County Executive Marc Elrich, the most progressive of the new group. Who does Elrich call upon for practical political advice? Who are his closest advisers? Does he have a "kitchen cabinet," as many political leaders do? Who does he listen to? And who should supplicants seek out if they want a favor from the new county executive, or if they want to lobby him?
ERLICH FACES DOWN BUDGET: Montgomery County Executive Marc Elrich said he had been on the job for only 48 hours when staff from the Office of Management and Budget alerted him that he needed to come up with a savings plan of $44 million for the current fiscal year, Dan Schere of Bethesda Beat reports.
OWNER OF J.K.'S PUB PASSES: John K. Lea, former owner of Columbia's revered J.K.'s Pub. died of natural causes at his home in Vantage House in Columbia on Dec. 11. He was 85., reports Brittany Britto in the Sun. For almost two decades, J.K.'s was the favorite watering hole of politicos, teachers and regular folk in Columbia's first village. A memorial service will be held Dec. 27, 2 p.m. in Kahler Hall.