GM ASKED TO RECONSIDER OR RETURN GRANT: Members of Maryland's congressional delegation asked General Motors Co. on Wednesday to reconsider its decision to end operations at its White Marsh plant — or at least return more than $100 million in grant money it received for the facility. Delegation members, including Rep. Dutch Ruppersberger — the Baltimore County Democrat whose district includes the plant — met privately in Washington with GM CEO Mary Barra, Jeff Barker of the Sun reports..
LAWMAKERS MEET ON UM FOOTBALL: Members of the state's congressional delegation expressed their concerns Wednesday to top officials of the University System of Maryland about how it handled the University of Maryland, College Park, football program after the heatstroke death of a Terrapins player, reports Michael Dresser, for the Sun. Chancellor Robert Caret and Board of Regents Chairwoman Linda Gooden traveled to Capitol Hill to brief Maryland's U.S. senators and several representatives on developments involving the system's flagship campus.
FRANCHOT PROMISES FASTER TAX RETURNS: Comptroller Peter Franchot is promising Maryland taxpayers will see faster refunds and stronger protections against fraudulent returns after the state implements a new, $160 million tax collection computer system, Michael Dresser of the Sun reports. After years of planning, a contract to implement the system will go Dec. 19 to the state Board of Public Works, where approval is expected
HEALTHIER FOOD IN WOMEN's PRISON: Meredith Cohn of the Sun reports that not long after taking over as warden of the Maryland Correctional Institution for Women in Jessup, Margaret M. Chippendale noticed a sizable problem: Women were leaving the system a lot heavier than when they arrived. The prison has replaced the white bread with wheat and gives out less. It has added items such as fish, fresh fruits and vegetables, as well as cottage cheese and yogurt full of calcium. Chippendale said she eventually expects to show savings on health-care costs, including medications, the biggest part of her budget.
MO CO SEEKS CURB ON WIDENING BELTWAY: Hours after the new Montgomery County executive made an off-handed remark this week about opposing Gov. Larry Hogan's proposal to widen the Capital Beltway, county officials began debating legislation that could give them more say about whether Hogan's plan will ever come to fruition. State Del. Alfred C. Carr Jr. (D) has introduced a local bill that would require state officials to get the county's approval before they can build a toll road through Montgomery County, Josh Kurtz reports for Maryland Matters.
SUNDAY ALCOHOL SALES: Other jurisdictions have relaxed their regulations for Sunday alcohol sales. Jim Doll of the Washington County Restaurant and Beverage Association thinks it's time Washington County did, too. He made a similar request last year. But the idea of selling alcohol earlier on Sundays got a lukewarm response from some of the lawmakers. Sen. Andrew Serafini, R-Washington, noted that people of faith might object to earlier Sunday sales, Tamela Baker of the Hagerstown Herald-Mail reports.
DRESSER REFLECTS ON ANNAPOLIS: In a column for the Sun, retiring Sun State House reporter Michael Dresser reflects on the legislature that he has been covering since 1996 and the changes that have come about in the 22 years he has spent in Annapolis. Of course, some things – and people, especially those at the top — don't change.
NEW LAWMAKERS ORIENTATION: The fresh crop of newly elected senators and delegates began two days of orientation at the State House Wednesday. The turnover is greater in the state Senate, where 18 of the 47 senators are newly elected. But 10 of the new senators had already served in the House of Delegates for one, two or three terms, as has a majority of the upper chamber, Len Lazarick of MarylandReporter reports.
COLUMBIA TALK: Maryland Reporter editor Len Lazarick will be talking about his recent book "Columbia at 50" this Friday at noon at the Museum of Howard County History next to the old Courthouse in Ellicott City, 8328 Court Ave., Ellicott City. For more information, click here.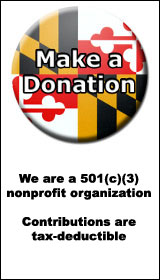 ***SUPPORT NONPROFIT NEWS: Any tax-deductible donation to MarylandReporter.com up to $1,000 will be doubled by four national foundations if we get it by Dec. 31. $50 becomes $100, $250 is worth $500, $1,000 doubles to $2,000. We're now over 70% toward the maximum grant of $25,000.***
SAUDIS BOOKED TRUMP HOTEL: Lobbyists representing the Saudi government reserved blocks of rooms at President Trump's Washington, D.C., hotel within a month of Trump's election in 2016 — paying for an estimated 500 nights at the luxury hotel in just three months, David A. Fahrenthold and Jonathan O'Connell report in the Post.
THORNTON TAPPED TO LEAD PG SCHOOLS: Prince George's County Executive Angela D. Alsobrooks (D) has chosen former school board chairman Alvin Thornton, the onetime head of a crucial statewide commission on school funding, to once again lead the county Board of Education, Bruce DePuyt of Maryland Matters writes.
LES KINSOLVING DIES: Charles Lester "Les" Kinsolving, a retired WCBM-AM conservative talk radio personality who hosted the show "Uninhibited Radio" for 28 years, has died at 90, Colin Campbell of the Sun reports. Sean Casey, who hosts the conservative "Sean and Frank in the Morning" program with Frank Luber on WCBM, called Kinsolving "a fearless reporter/broadcaster who confronted the Jim Jones cult, was nominated for a Pulitzer Prize and covered the White House in his signature red jacket."
A MEETING WITH BUSH: In a short story for the Cumberland Times-News, digital editor Teresa McMinn writes about photographer Tom Darden, who recalls a special encounter with President George H.W. Bush and Gov. William Donald Schaefer. What was different, was that the president ordered everyone — including his Secret Service agents — out of the room except for Darden and Schaefer.