NATIONAL FIRMS SEEK TO BUY MARYLAND CANNABIS COMPANIES: National cannabis companies eager to expand their share of the growing U.S. medical marijuana industry are poised to acquire companies with Maryland licenses despite a state rule that limits such consolidation and a new law barring any ownership changes for another year, Doug Donovan of the Sun reports. A Baltimore Sun investigation has found that several out-of-state firms have told investors they are moving ahead with deals to take over Maryland marijuana companies by the end of this year.
114 REQUESTS UNDER NEW 'RED FLAG' LAW: Maryland's judiciary fielded 114 requests to remove firearms from individuals in October, the first month the state's new "red flag" gun safety law went into effect, reports Catherine Rentz for the Sun. Those requests results in guns being removed at least temporarily in a majority of cases and longer in 36 cases in which judges granted a final order. Fewer than half of the requests — 44 — came from law enforcement. Most came from other sources such as family members and spouses, data show.
STRIPED BASS OK DESPITE RAINS: This year's heavy rainfall did not seem to hurt spawning striped bass, as scientists in both Maryland and Virginia reported that reproduction for the prized fish was bit above average, reports Karl Blankenship of the Bay Journal. It was the second straight year when the closely watched striped bass index was above average in Maryland.
CHANGES TO JUDICIAL DISABILITIES RULES: The committee in charge of recommending amendments to the Maryland Rules will attempt to balance concerns from stakeholders before submitting an overhaul of the Judicial Disabilities rules to the Court of Appeals for approval, Heather Cobun of the Daily Record reports.
OP-ED: AID BALTIMORE CITY TAX RATE: In an op-ed for the Sun, Ted Walsh, of the Center for Public Policy and Private Enterprise at the University of Maryland, opines that Gov. Larry Hogan needs to help Baltimore City with its high tax rate, writing that rather than let one of the state's poorest municipalities deal with that burden itself, the state should help the city adjust.
OP-ED: TIME FOR REDISTRICTING REFORM: In a op-ed that appeared in the Daily Record, Don Fry of the Greater Baltimore Committee opines that Gov. Larry Hogan's decisive win on Election Day means he can use that mandate to make a strong case for meaningful redistricting reform while in his second term. He specifically argues that the congressional boundaries have been gerrymandered to give Democrats an edge, if not to ensure their outright victory, by diluting the votes of registered Republicans. But the reality is that the science of gerrymandering has been actively adopted by both major political parties across the country. Neither party can claim innocence in this arena of public policy. The entire article is on the GBC website.
AMAZON TO SPUR VENTURE CAPITAL: Tim Curtis of the Daily Record reports that Amazon's move to Arlington will drive a demand for talent and help bring more venture capital into a region that has been slowly improving in that area. The possibilities have excited George Davis, who as CEO of TEDCO, could see a lot of the benefits.
OP-ED: MARYLAND WINS UNDER HQ2: In an op-ed for MarylandReporter, Professors Eric Stokan and Roy Meyers opine that when it comes to Amazon HQ2, Maryland won by losing, because it didn't overpay and thus suffer the "winner's curse." It seems that New York did. When you outbid your competition, you are left wondering whether you spent far too much. Of the total $2.4 billion in economic development incentives offered by Virginia, New York, and Tennessee, New York will spend $1.5 billion, which is much more costly compared to the deal negotiated by Virginia.
BAGNALL BEATS DEL. McCONKEY: Democrat Heather Bagnall appeared to defeat longtime incumbent Del. Tony McConkey Friday night after a week-long count of ballots, a shattering turn of events in District 33, one of Anne Arundel County's Republican strongholds, Chase Cook reports for the Annapolis Capital.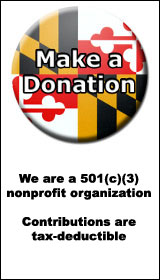 ***SUPPORT NONPROFIT NEWS: Any tax-deductible donation to MarylandReporter.com up to $1,000 will be doubled by four national foundations if we get it by Dec. 31. $50 becomes $100, $250 is worth $500, $1,000 doubles to $2,000. We're now almost 40% toward the maximum grant of $25,000.***
'BAHAMA BOB' CONSIDERS RUN FOR PRESIDENT: A decade before California Democrat Rep. Eric Swalwell won a seat in Congress in 2013, many Marylanders knew him by another name: "Bahama Bob." Donning a Hawaiian shirt, sunglasses, flip flops, shorts and a black wig, Swalwell led dozens of students in a 2003 protest in Annapolis condemning Republican former Gov. Bob Ehrlich for considering college tuition increases while vacationing in the Bahamas. Hallie Miller of the Sun reports that today, Swalwell, 38, may be taking his political showmanship from the Maryland State House to the White House, as he is considering running for president against Donald Trump in 2020.
EX MO CO OFFICIAL PLEADS GUILTY: With a fake business entity complete with a starburst logo, a Montgomery County economic development official embezzled more than $6.7 million in seven years, reports Danielle Gaines for Maryland Matters.
COMMENTARY: MO CO LIMITS ITSELF: Bethesda Beat columnist Adam Pagnucco looks at Montgomery County's loss to Crystal City of Amazon HQ2 and says that while officials still claim it's a victory for Montgomery and the region, they need to look deeper into their process for economic development. He writes that the county's strategy has been three-fold. First, pay for marketing. Second, reorganize the county's economic development organizations repeatedly. Third, hand out escalating heaps of corporate welfare. There are limits to all this.
BAKER TRIP QUESTIONED: Several members of an economic development board in Prince George's County are questioning the timing and utility of County Executive Rushern L. Baker III's recent trip to South Africa, saying the benefit to taxpayers is unclear and asking why it was not announced in advance, reports Rachel Chason for the Post.
ON ARUNDEL ELECTIONS: Outgoing Anne Arundel County Councilman Jerry Walker breaks down Anne Arundel County's surprising election results on A Miner Detail Radio Podcast. From the the surprise upset in the county executive race to Republican Del. Tony McConkey losing his seat in District 33, Walker, who serves as the president of MACO, provides in-depth commentary on the major changes in a county that has turned red to purple.
IN TRANSITION, PITTMAN LAUNCHES WEBSITE: Anne Arundel County Executive-elect Steuart Pittman has launched a website to gather information from residents and announce new members of his transition leadership team, Chase Cook of the Annapolis Capital reports. The website, PittmanTransition.com, went live Friday and begins with a message from Pittman. Residents can read about his transition team leadership and submit a short survey detailing their first and second most important issues in the county.
OPINION: PITTMAN, BUCKLEY SHOULD COOPERATE: The editorial board of the Annapolis Capital opines that mayors and county executives often talk about working together, new partnerships and looking for ways to better life for residents on both sides of the municipal boundary. Sometimes it's real, but often it's more of a general sentiment with little practical effect. Newly elected Arundel County Executive Steuart Pittman and Annapolis Mayor Gavin Buckley, at least on the surface, have a lot in common.
KKK FLYERS FOUND: A few dozen flyers targeting immigrants and Jews and advocating membership in the Ku Klux Klan were found scattered in the area of Ellicott City's Main Street Saturday night, leading to a denunciation of hate speech from County Executive Allan H. Kittleman and a police investigation into their origin, Chris Kaltenbach of the Sun reports.