HOGAN PULLS GUARD FROM BORDER: Republican Gov. Larry Hogan recalled a small unit of Maryland National Guard soldiers helping to patrol the southern U.S. border on Tuesday amid a national outcry about separating migrant children from their families. Hogan joined a bipartisan wave of governors across the country revoking resources along the Mexican border in protest of an immigration policy widely condemned by both sides of the aisle, report Erin Cox and Michael Dresser for the Sun.
JEALOUS RELEASES TAX RETURNS: Former NAACP President Ben Jealous, one of the two front-runners in the Democratic race for governor, released three years of his tax returns on Tuesday, showing he earned $1.3 million between 2015 and 2017, Erin Cox reports in the Sun.
SUPER PAC ADS ATTACK BAKER: An outside group supporting gubernatorial candidate Ben Jealous is pumping money into attack ads that focus on the education record of his chief rival, Prince George's County Executive Rushern L. Baker III. The mailers and Facebook videos by a super PAC called Maryland Together We Rise have injected a negative tone into Democratic primary campaign that the candidates have largely kept positive, Arelis Hernandez of the Post reports.
CAMPAIGN LIT IGNORES REAL CRISIS: In a column for the Annapolis Capital, Jimmy DeButts writes that MS-13 members, not opioids, are the greatest threat to life in Anne Arundel County. That's based solely on campaign literature sent to him as a registered Republican living in District 33. The 152 Anne Arundel County residents who died from opioid overdoses in 2017 are mentioned zero times. Yes, MS-13 has infiltrated the county, but the brutal gang isn't responsible for as many deaths as opioids. It's not even close, DeButts says.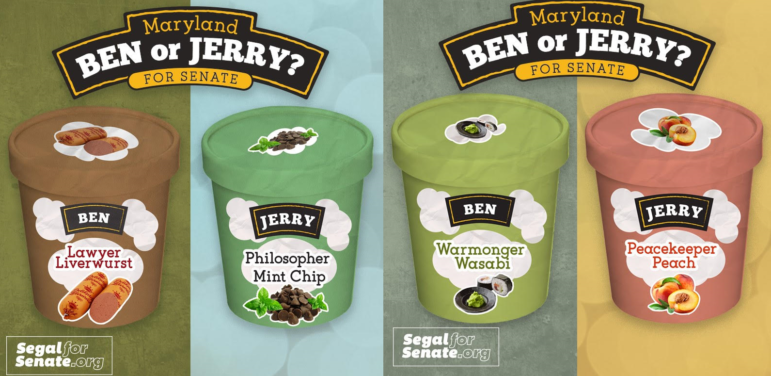 BEN OR JERRY?: In the largely ignored and invisible race to unseat U.S. Sen. Ben Cardin, fellow Democrat Jerry Segal is funding novel approaches. According to a campaign source, Segal is spending $350,000 on densely worded advertorials appearing in the print editions of the Washington Post and the Baltimore Sun. He has also launched a series of social media ads playing off the Ben and Jerry Ice Cream containers, headlined "Ben or Jerry?" as well as ads and a billboard for "Ben and Jerry," supporting Ben Jealous for governor. Segal has a detailed website SegalforSenate.org.
WHO IS RUNNING IN 42B? Libby Solomon of the Towson Times profiles the four Republicans and three Democrats are vying for their parties' nominations for the Maryland House of Delegates race in District 42B's primary this year. The candidates will face off on June 26 for the chance to compete for the district's two seats in the state legislature.
CARTER OUT-MONEYED, NOT OUT-MANNED: Judged by raw campaign fundraising totals, 41st District Senate candidate Jill Carter is outgunned. In the last four-week period (May 15-June 10), Carter reported raising $16,000, or just over half the amount amassed by J.D. Merrill, who pulled in $31,000. Likewise, in the two preceding fundraising periods (from 2017 to mid-May) Carter raised $50,034 – less than a third of the $187,201 that Merrill reported. But, Fern Shen and Mark Reutter of Baltimore Brew report, Carter's clout looks a lot different when measured by alliances with the bigwigs of City Hall.
ENDORSING IN DISTRICTS 32, 33: The editorial board for the Annapolis Capital makes its State House endorsements for the Districts 32 and 33 primary races that have challengers.
FACT-CHECKING BROCHIN AD: Pamela Wood of the Sun fact-checks Baltimore County executive hopeful Jim Brochin's latest ad, in which he goes on the attack against one of his rivals in the Democratic primary for Baltimore County executive, County Councilwoman Vicki Almond. The female narrator of the 30-second ad says state Sen. Brochin voted to ban assault rifles, voted to take away guns from domestic abusers and co-sponsored a law outlawing bump stocks.
PROBE SOUGHT INTO BLAIR-FOUNDED GROUP: A Montgomery County Democratic voter has asked the Maryland State Board of Elections to investigate whether Empower Montgomery, a political entity connected to developers and business leaders, has accurately characterized its mission in official documents, reports Josh Kurtz for Maryland Matters. He also wants state elections officials to determine whether there has been improper coordination between the organization and David Blair, a leading Democratic candidate for county executive who was listed as a founder of Empower Montgomery when the organization was created in 2016.
DELANEY ENDORSES IN MO CO COUNCIL RACE: Montgomery County Council member Sidney Katz (D-Gaithersburg-Rockville) picked up another endorsement on Tuesday in his reelection bid, this one from Rep. John Delaney (D-Md.), Jennifer Barrios of the Post writes.
U.S. SENATE GOP PRIMARY NOT SO SLEEPY: While the Ben Cardin vs Chelsea Manning Senate primary turned into a snoozer, the Republican primary has turned negative, writes Brian Griffiths for Red Maryland. Christina Grigorian sent out an email on Tuesday attacking primary opponent Tony Campbell's driving record and calling on him to drop out of the race.
KAMENETZ MEMORIAL: A prominent developer plans to honor late Baltimore County Executive Kevin Kamenetz with a memorial at a development in the works in Middle River, writes Pamela Wood in the Sun.
COST OF RECYCLING: Scott Dance of the Sun reports that when Marylanders first started tossing recyclables into the blue bin and setting it out by the curb about a decade ago, only a small percentage of the material ended up in a landfill or incinerator. Now, as much as a third of it gets trashed. Local governments once made money selling off paper, bottles and cans. But this year many around the Baltimore region have started spending taxpayer money on recycling. That's because a ton of recyclables fetches just a quarter of the price it commanded seven years ago.
MIGRANT SHORTAGE: WBFF-TV is reporting on the migrant worker shortage and its impact on Maryland crab houses. With record low unemployment in the U.S. and demand for migrant workers way up, the government instituted a lottery system for worker visas. After going through two rounds of lotteries, Harry Phillips, who owns Russel Hall Seafood, hasn't been granted a single worker visa. A few of the crab houses did get their workers and will be in business, but most did not and are facing a lost summer.