MARYLAND AND CLIMATE ACCORD: Gov. Larry Hogan has so far declined to bring Maryland into a newly formed alliance of states opposed to President Donald J. Trump's decision to pull the United States out of the Paris climate accord, reports Michael Dresser for the Sun.
FROSH JOINS EPA CHALLENGE: Maryland Attorney General Brian Frosh joined his counterparts in six states in filing a formal challenge on Tuesday of the Environmental Protection Agency's recent decision to not label a common pesticide as unsafe for humans in any quantity, Scott Dance of the Sun writes.  It's the latest action by Frosh and other Democratic attorneys general against environmental actions taken by President Donald Trump's administration.
MTA CHIEF OUT: Two weeks before the Maryland Transit Administration plans to launch sweeping changes in Baltimore's bus system, the head of the agency has been replaced. In a terse statement, state Transportation Secretary Pete Rahn announced Tuesday that Paul Comfort, who was brought in to run the transit agency in April 2015, has left his post, reports Michael Dresser in the Sun.
STATE SEEKS STAY ON PURPLE LINE ORDER: The state of Maryland is asking the judge in the Purple Line case to stay a judgment and order that have blocked federal funding and stalled progress on the light-rail project. Bethany Rodgers writes in Bethesda Beat. The motion filed late last week asks U.S. District Court Judge Richard Leon to decide by Friday on the state's request. Issuing the stay would enable the project to move forward while the Court of Appeals considers the case, the state contended, while further delay would be a setback for Maryland travelers and the economy.
DHMH ORDERED ON INCOMPETENT DEFENDANTS:  Officials from the Department of Health and Mental Hygiene have been ordered by a judge to present a plan later this month on admitting and treating criminal defendants who have been found incompetent to stand trial. Bryan Sears reports in the Daily Record that Baltimore City District Judge George Lipman issued the order Monday related to 17 defendants who were found, between March 1 and May 31, to be dangerous and incompetent to stand trial. Among those defendants were 11 who spent between 21 and 37 days in the Baltimore City Detention Center despite being found unable to understand the charges against them or participate in their own defense.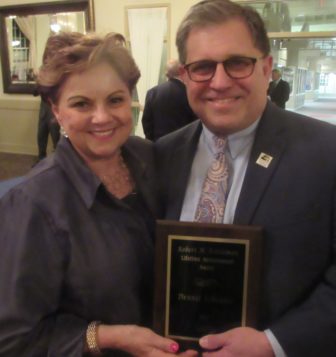 SCHRADER AWARD: State Health Secretary Dennis Schrader received the Robert Kittleman Lifetime Achievement Award from the Howard County Republican Party Tuesday night at its annual Lincoln Day Dinner. Schrader is a former member of the Howard County Council and the party's nominee for county executive in 1998. His wife, Sandy Schrader, is a former state senator and current government relations director for Howard County Executive Allan Kittleman, who presented the award named after his late father, a state senator and delegate. Sandy Schrader won the same award in 2003, making them the only husband-wife team to do so. Photo of the couple by MarylandReporter.com
SUCCEEDING BUSCH: Joel McCord of WYPR-FM hosts Bryan Sears of the Daily Record, who has written about potential successors for ailing Del. Mike Busch, who just had a liver transplant, as speaker of the House of Delegates.
CARFENTANIL DEATHS: The highly dangerous synthetic opioid carfentanil is responsible for at least six deaths in Anne Arundel County over a six-week period, according to county police, Phil Davis reports in the Annapolis Capital. Between April 1 and May 14, six men between the ages of 19 and 54 died from overdoses on drugs the Office of the Chief Medical Examiner determined to include carfentanil.
McDONOUGH CLAIMS SCHOOL COVERUP: Del. Pat McDonough, who is running for Baltimore County executive, tells WBAL-AM that he believes Baltimore County schools officials are working to cover up armed incidents on school property by not properly keeping track of them. "To give you an example, Baltimore City had 329 incidents — which is a crime-ridden city — and Baltimore County had 311 incidents and this year we may surpass Baltimore City," the outspoken Republican said.
GRIFFITH TO RUN FOR SENATE: The Post's Arelis Hernandez writes about former state Del. Melony G. Griffith's intention to run to succeed longtime state Sen. Ulysses Currie, who is retiring after more than 22 years representing the 25th legislative district in Prince George's County.
CORRECTION: Monday's summary of the State Roundup incorrectly stated who was challenging U.S. Rep. Anthony Brown. It is Theresa Marie Black, not Melony Griffith, who is running for the seat now held by Sen. Ulysses Currie. The items on these races were correct.
RASKIN ON THE HILL: Ana Faguy of Maryland Matters writes that after 10 years in the state Senate, freshman U.S. Rep. Jamie Raskin (D) is adjusting to Capitol Hill but is occasionally thinking wistfully about his former life. "Having spent five months there [Congress] I've got some really wonderful things to say about Annapolis and Rockville," Raskin joked Monday as he spoke to the board of directors of the group Committee for Montgomery.
MD DEMS GET NEW EXEC DIRECTOR: The Maryland Democratic Party has hired Stephanie Potter, a national Democratic strategist, to be its executive director, chairwoman Kathleen Matthews told Maryland Matters on Tuesday. Potter's hiring was approved by the party's executive committee Monday night – the first such meeting Matthews has presided over since becoming the permanent Democratic leader a month ago. Potter has been on the job since late last week.
FIGHTING RACISM IN ARUNDEL: The Anne Arundel County Council heard more than an hour of moving testimony Monday night as residents packed council chambers to ask members to take meaningful steps to fight racism in the county. Amanda Yeager of the Annapolis Capital writes that council members unanimously passed Resolution 22-17, which denounces hatred and racism in the wake of recent events — including the killing of Lt. Richard Collins III, a black Bowie State student who was stabbed to death on the University of Maryland campus, allegedly by a white man from Severna Park.
CURB ON ELECTION INFLUENCE: The Frederick County Council could give final approval next week to a bill that would limit zoning approvals in election years. No one spoke at a public hearing on an amended version of the bill on Tuesday night, reports Danielle Gaines for the Frederick News Post. The bill is similar to a policy used by the Board of Aldermen in the city of Frederick. Amendments introduced last month decrease the window in which the council could not consider such applications from July 1 in an election year to one day after the council's inauguration.