MERRY CHRISTMAS, HAPPY HANUKKAH, PEACE AND BLESSINGS IN THE NEW YEAR: MarylandReporter.com is taking next week off. State Roundup and original columns and stories will resume on Monday, Jan. 2. If you're looking for a year-end tax deduction, our matching gift from the Knight Foundation goes on through Jan. 19. Thanks for reading.
HOGAN SUES STATE CENTER LLC: In a pre-emptive legal maneuver, the administration of Gov. Larry Hogan has sued the spurned developer of the $1.5 billion State Center project in midtown Baltimore, reports Michael Dresser in the Sun.  The state is trying to force State Center LLC to terminate its right to redevelop the site after pulling the plug on the project as envisioned by voiding lease agreements with the company.
PUSH ON TO UP AID FOR CHILD CARE: A group of Maryland lawmakers is pushing Gov. Larry Hogan and the General Assembly to increase financial assistance for families struggling to cover child-care costs, noting that the state ranks among the least generous in the nation for such aid. Advocates say state and federal funding levels for child-care subsidies are too low, forcing Maryland to restrict how many low-income families qualify for vouchers and greatly limiting which day-care centers those families can afford, the Post's Josh Hicks is reporting.
UBER, LYFT GET A PASS ON FINGERPRINTING: Sarah Gantz and Kevin Rector of the Sun write that ridesharing companies Uber and Lyft do not have to do fingerprint-based background checks of their drivers to continue operating in Maryland but will have to agree to additional reporting and safety provisions, state regulators said Thursday. Other licensed professionals in the state, including taxicab drivers and medical providers, must have their fingerprints checked against state and FBI fingerprint databases.
HAGERSTOWN PROJECTS GETS STATE BOOST: Gov. Hogan came to Hagerstown Thursday bearing gifts, announcing the start of a $105 million project to widen Interstate 81. CJ Lovelace of the Hagerstown Herald Mail writes that, in partnership with West Virginia, the first phase of construction of the long-sought project, which recently got under way, will expand the heavily traveled interstate to six lanes from U.S. 11 in West Virginia to Md. 63 near Williamsport.
FROSH SUES NURSING HOME: Maryland's attorney general is accusing a local nursing home chain of evicting hundreds of vulnerable residents, in some cases dumping them in homeless shelters or unlicensed facilities as soon as the patient's Medicare benefits ran out, reports Kate Ryan for WTOP-AM. Brian Frosh, the state's attorney general, announced that a lawsuit was filed against Neiswanger Management Services, LLC, doing business as NMS.
EXPENSIVE JUDGES CAMPAIGN: Billions of dollars flowed through elections across the country this year — and Anne Arundel County saw its share, with the race for Anne Arundel's Fifth Circuit Court proving costly for the five candidates involved. The vast majority of the four sitting judges' spending went to Scott Strategies, a political consulting business run by Francine Scott, the wife of Assistant State's Attorney Lawrence Scott, Phil Davis of the Annapolis Capital reports.
CARDIN PRESSURES TILLERSON: Sen. Ben Cardin, the top Democrat on the Senate Foreign Relations Committee, is ramping up pressure on President-elect Donald Trump's pick for Secretary of State, ExxonMobil CEO Rex Tillerson, to release tax returns, writing Thursday that it will be difficult to schedule a confirmation hearing until "all necessary and relevant information" is submitted, John Fritze of the Sun reports.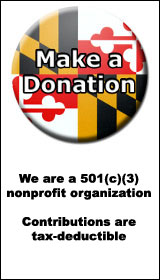 MATCHING GRANT FOR MARYLAND REPORTER: MarylandReporter.com is one of 57 nonprofit news organizations from around the country that will receive matching grants for any donations received over the next month until Jan. 19. Any donation of any size up to $1,000 will be matched dollar for dollar by the Knight Foundation, a major funder of nonprofit journalism. Contributions are tax deductible.